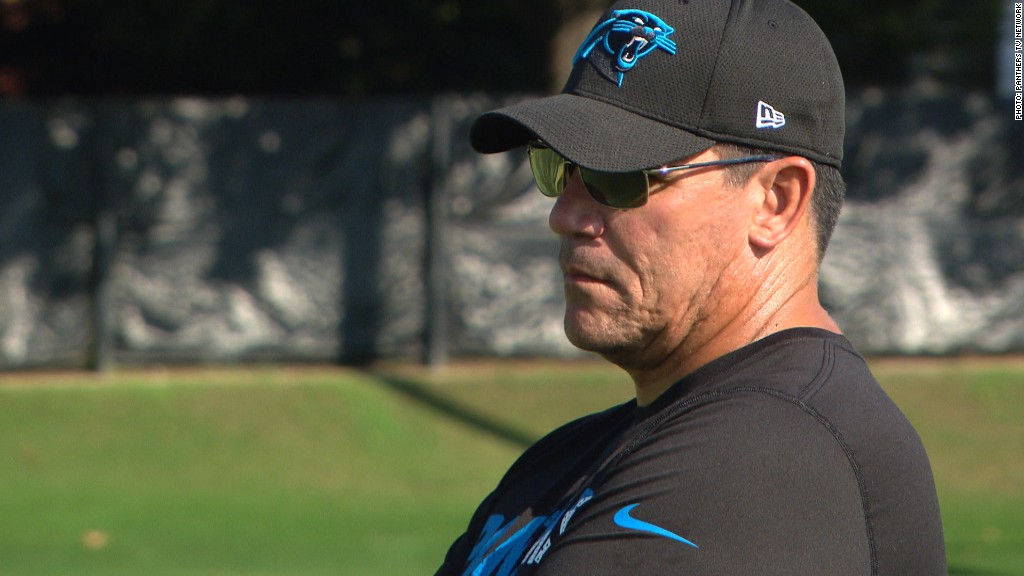 Ron Rivera is the only Hispanic head coach in the NFL, and most of his players on the Carolina Panthers are black.
Like other coaches, he's recently had to address racial and political issues with his team because of what's happening in the U.S. But Rivera comes at it from a very different perspective.
His mother and her family were Mexican farm workers who worked in California. His father was a farmer in Puerto Rico who eventually became an officer in the army.
Rivera grew up on U.S. military bases in other countries, where he said "there was no racial difference" -- it was all about rank. The first time he felt racism was when he came home to the U.S. and heard the n-word.
Related: Ass or asset? Steph Curry goes after Trump
"It blew my mind. It was at the time that the mini series Roots came out," Rivera told CNNMoney. "I didn't understand it. I had to talk to my dad about it. ... He said, 'Honestly, it's as if somebody called you a spick.' I didn't know that [word.]"
There was one word that got to Rivera. When he was in the eighth grade he was called a "wetback."
"My mom's side of the family were farm workers," Rivera said. "Needless to say, being a kid at that time, I got into a fight over it. It was just, that was probably the one time that it really made me aware."
The next time came when Rivera was at U.C. Berkeley, where he was the only Hispanic player and the only consensus All-American on his team. A fellow player made some racist comments.
"I was one of the best players on my team," Rivera said. "And yet to be treated that way and looked at that way?"
Rivera shares his experiences with his players to give them perspective about everything from making political statements to using the n-word.
He and his players also talked about what it would mean to join the national anthem protest that San Francisco 49ers quarterback Colin Kaepernick started last season.
Related: Kids of color 'should be talking about toys,' not politics
"Our guys decided that we were gonna stick together as a team and we weren't going to do anything that way," Rivera said. "We were going to go out in the community and get involved."
Rivera believes that it's important to make a statement when America's values are threatened, and that the time for athletes to do that is during a political rally or news conference. Not during a game, when it can affect the entire team.
He encourages his players to stand up and be true to themselves and to their cultures.
"They come from all socioeconomic backgrounds. They come from all cultural backgrounds," Rivera said. "I think when you look at who these young men are and you watch how they meld and come together as a football team, that's really what this country's about -- coming together as a country."
While Rivera wouldn't say who he voted for during the interview, he did say he is concerned by some of President Trump's ideas about America.
"We are the great melting pot in the world. People come and look at us as the future, as hope," Rivera said. "This is a multicultural country and we can't lock people out."