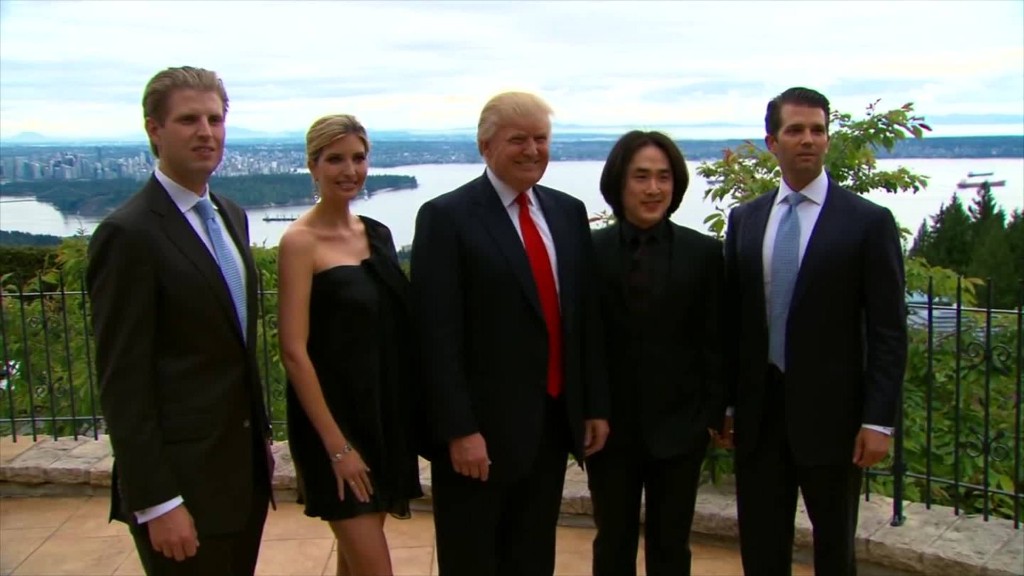 When the newest Trump hotel opens on Tuesday -- a glittering, 69-story, $360 million tower in Vancouver -- Eric and Donald Trump Jr. won't be the only sons of a tycoon in attendance.
The Trump name may be on the project, but the building was developed by Joo Kim Tiah, a 37-year-old real estate executive and scion of one of Malaysia's richest families.
The hotel, which also houses luxury condos, has been the site of anti-Trump protests.
Here are six things to know about Tiah.
He says pitching to the Trumps felt like reality TV
"It was quite similar to 'The Apprentice' when I had to go to the big boardroom," Tiah said in 2015, at a launch event. (Tiah declined an interview request from CNNMoney.)
He said he first had to win over three Trump children -- Donald Jr., Eric and Ivanka. He said he was told by Trump Organization executives ahead of time that the most important thing was to connect with Ivanka.
After passing that test, he sealed the deal in a final meeting with Donald Trump.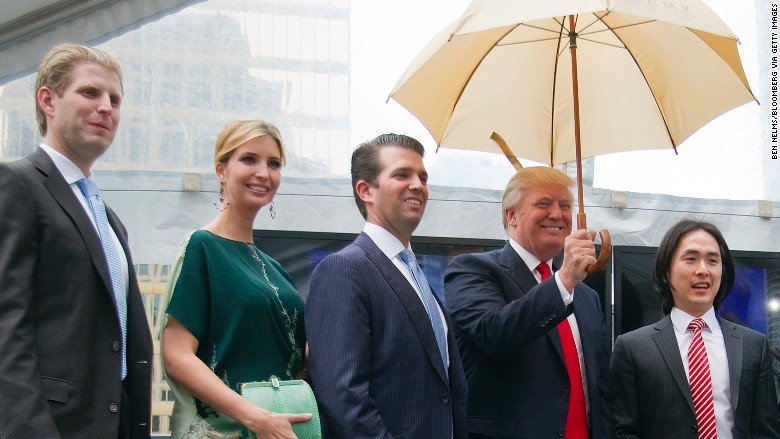 He bonded with Donald Trump Jr. over their dads
Tiah met Donald Jr. first, and said they found common ground in building careers at a family business.
"Me and Don Jr. have a lot of similarities," Tiah told a Vancouver business news website. "We're both second-generation people. We both have strong, dominant fathers who are very successful. How Don treats Don Jr. is very much how my dad treats me. It's firm. He's very tough on his kid. I can associate."
Related: There's one thing missing from the new Trump hotel
He found the U.S. presidential race 'stressful'
Tiah came under pressure during the U.S. campaign to drop the Trump name from the Vancouver tower. "It was pretty stressful at that point of time," Tiah told the National Post newspaper. "I would say I have gone through what most developers would not go through in their lifetime of doing business."
He would rather stay out of politics.
"I am a businessman," he said. "My job is to ensure that my company grows and remains profitable and hence it is my job to get along with everyone, especially politicians that are in power."
Related: Controversial Trump hotel in Vancouver delayed
He became a CEO at 30
The Trump building is Tiah's first major property project. He has described it as "my opening party." He finalized the deal with the Trumps in 2013, when he was 34.
He had already become CEO of his family's real estate business in Vancouver at age 30. Last year, Tiah became CEO of Kuala Lumpur-based TA Global, the property offshoot of his father's financial services firm, TA Enterprise.
His father has a criminal record
Tiah's father, Tony Tiah, built his fortune by starting a financial services firm in 1990. Later that decade, the elder Tiah was implicated in a crackdown on corporate crime in Malaysia. In 2002, Tony Tiah was convicted of giving false information to the Kuala Lumpur Stock Exchange in a case related to stock brokerage Omega Holdings. He was fined 3 million ringgit, or about $675,000 at current exchange rates.
Tony Tiah is now executive chairman of TA Global, the company behind his son's real estate business.
He loves heavy metal
Tiah isn't only passionate about big real estate projects. He has played drums in a metal band and is happy to talk to interviewers about his favorite genres: death metal and metalcore.