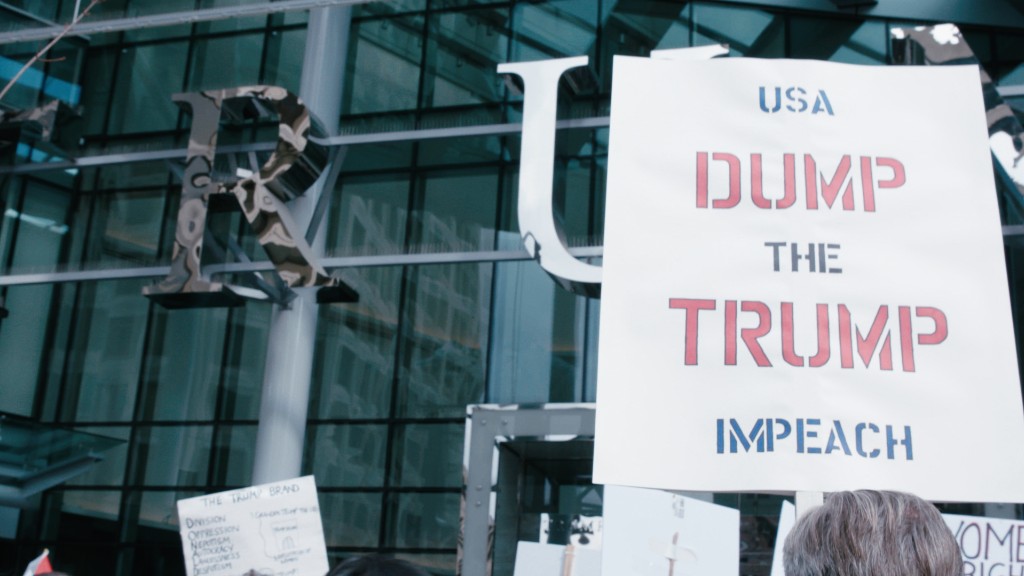 At a ribbon-cutting for the Trump International Hotel and Tower in Vancouver, Donald Trump Jr. and Eric Trump spoke about the success of the glittering hotel and condominium project bearing their family name.
"People saw that excitement that we feel, that Eric and I deal with at a lot of other properties," Donald Jr. said on Tuesday. "To be able to do something special. To be able to change a skyline."
Protesters, meanwhile, used the media attention around the opening to voice opposition to President Trump's policies. Demonstrators chanted, "Love trumps hate!" and placed sticky notes with anti-Trump messages -- such as "nevertheless, she persisted" -- on a wall outside the building.
Days after Trump pledged to ban Muslim immigration to the United States, in December 2015, Vancouver Mayor Gregor Robertson had even written to the hotel's developer asking that Trump's name be removed from the building.
But beneath the excitement and opposition, the property stands as a reminder of how difficult it will be for Trump to shed concerns over possible ethics violations. It also illustrates the lack of transparency around the Trump Organization's deals.
The Trump Organization doesn't own the building, but it does collect licensing fees from the project's owner, Holborn Group. Holborn CEO Joo Kim Tiah declined an interview request, and a spokesperson declined to answer questions about the financial arrangement between Holborn and the Trump Organization.
Related: Meet the developer behind the newest Trump property
Real estate experts, however, say Holborn probably pays the Trump Organization 3% to 4% of the sale price of each unit for use of the Trump name. The most expensive units can sell for $15 million, according to a local report.
Few locals can afford a place inside, said Vancouver real estate lawyer Ron Usher. He said buildings like the Trump tower are marketed to foreign buyers and are seen as "safety deposit boxes for offshore funds."
"They are doing what rich people have always done," Usher said. "They are diversifying investments buying by foreign real estate."
CNNMoney reviewed a list of 214 people who bought condos in the tower. It was compiled by a title search company. One of the buyers is Mahmood al Aradi, a senior executive at the National Bank of Abu Dhabi. Representatives for Al Aradi say he made his first payment in 2014 and purchased the condo with his personal funds.
But attorney Norm Eisen, who served as President Barack Obama's ethics adviser, said offshore buyers in general could put Trump at risk for violating the Foreign Emoluments Clause of the Constitution.
"The Trump Vancouver property is an emoluments magnet," Eisen said. "It is an opportunity for foreign governments or those who are the agents of foreign governments to purchase units in the property and by so doing, to transfer foreign government cash to Mr. Trump."
The Emoluments Clause prohibits federal office holders from accepting any "present, emolument, office or title" from a foreign governments without consent of Congress.
"For many of these condo buyers, we have no idea where the money comes from. There could be money laundering. The money also could be coming from foreign governments. In either case it could very well be illegal," said Richard Painter, he chief ethics lawyer in the George W. Bush administration.
If a foreign official seeking influence with the administration bought a penthouse in the Vancouver building, which could run about $5.8 million based on local reports, Trump's cut would only amount to $170,000 to $230,000 if the licensing fee is 3% to 4%. In addition, the money for the purchase would have to come directly from a government account for a constitutional violation to occur.
Sometimes, however, it's difficult to trace the source of the money used in these transactions.
"It's fair to ask, who is actually paying for that unit?" Eisen said. "Is the individual paying personally, or is a government, or a government associated agency responsible for some or all of the costs?"
The White House referred questions to the Trump Organization. A Trump Organization lawyer did not respond to a request for comment from CNNMoney.
Related: Government ethics chief blasts Trump over plans for business
The risk of foreign money flowing to Trump through his businesses caused enough angst to prompt his lawyer to address those concerns. Sheri Dillon, a partner at Morgan, Lewis & Bockius LLP who helped design the trust that owns his assets, told reporters last month that Trump would "voluntarily donate all profits from foreign government payments made to his hotels to the United States Treasury."
But she dismissed concerns that Trump, by accepting hotel business from foreign governments, will be violating the Constitution's Emoluments Clause, as outside ethics experts have said.
"No one would have thought when the Constitution was written that paying your hotel bill was an Emolument," she said.
Of the donations to the Treasury, she said, "This way it is the American people who will profit."
Still, she was referring to profits from the Trump hotels -- not gains from condo or golf businesses elsewhere.
"There's certainly nothing in the Constitution that says, 'Oh, we're only worried about foreign emolument profits at hotels, but not at condos, office buildings, golf courses, resorts,'" Eisen said. "It makes no sense at all."