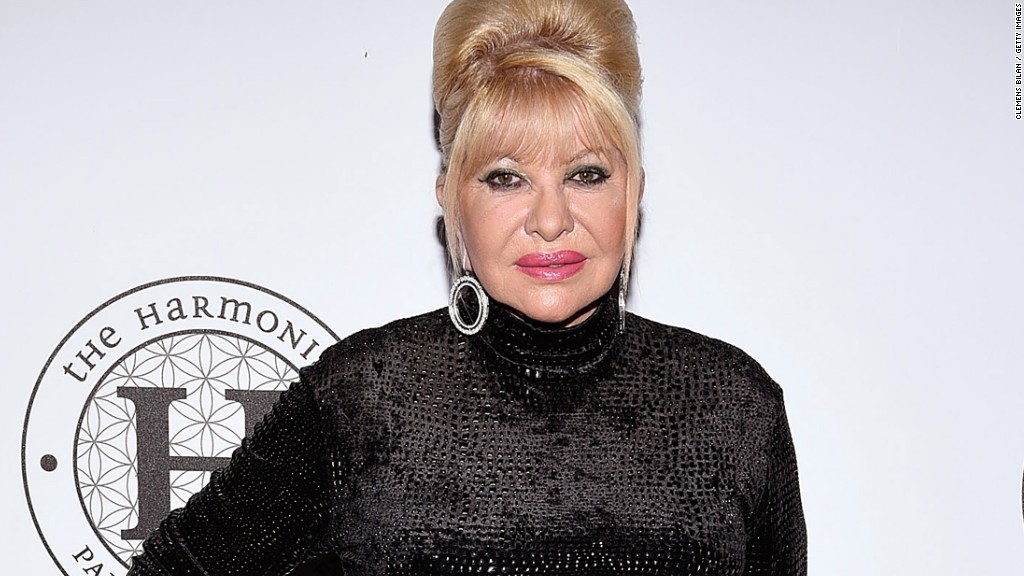 Donald Trump's ex-wife Ivana Trump is set to publish a book with Simon & Schuster. And it's not about politics.
Entitled, "Raising Trump," the "non-partisan, non-political" book will detail Ivana's experience raising her three children with Donald Trump -- Ivanka, Eric and Donald Jr. -- according to the publishing house.
It's set to be published in September under Simon & Schuster's Gallery Books Group.
Ivana Trump said in a statement that the book will share "unfiltered personal stories about Don, Eric, and Ivanka from their early childhood to becoming the 'first sons and daughter.'"
The book will also discuss Ivana's childhood growing up in communist Czechoslovakia and detail her journey to New York, marriage to Donald Trump and her business successes.
Related: Penguin Random House wins bidding war for Obamas' books
Ivana, 68, made a name for herself in the business world when she took on large responsibilities within the Trump Organization while she was still married to Donald Trump.
In his book, "Trump: The Art of the Deal," Trump referred to Ivana as a "great manager" and described her as "demanding and very competitive." He also put her in charge of running Trump's Castle in Atlantic City, rather than hiring an outside general manager.
Related: Amazon's best-seller list takes a dystopian turn in Trump era
Ivana Trump became Donald Trump's first wife in 1977, and the pair divorced in 1990. Trump's fourth child, Tiffany, was born to his second wife Marla Maples. His ten-year-old son Barron was born to Trump's current wife, Melania, in 2006.
CNN's MJ Lee contributed to this report.