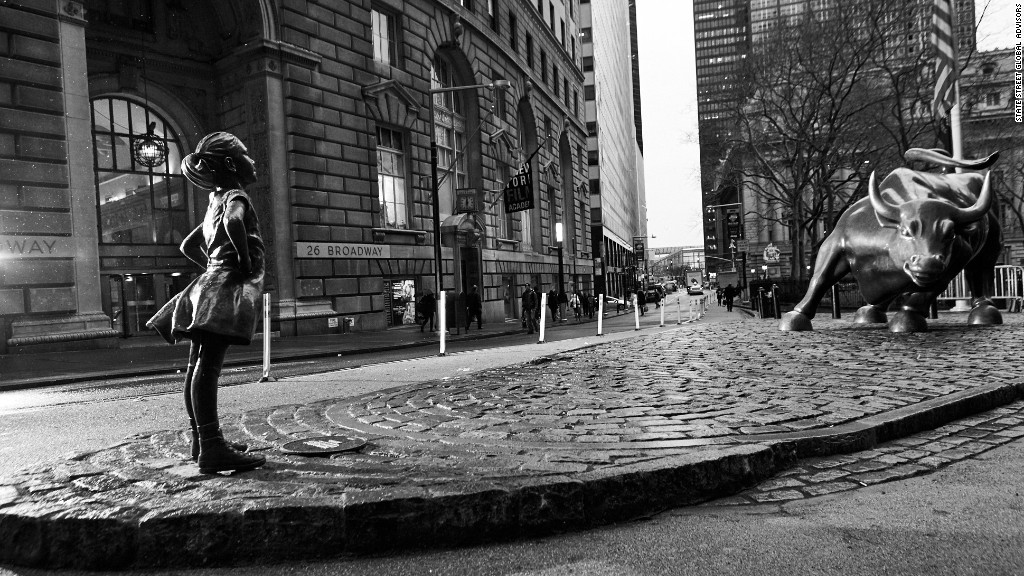 "Fearless Girl" is causing quite a stir.
Since the bronze statue was installed across from the Wall Street bull two weeks ago, she's drawn crowds and incited debate.
The statue's fans say she's an important representation of gender equality, while critics see her as little more than a PR gambit for a powerful financial institution.
The city has granted State Street Global Advisors, the asset-manager behind "Fearless Girl," a permit for the statue until April 2. Now the fight is on to keep her there for good.
"She's been wildly popular," said Assemblywoman Yuh-Line Niou, who represents Manhattan's financial district. "It's hard to get through to that area to even get a photo."
Related: Why a defiant girl is staring down the Wall Street bull
So far, more than 24,000 people have signed a Change.org petition calling for "Fearless Girl" to become a permanent installation. In addition to Niou, the statue has some powerful allies in government, including Congresswoman Carolyn Maloney and New York City Public Advocate Letitia James, all of whom have sent letters asking Mayor Bill de Blasio to let the statue stay.
Those who want to see "Fearless Girl" remain in place hope the statue's presence will help inspire change and promote female leadership.
"Hopefully [it will] one day stand as a celebration of the parity women have achieved," said Maloney.
The mayor has given "Fearless Girl" fans reason to remain optimistic about her fate.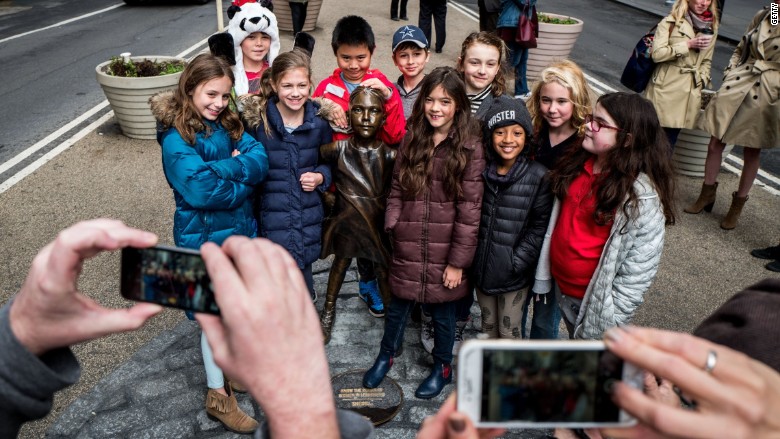 A representative from his office said "we're exploring the possibility of keeping the Fearless Girl for longer than currently permitted," adding that the office is excited by the conversations about women in leadership that have been sparked by the statue.
"Fearless Girl" also has her critics.
Ginia Bellafante, Big City Columnist for the New York Times, called the statue "an exercise in corporate imaging." And Arturo Di Modica, the artist behind the "Charging Bull" told MarketWatch and the New York Post that his statue's adversary is "an advertising trick."
Di Modica did not immediately respond to a request for comment for this story.
Some on Twitter have echoed the complaint. "Please remove this advertisement after the one week permit," one user wrote. "#FearlessGirl is a cynical public relations ploy. Don't embarrass NYers by permanently installing an ad!" wrote another.
Related: Wall Street crowds bullish on 'Fearless Girl' statue
Niou shrugs that criticism off. She says the statue encourages women and girls to think about the challenges they face, which is a positive thing, regardless of where the statue comes from.
"I've been getting such a positive response from my constituents," Niou said. Parents have been sending her photos of children posing with the statue, some have sent online folders filled with images.
"It's kind of powerful," she said. "That's why I've been fighting for it."