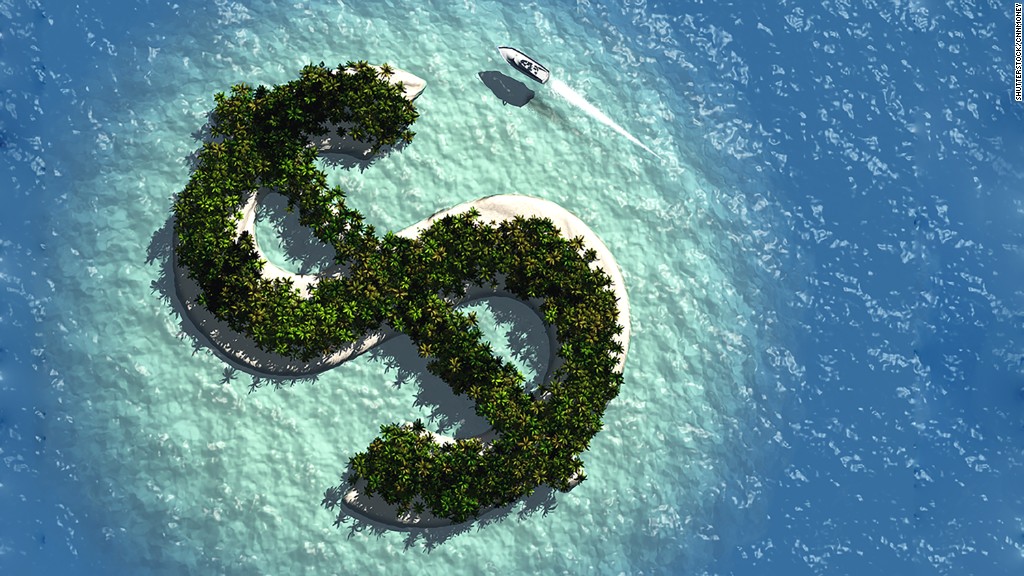 Some of the world's biggest banks processed hundreds of millions of dollars reportedly from a vast Russian money-laundering scheme, data from leaked documents show.
The data show that major U.S. banks including Bank of America (BAC), JP Morgan (JPM), Wells Fargo (WFC) and Citi (C) all processed money from the scheme. Global banks HSBC (HSBC), Deutsche Bank (DB), Standard Chartered (SCBFF) and Barclays (BCS) also appear to have executed transactions.
The internal bank documents were obtained from anonymous sources by the Organized Crime and Corruption Reporting Project (OCCRP) and Russian newspaper Novaya Gazeta.
OCCRP has shared data gleaned from the documents with CNNMoney and other media companies. The Guardian reported on Monday that $740 million was processed by British banks as part of the scheme.
CNNMoney has not independently confirmed the authenticity of the documents.
The bank documents detail roughly 70,000 transactions made between 2011 and 2014.
According to OCCRP, the scheme allowed tens of billions of dollars to be moved out of Russia and into the accounts of thousands of companies scattered around the globe. The Guardian reported that 500 people are suspected of being involved in the scheme, including many wealthy and influential Russians.
None of the banks contacted by CNNMoney denied that they had processed the transactions.
Many did, however, say they were committed to preventing money laundering activities. (The full responses of each bank are included later in this story).
HSBC, which stands accused of processing $543 million in laundered funds, said in a statement that it's "strongly committed to fighting financial crime," adding that this case "highlights the need for greater information sharing between the public and private sectors."
Citi, which the data suggests processed payments of $37 million, said that preventing money laundering is among its "most serious obligations." The bank said that it continually takes steps to strengthen its systems. Standard Chartered said it would investigate any suspicious activity and report it to law enforcement.
Wells Fargo and Deutsche Bank did not respond to requests for comment.
Bank of America and JP Morgan declined to comment.
OCCRP says the scheme worked like this: Shell companies used bogus contracts and a compromised legal system in Moldova to move billions from Russia into banks in eastern Europe. Some of the funds were eventually shifted to accounts at top global banks.
Prosecutors in Moldova said that at least $22 billion was laundered as part of the scheme. According to a statement released this week, they are investigating 16 judges, four employees of the country's central bank and nine commercial bank employees over suspected involvement in the laundering operation.
In order to prevent money laundering, banks are required by national regulators to "know" their customers and establish detailed information including their identities and financial positions. They should also monitor accounts for unusual or suspicious activity.
But the industry has repeatedly fallen down on the job in recent years.
Deutsche Bank was hit with about $630 million in penalties in January over an unrelated $10 billion Russian money-laundering scheme. French bank BNP Paribas (BNPQF) pleaded guilty in 2014 to violating U.S. money laundering laws by helping clients dodge sanctions on Iran and Sudan. In 2012, HSBC paid $2 billion to settle U.S. allegations that it allowed drug cartels to move billions of dollars across borders.
In 2012, HSBC CEO Stuart Gulliver accepted responsibility for the bank's mistakes. "We have said we are profoundly sorry for them, and we do so again," he said.
OCCRP first reported the existence of the Russian laundering scheme in 2014, but the role of global banks was not widely known.
ING (ING), Royal Bank of Scotland (RBS), Lloyds (LLDTF), Bank of China (BACHF) and UBS (UBS) were also listed in the data provided to CNNMoney.
Law enforcement in the U.K. said this week that they are willing to assist Moldovan investigators.
Britain's National Crime Agency said that it would "consider any formal request for assistance from the Moldovan authorities in connection with their investigation, and will consider whether information provided by ... media sources would allow the progression of an investigation."
The U.K. Financial Conduct Authority also addressed the issue: "Clearly these are serious allegations and we will investigate any evidence that we receive."
Responses from the banks listed in the documents provided to CNNMoney:
HSBC: "HSBC is strongly committed to fighting financial crime. The Bank has systems and processes in place to identify suspicious activity and report it to the appropriate government authorities. This case highlights the need for greater information sharing between the public and private sectors, each of whom holds important information the other does not."
Standard Chartered: "In line with our commitment to preventing fraud, money laundering and terrorist financing, we will investigate any indications of suspicious activity and if appropriate report those findings to law enforcement."
Royal Bank of Scotland: "We are committed to combating financial crime and money laundering in line with our regulations and have controls and safeguards in place to identify, assess, monitor and mitigate these risks."
UBS: "UBS applies a robust money laundering prevention framework across its business operations globally, consistent with locally applicable regulations. On a global basis, we file a significant four-digit number of reports on suspicious activities to anti-money laundering authorities every year."
Citi: "Among our most serious obligations as a bank is to achieve the strongest possible system for anti-money laundering and sanctions compliance to protect the financial system from being used as a tool by criminals and terrorists. We continually take steps to strengthen and enhance our anti-money laundering program in order to anticipate and respond to the changing patterns of criminal and terrorist behavior."
ING: "Obviously we have specific policies and regulations regarding client and transaction screening and monitoring to prevent us from being used by criminals. When applicable, we report to and work with relevant authorities. However, it is ING's policy not to comment publicly on individual clients, transactions or investigations."
Barclays: "Barclays complies with the rules and regulations in all the jurisdictions in which it operates and has systems and controls in place to mitigate the risk of the bank being used to facilitate financial crime. This includes risk based systems and procedures to monitor ongoing customer activity, which we constantly review, and procedures for reporting matters to the relevant law enforcement authorities as appropriate. In addition, through a number of industry initiatives, Barclays partners closely with global law enforcement in the fight against financial crime."
Bank of China: "Bank of China assigns high priority to anti-money laundering and financial crime prevention. It is treated as a key compliance risk and the bank adopts a zero tolerance approach towards money laundering and financial crime.
We have always strictly abided by the local laws and regulations in jurisdictions where we operate and have adopted policies and mechanisms to actively embed anti-money laundering and anti-terrorist financing throughout our Bank. During our daily operations, we comply with all relevant policies, rules, guidance etc and thoroughly conduct customer on-boarding processes, including customer due diligence and ongoing monitoring, plus key anti-money laundering controls such as regular reviews of customer information and their account activity.
The Bank has in place an anti-money laundering monitoring mechanism to detect suspicious activities and has implemented an anti-money laundering compliance program, including due diligence, which is being continuously optimized. Should any suspicious activity be detected, we will carry out risk mitigation activity, which includes investigation and enhanced monitoring, reporting to anti-money laundering competent authorities and account closure so that risks can be effectively controlled.
The Bank continues to take compliance and anti-money laundering extremely seriously as we have always, and persist in our efforts in improving risk management capability in this area, to ensure that our business and its operations are within the boundaries of laws, regulations and internal policy. We also hope that all parties, including financial services, law enforcement and the media will work together to fight money laundering and financial crime."
Bank of American and JP Morgan: Declined to comment.
Wells Fargo, Deutsche Bank, Lloyds: Did not respond to requests for comment.