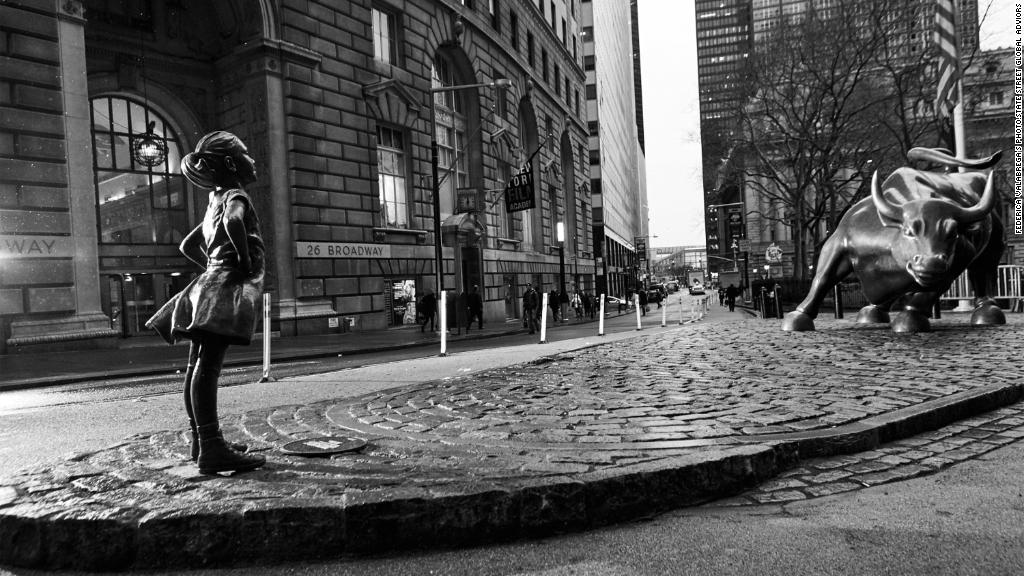 The "Fearless Girl" will stare down the Wall Street bull for another year.
The popular statue will remain in Lower Manhattan at least through February 2018.
"Fearless Girl" was installed across from the iconic Charging Bull sculpture this month by State Street Global Advisors to advocate for getting more women on corporate boards. After an extension of the initial permit, she had been scheduled to stay until April 2.
She will stay in place, hands on hips, as part of a city public art program.
"In her short time here, the Fearless Girl has fueled powerful conversations about women in leadership and inspired so many," Mayor Bill de Blasio said in a statement. "Now, she'll be asserting herself and affirming her strength even after her temporary permit expires -- a fitting path for a girl who refuses to quit."
Related: Should 'Fearless Girl' stare down the Wall Street bull forever?
Since she appeared, more than 28,000 people have signed a petition to keep her there. Nira Desai, who started the petition, called the extension "really incredible news." In an email to CNNMoney, she said she still plans on fighting to make "Fearless Girl" permanent.
The sculptor, Kristen Visbal, told reporters that the response "kind of renewed my faith in sculpture, in art, to make an impact on society."
"'Fearless Girl' has shed a light on the issue of the need for gender diversity more than anything before her has," she said. "It's time for gender equality in the boardroom, time for men and women to work together in leadership."
Related: Wall Street crowds bullish on 'Fearless Girl' statue
Those who have been calling for the statue to remain permanent see her as a symbol of female empowerment. Assemblymember Yuh-Line Niou, who represents the Financial District, wrote in a March 15 letter to the mayor that "fearless girl has motivated us to look past typical symbols of power, resilience and courage."
Others, however, see her as little more than an ad. Ginia Bellafante, who writes the Big City column for The New York Times, called the statue "an exercise in corporate imaging." One critic tweeted that the statue is "a cynical public relations ploy."
Her supporters are already celebrating on social media. Councilmember Mark Levine wrote on Twitter, "#FearlessGirl is showing her power."