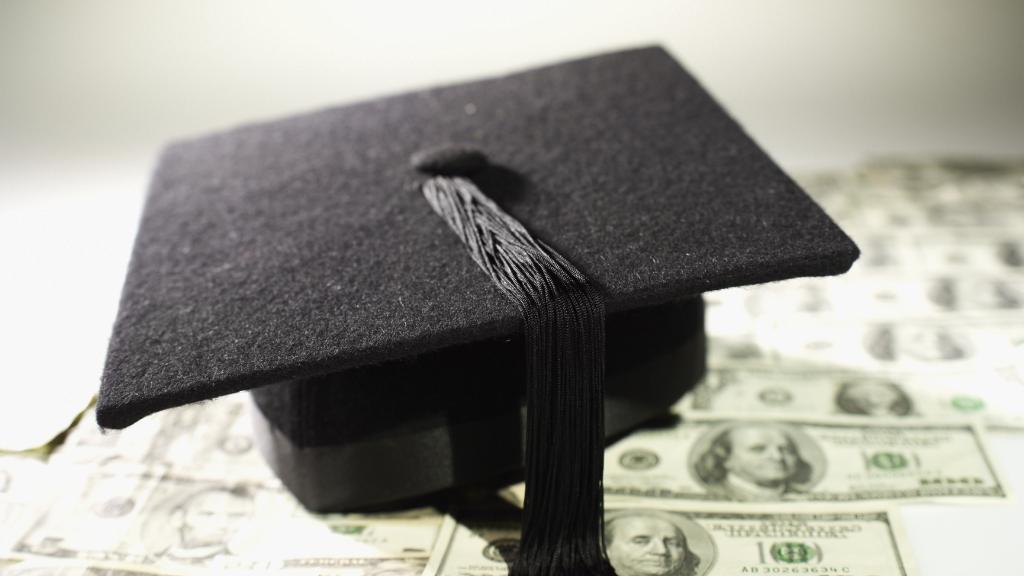 You won't have to pay anything to get an education at MissionU -- until you land a job.
Students will graduate after one year trained for a job that's in high demand, says founder Adam Braun. The first program starts in the fall and focuses on data analytics and business intelligence.
More than 2,000 people applied to the program in just 10 days.
Braun started the school as an antidote to what he thinks is the biggest problem with higher education today: too many grads leave school unprepared for the workforce and saddled with debt.
The career-focused program was designed so that students are ready to start working when they walk in the door at a new job. Braun received input from Spotify, Uber, Lyft, Warby Parker and Casper when designing the curriculum. Those companies have jobs to fill and will get early access to hire MissionU grads.
After completing MissionU, a student still doesn't owe any money until they land a job that pays at least $50,000 a year. Then, students pay 15% of their pre-tax income each month for three years. The bigger their salary, the more they'll pay.
At a minimum, a student will end up paying $22,500 total. That's comparable to the average cost of one year at an in-state public college, including tuition and room and board.
"There are millions of individuals in this country for whom a college degree is not worth the cost," Braun said.
There's plenty of data that show, however, that it's better than not going at all. College grads make more money over their lifetime than those who don't, and are much more likely to own a home by age 33.
But Braun says "a bachelor's degree is not one-size-fits-all."
Related: New York just made tuition free for the middle class
MissionU is for young people who are eager to launch their career, but don't think a traditional college degree will give them the skill set they need. Braun targets those who are between the ages of 19 and 28.
Instead of looking at SAT or ACT scores, applicants are asked to answer questions that show their problem solving skills and must meet with other applicants for a group challenge.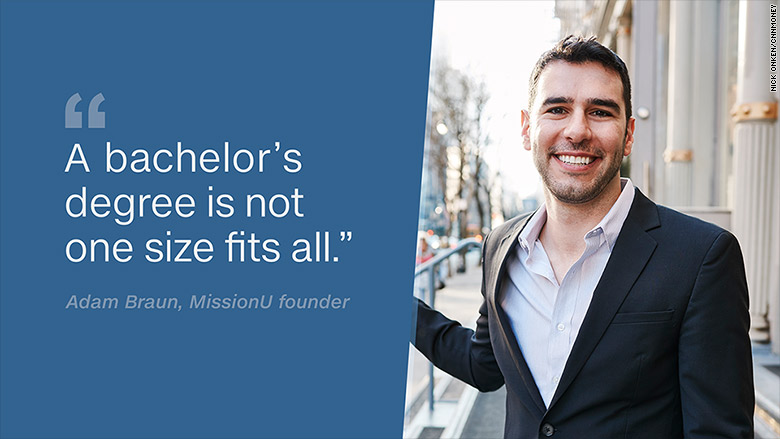 The majority of the MissionU program is online, but there are no pre-recorded lectures. They are virtual classrooms taught by industry professionals that allow a lot of time for group work with others in the class. Students must meet up once a month in person, in addition to a three-day workshop at the start.
During one section of the program, real companies and non-profit organizations submit problems they're facing for students to solve. The last six weeks of the program are solely dedicated to helping students launch their career with interview help and salary negotiation coaching.
Related: Just how better off are college grads anyway?
"I think if you have an idea of what you want to do, are self-directed and motivated, it's perfect for you," said Neil Parikh, the co-founder of Casper. The tech company designed its own mattress that it sells online.
Casper has open jobs in finance, accounting, engineering and data analytics and it's not always easy to find candidates for these jobs that don't need on-the-job training. If they do, they've probably learned on the job elsewhere, or have a computer science degree and were lucky to land a solid internship while in school, Parikh said.
Related: A degree from this college all but guarantees you a job
Companies like Casper that are fighting to hire the best and the brightest are excited to see job candidates from MissionU in the future.
"I see 15-year-olds with the technical aptitude to create amazing apps. Why does it make sense for us to wait until they're 23 to hire them into the workforce?" Parikh said.
Each MissionU cohort will consist of about 25 people who live near the same metropolitan area so that it's easy to meet up in person. Braun expects the first cohort to be in either New York or San Francisco. The second cohort is expected to start in January. Both will focus on data analytics and business intelligence, but MissionU plans to create other curriculum in the future.
Correction: An earlier version of this story incorrectly stated that the cost of MissionU is comparable to the total cost of a four-year degree at a public college. In fact, it is comparable to the cost of just one year.