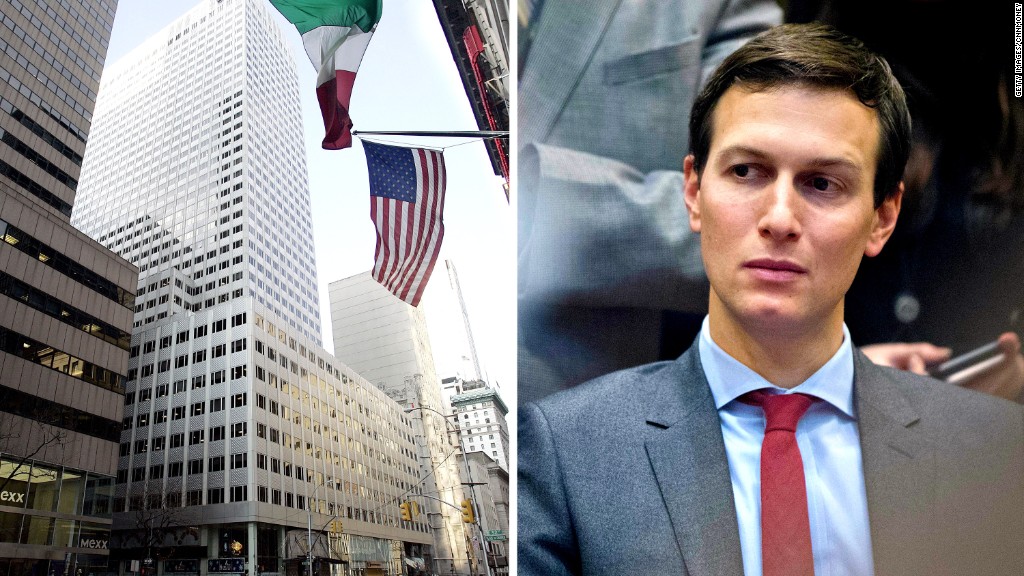 As a senior adviser to President Trump, Jared Kushner holds one of the most expansive roles in the White House.
But the 36-year-old real estate developer and husband to Ivanka Trump has another job: selling off pieces of his vast business holdings to avoid conflicts of interest. It's an ongoing process, and it's unclear how long it will take.
Kushner and Ivanka Trump started their White House jobs with at least $700 million in assets, according to financial documents released by the White House last month.
The documents showed that Kushner also held a position in 267 entities, though he said earlier this year that he would resign from management roles as part of his transition into government.
Related: Trump's Secretary of Everything: Jared Kushner
As White House employees, Kushner and his wife are subject to rules that prohibit them from participating in matters in which they have a financial interest. That means they'll either have to recuse themselves from certain things to avoid ethical pitfalls, or divest assets that could pose problems.
The two have made clear that they won't divest everything. Ivanka Trump, for example, is holding onto her clothing and accessories brand, though she has promised not to participate in issues that could have a direct effect on the line -- like certain trade agreements.
And Kushner, who still owns numerous real estate investments, has made similar plans for recusal, a family attorney told CNN in January.
But he has sold off other interests. When the White House made Kushner's financial paperwork public last month, he had sold off investments in more than 50 companies, including Metlife (MET) and PepsiCo (PEP). He also dumped a stake worth as much as $30 million in Thrive Capital, an investment firm founded by his brother, Joshua Kushner.
Other documents released by the Office of Government Ethics showed Kushner sold off smaller investments in Rupert Murdoch's News Corp (NWS) and 21st Century Fox (FOXA).
Earlier this year, Kushner also divested from a tower in New York City that his family's company purchased in 2007 for $1.8 billion. The interests were sold to a family trust that Kushner does not benefit from, a spokesperson said at the time.
Related: Kushner company, Chinese firm call off development deal
Even then, he couldn't avoid ethical questions entirely. Members of Congress raised concerns when his family's company sought a deal with the Chinese conglomerate Anbang about redeveloping the property because of Anbang's ties to the Chinese government. Both sides called off the talks.
Kushner's other plans to disentangle himself from his financial interests are still underway. The White House documents released last month showed that he was still trying to sell off a stake in WiredScore, a real estate technology company, that was worth millions.
The Wall Street Journal reported last weekend that Kushner is close to making that sale.
A spokesperson for Kushner Companies declined to comment.