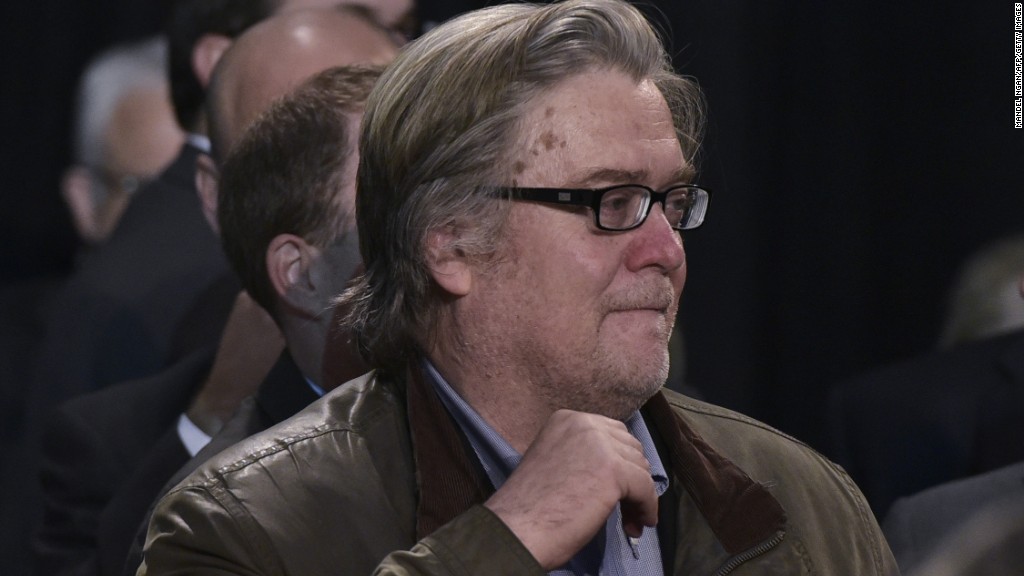 Chief White House strategist Steve Bannon was cleared this month to sell his stake in two companies backed by a family of influential Republican donors.
A document released Tuesday by the Office of Government Ethics shows Bannon was given the OK to sell his stake in Cambridge Analytica, a Republican data firm, and Glittering Steel, a film production company.
Both entities are backed by Bob Mercer and his daughter Rebekah, billionaire supporters of President Trump. The Mercers are major investors in Breitbart News, the right-wing site where Bannon served as executive chairman before he ran Trump's campaign.
The document is dated April 12. It was first reported Tuesday by Bloomberg.
Bannon's stake in Cambridge Analytica was worth between $1 million and $5 million, and his Glittering Steel holdings totaled between $100,000 and $250,000, according to public financial filings released by the White House last month.
Related: Jared Kushner is still selling off his business assets
Those filings also showed that Bannon was vice president and secretary of Cambridge Analytica, and chairman of Glittering Steel. He resigned those jobs when he began work for the Trump campaign last August.
He indicated in those documents that he wanted to sell the assets, but was waiting on paperwork from the ethics office, which helps executive branch officials reconcile potential conflicts of interest.
The new document doesn't say whether Bannon has sold the investments yet, but it's a key step for officials who are forced to sell off problematic assets.
It allows Bannon to defer paying capital gains tax on any sale as long as he puts his money in an investment approved by the government, like U.S. Treasurys or a highly diversified mutual fund.
The White House did not immediately respond to a request for comment.