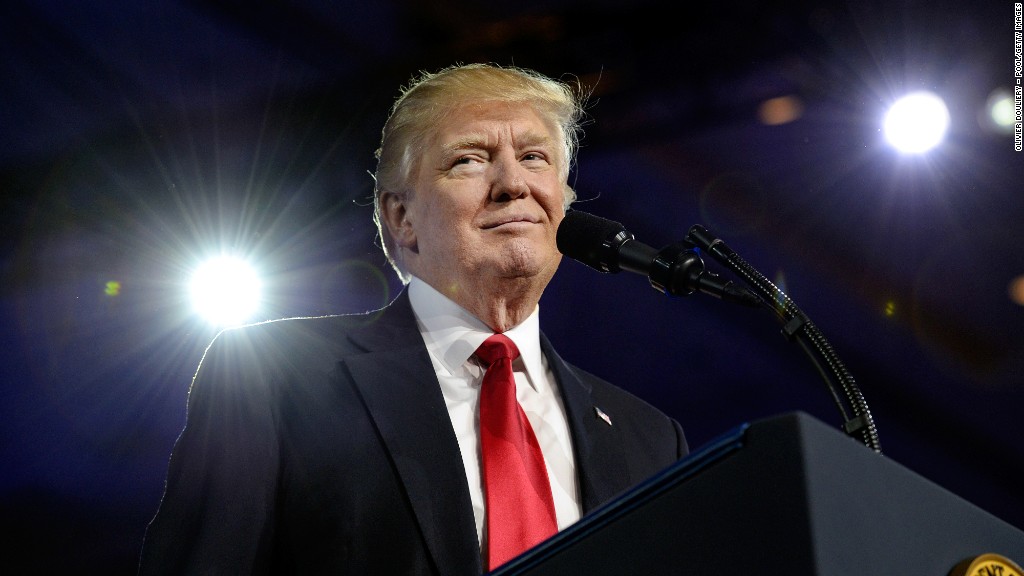 It's getting harder and harder to find a worry-free vacation destination.
Fear factors including terrorism, political instability and Trump administration policies are scaring away huge numbers of visitors from traditional destinations.
"People are worried that the big, wide world is not as safe anymore," said Patrick Surry, chief data scientist at travel firm Hopper. "People are choosing to stay closer to home."
The trend threatens to undermine years of strong growth in global tourism -- which topped out at 1.2 billion trips in 2016.
The art of avoidance
Europe: Alarming headlines about terrorism and a regional refugee crisis resulted in fewer international visits to Western Europe in 2016.
France -- the world's top tourist destination -- was particularly hard hit. It suffered a 4% drop in visitors last year after high-profile terror attacks and strikes by air traffic controllers. Tourism spending fell by 11% between 2014 and 2016.
The appeal of London, a traditional magnet for international visitors, has also been tarnished following a March terror attack. A survey by travel agents network Travel Leaders Group found that 27% of American respondents are reluctant to fly to the city in the near future.
Related: It could get a lot harder for Europeans to visit America
Middle East: The number of international tourists to the Middle East dropped by 4% in 2016, according to the UN World Tourism Organization.
Egypt was the worst off, suffering a 42% plunge after multiple attacks on its aviation industry scared away millions.
Turkey -- which straddles Europe and the Middle East -- saw visitor numbers plunge 29% last year in the aftermath of multiple terror attacks and a failed coup.
Armed conflicts in the region have further undermined its appeal.
Latin America: The threat of contracting Zika has discouraged many young couples and pregnant women from visiting large swaths of Latin America.
"Last year was definitely a bad year for this market because we had a lot of cancellations," said Lisa Sheldon, executive director at the Destination Wedding & Honeymoon Specialists Association. "It's still a concern for some couples."
Sheldon estimated that 60% of couples bring this topic up with her network of travel agents when discussing honeymoon locations and destination weddings. About half of those travelers eventually opt for Zika-free areas.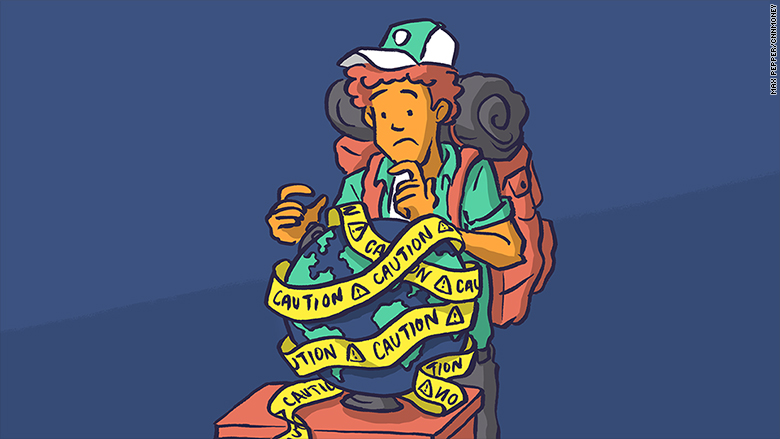 United States: The Trump administration has pursued policies during its first 100 days that have unnerved some potential visitors and taken a bite out of tourism.
In March, Trump announced a 90-day freeze on visas for citizens of six Muslim-majority countries. Courts have blocked the visa restrictions. The Trump administration also banned travelers from 10 airports in Muslim majority countries from bringing many electronic devices into the plane cabin.
"This has really caused people from outside the U.S. to ... think twice before they come here," said Surry.
One study forecasts a 10.6 million -- or 7% -- decline in visitors this year and next.
Middle Eastern arrivals to the U.S. fell by 9.5% and European arrivals dropped 6.5% in the first quarter of the year, according to travel intelligence firm ForwardKeys.
Emirates also reduced its flights to the U.S. following a drop in demand.
Chinese searches for U.S. flights dropped by more than 50% after Trump first attempted to implement a travel ban in January. Chinese tourists led the world in spending last year, shelling out a total of $261 billion.
South Korea: Chinese tour groups have been canceling trips because of anger over the deployment of a controversial U.S.-built missile defense system in South Korea. Chinese authorities are believed to have told travel agencies last month to stop selling trips to South Korea.
The country suffered a 40% plunge in Chinese visitors last month, according to the Korea Tourism Organization.
The outlook is bleak, too. Bookings for stays of four to eight nights by Chinese visitors are down 28% in the second quarter of 2017 compared with a year earlier, according to ForwardKeys.
Rising tension with North Korea is unlikely to help.
The alternatives
While millions of travelers have put dream visits to the pyramids and the Eiffel Tower on hold, they've found alternatives.
Spain: Spain is the third most popular tourist destination in the world and visitor interest keeps growing.
Visitor arrivals surged by 10% last year. If that growth continues, it could soon take the top spot as the most popular tourist destination in the world, surpassing France and the U.S.
Mexico: Mexican tourism has been having a moment in the sun, with the country welcoming 9% more visitors in 2016, according to the UN World Tourism Organization.
ForwardKeys data shows the country could see a 20% increase in international tourism in the current quarter.
Travelers who voice concerns about contracting Zika are often directed to locations like the Baja resort town Cabo San Lucas, where the risks are considered lower, said Sheldon.
Canada: America's neighbor to the north is expected to welcome more tourists in the coming year, with ForwardKeys dubbing the country "the new star destination in North America."
Canada is expected to see a 16% increase in international tourism in the current quarter.
Iceland: The island nation has continued to expand its tourism base by leaps and bounds, welcoming visitors who are willing to bundle up against the cold, unpredictable weather.
Tourism spending in the local currency surged by 27.5% last year, according to the World Travel & Tourism Council.