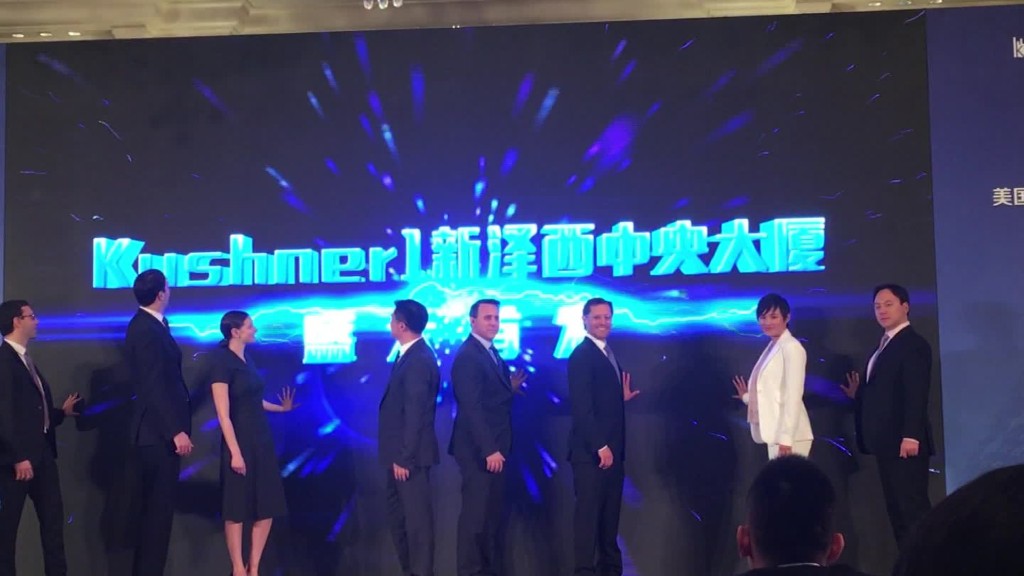 A company owned by Jared Kushner's family is apologizing for mentioning the White House adviser at an investment conference in China.
Kushner Companies said Monday that the name drop at the event in Beijing on Saturday was not intended to be an "attempt to lure investors" to one of its projects in New Jersey.
Nicole Kushner Meyer, the sister of White House adviser and President Trump's son-in-law Jared Kushner, mentioned her brother's new role in the administration during a pitch for her family's property. The New Jersey building makes use of an EB-5 visa program to draw in international investors, including the Chinese.
"In 2008, my brother Jared Kushner joined the family company as CEO, and recently moved to Washington to join the administration," she said at the conference.
A similar conference was held in Shanghai on Sunday.
On Monday, Kushner Companies said it didn't mean for the comment to be interpreted as an incentive for investors to sign onto the project.
"Ms. Meyer wanted to make clear that her brother had stepped away from the company in January and has nothing to do with this project," the company said in a statement.
Related: 'Invest $500,000 and immigrate' to United States
The EB-5 visa allows immigrants a path to a green card if they invest more than $500,000 in a project that creates jobs in the United States. Kushner Companies says about 15% of its New Jersey building -- a $976.4 million residential and commercial project called 1 Journal Square -- will be funded through the EB-5 program.
The program is used by foreigners, particularly wealthy Chinese nationals, as a way into the United States. Lawmakers have criticized it as a way to essentially sell citizenship to the ultra rich.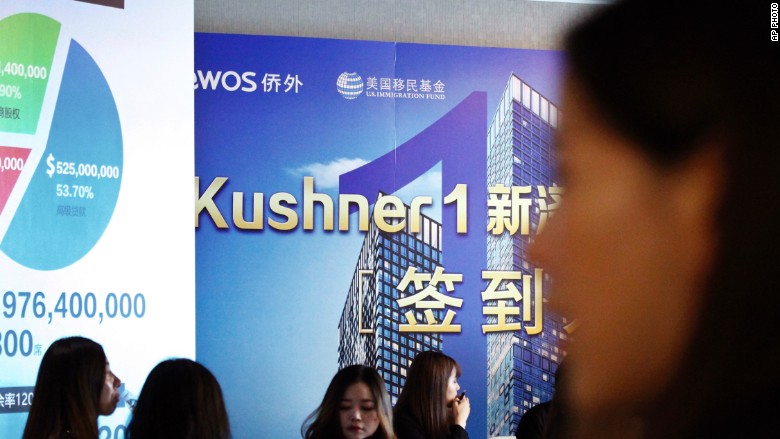 While Nicole Kushner Meyer didn't reference President Trump by name, his photo appeared on a slide at the event that listed the "key decision makers" on the EB-5 program.
Kushner Companies later distanced itself from the photo. In a statement to CNNMoney on Monday, the company said the image "was part of a presentation by the event's organizers."
"Kushner Companies had nothing to do with it," it added.
Larry Noble, general counsel of the Campaign Legal Center, a nonprofit watchdog group, said he was skeptical of that explanation.
"You would think if they are going to take part in a marketing event for one of their properties, that they would want to see the PowerPoint," he said.
And even if the slide caught Kushner Meyer by surprise, Noble said the incident demonstrates why such connections can be dangerous. The company's foreign partners would understandably jump at the chance to push any perceived connections to the White House.
"They put themselves in a position where obviously people are going to be touting their connections," Noble said.
President Trump has made visa reform a central piece of its promised changes to immigration policy.
The White House said Monday that it is "evaluating wholesale reform" of the program along with Congress to ensure it is "used as intended and that investment is being spread to all areas of the country."
It added that the administration is "exploring the possibility of raising the price of the visa to further bring the program in line with its intent."
Related: Why wealthy Chinese are lining up to pay $500k for U.S. visas
Jared Kushner has stepped away from the business since taking a key role in Trump's White House.
His attorney, Blake Roberts, said Saturday that Kushner is not involved in the operation of Kushner Companies and divested his interests in the Journal Square project by selling them to a family trust that he, his wife and his children are not beneficiaries of, which was suggested by the Office of Government Ethics.
"As previously stated, he will recuse from particular matters concerning the EB-5 visa program," Roberts said in a statement.
Noble, the ethics attorney, said it's unlikely that Nicole Kushner Meyer violated any laws. In Jared Kushner's case, Noble said it depends on what he has divested and whether he follows through with the promise to not participate in EB-5 matters.
--CNNMoney's Jackie Wattles and CNN's Serenitie Wang contributed to this story.