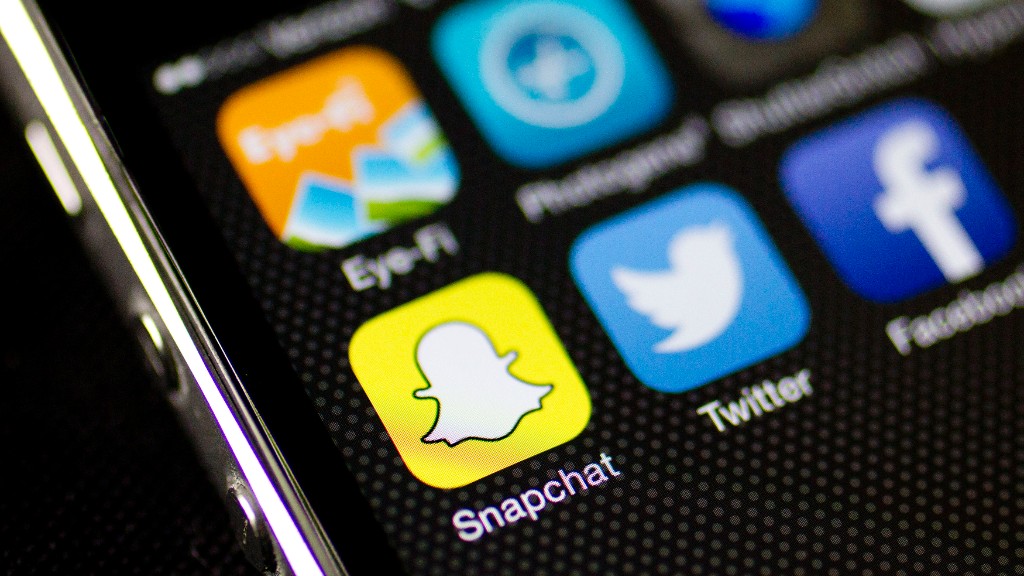 Snapchat parent Snap Inc. will release its first earnings report as a public company after the closing bell on Wednesday. But unfortunately for its fans, there are more investors wearing bear face filters than bull ones.
Shares of Snap (SNAP) surged 44% in their debut on the New York Stock Exchange and hit a high of $29.44 -- 73% above their offering price of $17 -- on their second day.
But it's been all downhill, since then. Optimism about the stock, like the disappearing Snapchat message, seems to have a short shelf life. Snap stock is now trading at around $23 -- more than 20% below its peak price.
Snapchat fans could point out that Facebook (FB) also endured a rocky few months immediately after its initial public offering while Twitter (TWTR) surged after its IPO. We all know what happened next. Facebook is now worth nearly $440 billion. Twitter isn't.
Snapchat needs to prove to a skeptical Wall Street that it can continue to grow -- even while Facebook and its Instagram photo sharing subsidiary seem intent on stealing away young users from Snapchat with many copycat features.
Snapchat is still a niche social media company -- and there are concerns that its popularity may already be peaking.
Analysts are expecting Snap will report a loss for the quarter. It has yet to post a profit. And Wall Street thinks revenue came in at $158 million. That would be a four-fold jump in sales from a year ago -- but it's down from the fourth quarter. Not a good sign.
Snapchat also had just 161 million daily active users at the end of the fourth quarter. Facebook said in its most recent earnings report that it finished the first quarter with 1.28 billion daily active users.
Related: Facebook's global domination -- it continues to add more and more users
Instagram's newish Stories feature has quickly become very popular. Like Snapchat, Stories allows users to add fun images and text to the photos and present them in a slideshow format as well.
Let's be honest. Adding bunny ears to a photo isn't the most groundbreaking technology. It could be relatively easy for Facebook and Instagram to keep watching Snapchat and then just copy some of that social network's most popular new bells and whistles.
Sure, Snapchat executives will likely gush about engagement -- i.e. how much time users spend on the Snapchat app, not CEO Evan Spiegel's upcoming marriage to supermodel Miranda Kerr.
But Matt Britton, CEO of Crowdtap, a marketing software firm, said that many celebrities are migrating more to Instagram from Snapchat. That means that advertisers will likely follow too.
"Snapchat needs to innovate to find new ways to compete more effectively with Instagram," Britton said, adding that the company's augmented reality Spectacles could give the company a leg up against competition.
Related: Snapchats no longer have to disappear after 10 seconds
But he noted that Facebook had an easier time rising to dominance because it was up against a competitor in decline -- MySpace. Snap isn't dealing with a weak rival. It's dealing with Facebook at its prime.
DJ Kang, a former hedge fund analyst who is now head of Asia for consumer research firm ValuePenguin, agrees. He thinks that Snapchat stock is overvalued mainly because of the continued threat from Facebook and Instagram.
"Snapchat's growth is being cannibalized by Instagram Stories in literally every single market in the world," Kang wrote in a report, adding it's possible that Snapchat could even report a decline in users from the fourth quarter when it reports first quarter results.
Related: Facebook continues its transformation into Snapchat
There are also concerns that Snapchat could have a tough time gaining a big foothold in Asia since there already is a similar social network named Snow that is popular there.
Kang recommends that investors buy Facebook and short Snap (i.e. bet against the stock -- the process involves borrowing the stock from a broker and selling it with the aim of buying it back after the price falls and profiting from the difference) because he thinks Snap shares could fall as much as 60%.
He believes Snapchat, currently worth about $26 billion, may eventually wind up trading more in line with where Twitter's stock does. Twitter's current market value is just $13 billion.
And Kang isn't the only one who thinks that betting against Snap stock is a smart move. Interestingly, it appears that the company's user base may also be wary of the shares.
Related: Instagram's Snapchat clone is more popular than Snapchat
Market research site Investopedia said Tuesday that Snap was the third-most shorted stock in a recent stock picking contest it ran for college students.
But the most popular stocks bought by these teens and early 20-somethings? Facebook -- along with the other FANG stocks, Amazon (AMZN), Netflix (NFLX) and Google owner Alphabet (GOOGL).
That could be a problem. If Snap isn't cool enough for members of its core demographic to buy, Snap may find it even tougher to convince older Gen Xers and baby boomers who don't get why the service is even popular in the first place to invest in the stock.