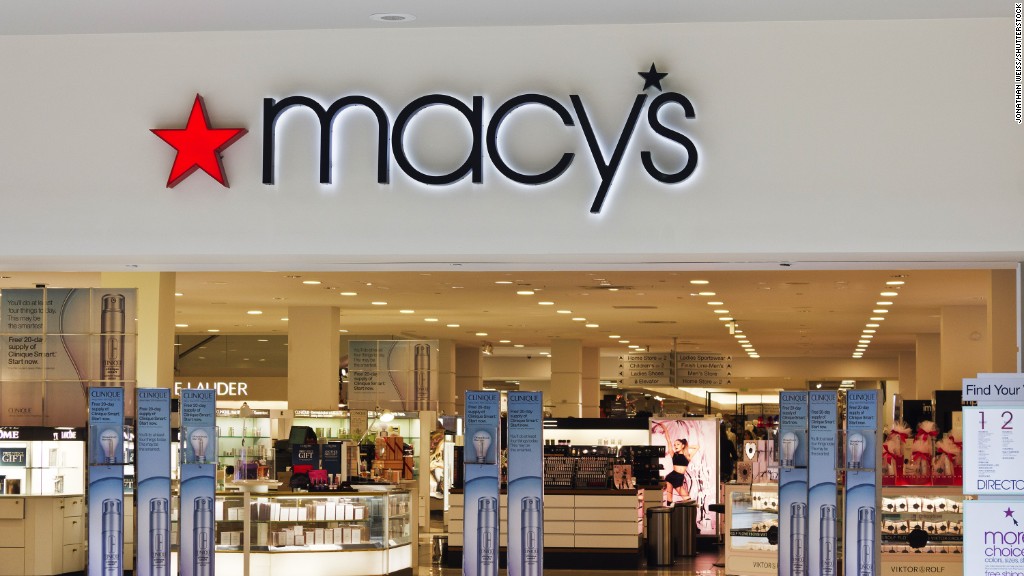 Abercrombie & Fitch may be for sale, and its stock is soaring on the news.
Shares of the struggling retailer rose 12% Wednesday, on news that Abercrombie & Fitch (ANF), which also owns the Hollister apparel chain, had hired investment bankers to look for potential offers.
The company said in a release that it is in "preliminary discussions with several parties regarding a potential transaction."
It's not clear who would want to buy the company. Shares are near their lowest level since 2000. (Maybe the name dropping of A&F in the 1999 song "Summer Girls" by LFO proved to be the height of the retailer's popularity.)
Sales have been sluggish for years. The company is expected to report another quarterly loss and decline in revenue when it releases its latest results on May 25.
New CEO Fran Horowitz, who was promoted from chief merchandising officer to the top spot in February, has taken steps to get the company back on track. But it's been an uphill battle.
Former CEO Mike Jeffries left the company in December 2014 after a series of controversies.
Jeffries made remarks about only wanting "cool, good-looking people" to wear his company's clothes.
Related: Abercrombie & Fitch has been in trouble for some time
A&F was also criticized by many parents for hyper-sexual imagery in its marketing, with models that appeared to be very young, wearing suggestive (and little) clothing in its catalog and stores.
And an ex-pilot for the company-owned Gulfstream jet (which has since been sold) filed an age discrimination suit against A&F a few years ago. The pilot claimed Jeffries had a manual that listed dress requirements for male models working on the plane.
The retailer enjoyed a brief turnaround after Jeffries left and executive chairman Arthur Martinez, who led Sears (SHLD) before that once iconic company went into its own tailspin, took over.
Under Martinez, the retailer de-emphasized much of the logo-based apparel that were once hugely popular at A&F and Hollister.
But A&F's apparel no longer stands out in the crowded field of teen fashion. A&F and many other mall stalwarts have struggled to compete against the new kings of retail -- fast fashion companies like Zara, H&M and Uniqlo.
Related: Big retailers hope to prove they aren't dying
The Wall Street Journal reported Wednesday afternoon that two rivals -- American Eagle Outfitters (AEO) and Express (EXPR) -- might be interested.
Still, it seems unlikely that many other major chains would want to make a play for the company though. The retail landscape is looking bleak right now, particularly for fashion companies.
Wet Seal, American Apparel, Aeropostale and BCBG Max Azria have all filed for bankruptcy recently. Gap (GPS), which also owns Old Navy and Banana Republic, is still trying to turn its fortunes around. J.Crew has announced layoffs. Bebe (BEBE) is closing shop.
And the broader retail sector is hurting too. Macy's (M) and Sears are closing stores. JCPenney (JCP) and Kohl's (KSS) are struggling.
Amazon (AMZN) is a big reason for the entire retail sector's woes of course. So is Walmart (WMT), which has doubled down on its own digital commerce efforts lately.
Related: Retailers have cut tens of thousands of jobs in the past few months
It is likely to only get worse for traditional retailers.
"Iconic brands of the past stand little chance of defending themselves against companies like Amazon due to their sheer size and logistical capabilities," said Liz Elder, research associate at brand consulting firm L2.
So who could buy A&F? Maybe a private equity firm. But Elder thinks that a turnaround won't be easy.
Elder said the company's biggest problem is that it is continuously chasing the fickle teen market. It had a loyal customer base in the 1990s -- but those customers no longer shop there.
"A&F will be able to live a little longer if it is bought by a firm who recognizes that in order to succeed they must make incremental innovative changes across its products lines rather than focusing on reactionary improvements," she said.