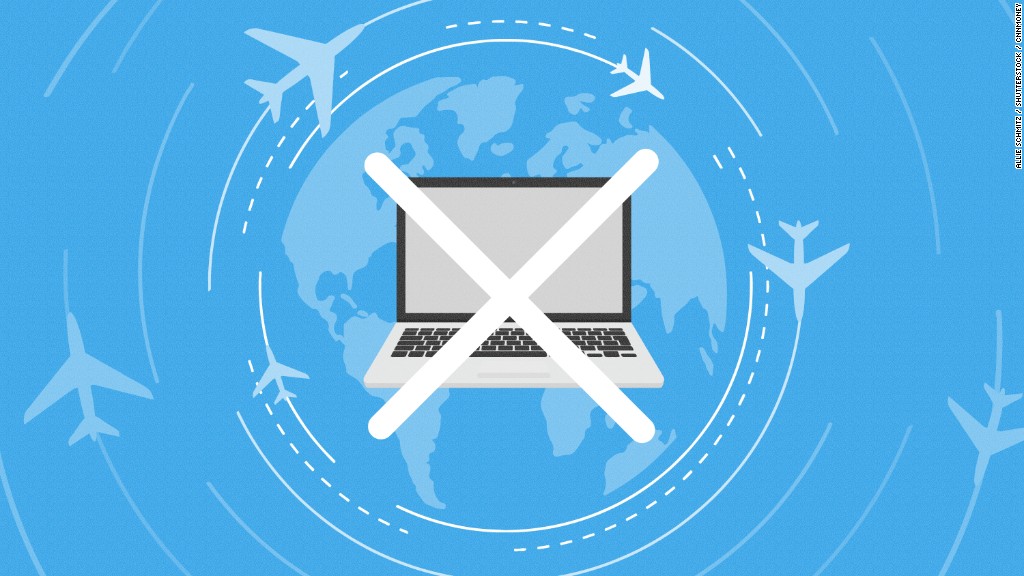 Europe has warned the U.S. that imposing a laptop ban on transatlantic flights could pose a risk to safety.
The Trump administration is preparing to ban large electronic devices from the cabins of flights from Europe, extending restrictions imposed earlier this year on flights from 10 airports in the Middle East and Africa.
"It was clear yesterday the decision to expand the ban has been made," an airline industry source said on Friday. "We are just waiting on the order."
U.S. administration officials said in March that intelligence suggests terrorists are able to hide explosives in laptops.
Passengers on flights covered by the restrictions are required to carry anything bigger than a smartphone in checked baggage. But aviation experts say storing large numbers of devices with lithium batteries in the cargo hold of a plane constitutes a fire risk.
European officials, including EU transport commissioner Violeta Bulc, underscored those concerns in a call with U.S. Secretary for Homeland Security John Kelly on Friday.
"Commissioner Bulc highlighted the potential safety implications of putting a large number of electronic devices in the aircraft hold," a European Commission spokesperson said.
The spokesperson described the call as "a very constructive exchange of views" and said the EU had invited U.S. officials to Brussels next week for talks "to jointly assess the potential risks and review future measures."
Related: Europe is bracing for a laptop ban on flights to America
The European Aviation Safety Agency warned a little over a month ago against storing a large number of electronics in the cargo hold.
"[Personal electronic devices] containing lithium batteries are considered as dangerous goods. When carried by passengers, they should preferably be carried in the passenger cabin," the EASA said.
Related: European regulator flags safety risk of laptop ban
Aviation experts worry about how lithium batteries are stored because they can produce fires that are extremely difficult to put out with on-board fire extinguishers.
The risk is documented. Two Boeing 747 crashes -- a UPS freighter in 2010 and an Asiana Cargo plane in 2011 -- happened after fires broke out in the cargo holds. Those were traced to palettes of lithium ion batteries.
The International Civil Aviation Organization advised global regulators last year to ban carrying bulk shipments of such batteries in the cargo holds of passenger jets.
Related: U.S. laptop ban could hit 350 flights a day from Europe
Extending the U.S. restrictions on electronics in the cabin from the Middle East to Europe would have a significant impact on the aviation industry. Roughly 40% of overseas travelers to the U.S. come from Europe, crossing the Atlantic on more than 350 flights a day.
U.S. airlines have in recent days been pushing the Department of Homeland Security (DHS) to find less disruptive alternatives, according to a source familiar with the discussions.
The airline industry source said Friday that the DHS was not receptive to suggested alternatives to an all-out ban. Airlines are now in full preparation mode for what the source described as "the most complex issue" they've had to face since restrictions on carrying liquids were introduced.
-- Rene Marsh contributed reporting.