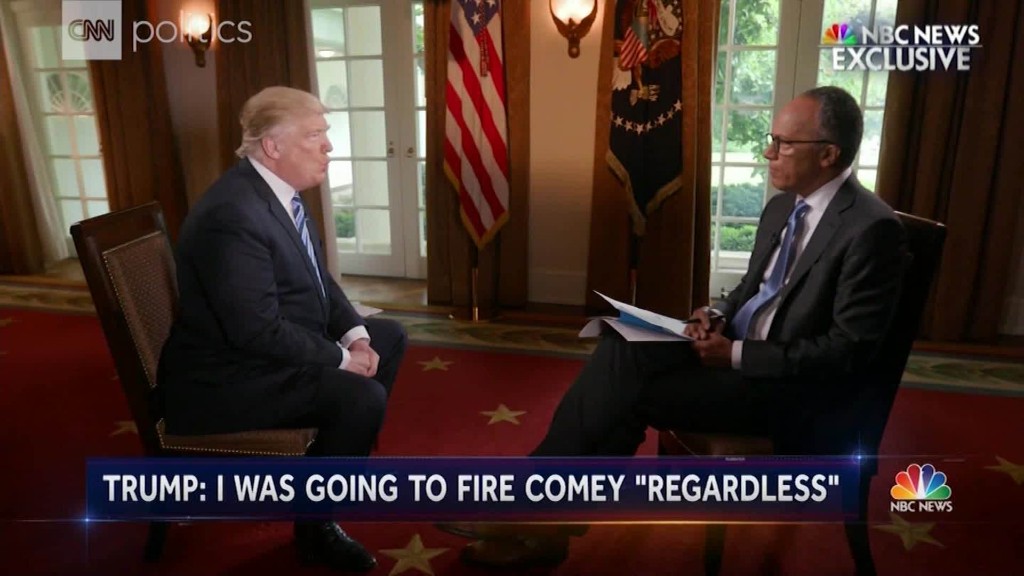 Lawyers for President Trump have released a letter asserting that the past 10 years of Trump's federal tax returns "with a few exceptions" don't show any income from Russian sources.
The letter also asserts that the returns show no debt owed to or interest paid to Russian lenders by Trump or his business entities.
In addition, the returns show no Russian investments in Trump's businesses or any investment by Trump or the entities he controls in Russian businesses, the lawyers said.
But the letter acknowledges that there are three exceptions. The first was income Trump received from the 2013 Miss Universe pageant held in Moscow. The second was income from the sale of a Florida estate in 2008 by Trump Properties LLC to a Russian billionaire. And the third is the "ordinary course sales of goods and services to Russians or Russian entities, such as sales/rentals/fees for condominiums, hotel rooms, rounds of golf, books or Trump-licensed products."
But in this third exception, the letter asserted, "the amounts are immaterial."
What we still don't know
CNNMoney can't independently confirm anything in the letter because Trump has yet to release any of his tax returns.
But an outside tax lawyer reviewed it and concluded it is "unhelpful" if the goal is to fully gauge any potential Russian entanglements the president may have.
"Russians would not loan directly to Trump or his businesses. A Russian would, for example, fund a Cyprus corporation, which would lend to Trump or his businesses, possibly through other intermediary entities," said Steven Rosenthal, a senior fellow at the Tax Policy Center.
Likewise, a U.S. business would not invest directly in a Russian entity but would likely do so through a foreign corporation.
"The letter only addresses direct lending and ownership arrangements, not indirect," Rosenthal said.
To find out more about potential indirect ties, Trump's full tax returns would be needed. On those returns, he would have to report any ownership he may have in foreign corporations and disclose any foreign accounts, Rosethal noted.
The letter was signed by two lawyers at the Washington, D.C., law firm Morgan Lewis, which detailed back in January how the president planned to disengage from his businesses.
It was sent to Republican Senator Lindsey Graham, who sits on the Senate Judiciary Committee, which is investigating Russian interference in the U.S. presidential election. Earlier this week Graham said he wants to learn more about the president's business dealings.
The letter, addressed to President Trump, is dated March 8, 2017. Graham's office said he received it Thursday night.
News of the letter was first reported by the Associated Press.