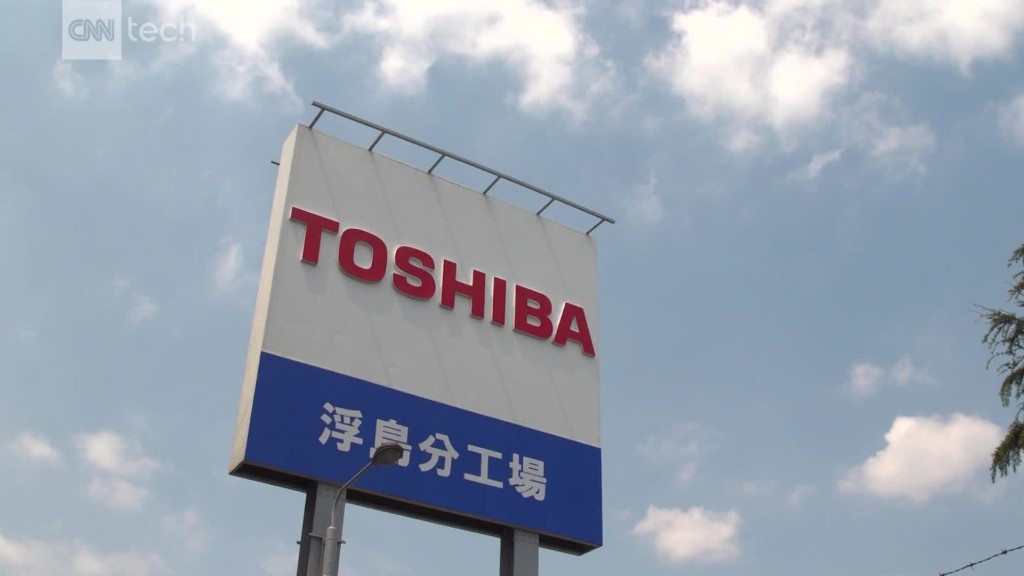 Toshiba's plan to survive its massive financial crisis has run into trouble.
The Japanese company wants to auction its prized memory chip business to help recover from billions of dollars of losses. But a U.S. firm is challenging the move.
Western Digital (WDC) said several of its businesses are taking Toshiba (TOSBF) to the International Court of Arbitration. It's unhappy that Toshiba is planning to sell its stakes in three joint ventures along with the chip unit.
Western Digital said it hasn't consented to such a move, which would breach the agreements over the joint ventures. It's seeking to block the sale process until Toshiba addresses its concerns.
Related: Toshiba: Fall of a Japanese icon
It's a headache for Toshiba, which wants to move ahead with the sale of the chip business as quickly as possible. The Japanese firm is reeling from the huge losses run up by Westinghouse Electric, its now bankrupt U.S. nuclear unit.
Toshiba on Monday denied it had violated the agreements on the joint ventures. "We believe Western Digital has no ground to interfere" with the sale of the chip business, it said in a statement.
Western Digital is among the companies trying to buy Toshiba's chip unit. That's reportedly in part because of concerns over the future of its joint ventures if a competitor wins the bidding.
Taiwan-based Foxconn, a key supplier of Apple (AAPL), has reportedly offered as much as 3 trillion yen ($26 billion) for the business.
Related: How things got ugly for some of Japan's biggest brands
Toshiba highlighted the depths of its financial woes on Monday, reporting a net loss of 950 billion yen ($8.4 billion) for the financial year that ended in March. Most of that was the result of the problems at Westinghouse.
Once again, Toshiba's financial report was unaudited. It's already in trouble with regulators in Japan over its results for the quarter that ended in December, which its auditors refused to sign off on.
There's was one bit of good news on Monday, though. Toshiba said it expects to post a net profit of 50 billion yen ($441 million) for the financial year ending March 2018.
-- Yoko Wakatsuki contributed to this report.