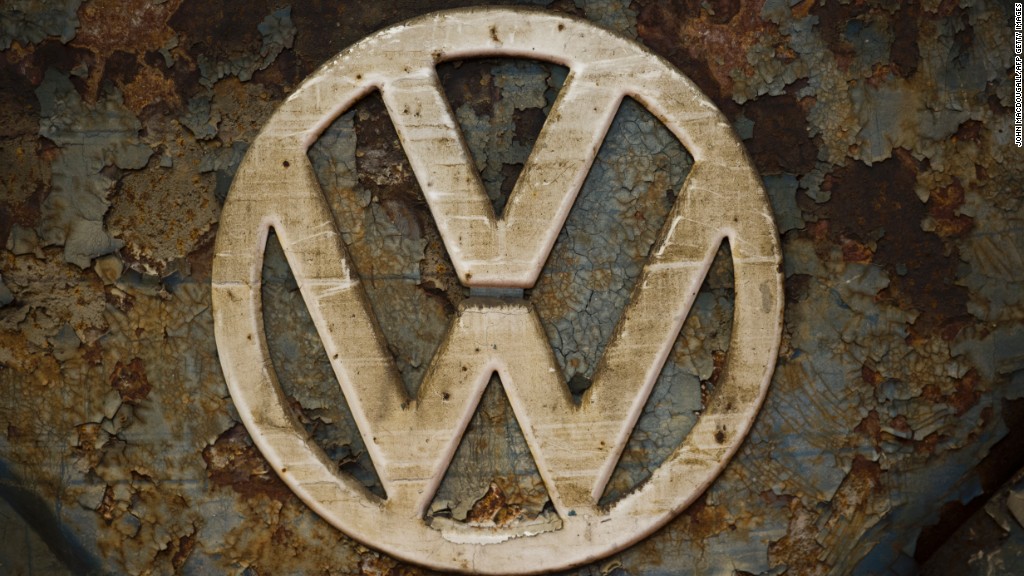 German prosecutors have opened an investigation into whether Volkswagen CEO Matthias Müller kept investors in the dark about the automaker's massive diesel emissions scandal.
The Stuttgart prosecutor confirmed Wednesday that it was investigating Müller on suspicion of market manipulation following a complaint from the German financial regulator, Bafin.
Volkswagen (VLKAF) chairman Hans Dieter Pötsch and former CEO Martin Winterkorn are also under also investigation.
Müller was head of Porsche when the scandal broke in 2015, but was elevated to group CEO following the resignation of Winterkorn.
All three men were directors of Porsche SE, the holding company that owns 52% of Volkswagen. Porsche SE (POAHY) is controlled by the Porsche and Piëch families but a small number of its shares are listed on the Frankfurt stock market.
Jan Holzner, a prosecutor in Stuttgart, said that companies listed on the stock exchange have an obligation to immediately disclose to investors any information that is likely to have a significant impact on share prices.
Bafin says it has grounds to believe that VW executives were late to inform investors about the financial consequences of the diesel scandal.
Porsche SE said in a statement that it "considers the allegation made to be without merit and is convinced that the company duly fulfilled its capital market disclosure requirements."
Volkswagen has tried to turn the page on its massive emissions scandal in recent months, agreeing to pay billions of dollars in federal fines and pleading guilty to criminal charges in the U.S.
But legal problems have continued to dog the firm, which sold more cars than any of its global rivals last year.
Related: German prosecutors raid headquarters of Volkswagen and Audi
Last year, German prosecutors said they were investigating Winterkorn on suspicion of manipulating the market in the company's shares.
Volkswagen later confirmed Pötsch was also under investigation.
In March, German prosecutors raided the headquarters of Volkswagen and Audi as part of a continued investigation into the group's use of software to cheat diesel emissions tests.