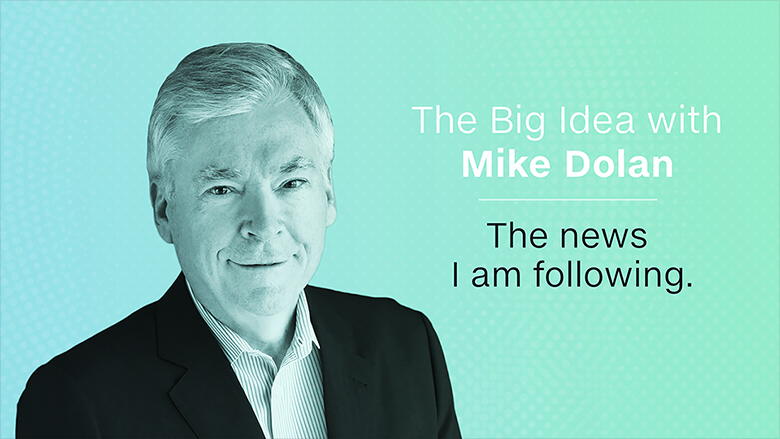 This week, the guest curator for "The Big Idea" is Mike Dolan
Occupation: CEO of Bacardi
Mike Dolan has led Bacardi since 2014. He lives in the spirits company's home base of Hamilton, Bermuda. In addition to the company's namesake rum, Bacardi also produces Dewar's Scotch and Grey Goose vodka, among other hard liquors.
Prior to joining Bacardi, Dolan was chairman and CEO of IMG, the sports and fashion marketing company.
What he'd like to be remembered for: Bacardi's art partnerships
Dolan says he is most proud of spearheading innovative artistic partnerships at Bacardi.
For example, No Commission is a traveling digital art show presented by Bacardi and Grammy Award-winning producer Swizz Beatz' The Dean Collection. The show, which has traveled to New York, Miami, London and Shanghai, attempts to link visual arts, music and art patronage. No Commission allows local artists to sell their work and keep 100% of the proceeds.
And with "The Sound of Rum," Bacardi partnered with music trio Major Lazer to produce multimedia events, new music and even a limited edition rum.
Dolan says the partnerships associate Bacardi with the forefront of culture, helping to recruit a new generation of rum lovers.
Here's a sample of what Mike Dolan is reading this week (to see more, add "The Big Idea" stream in the CNN MoneyStream app)
--Solving Problems Through Art': Agnes Gund on Diversity in the Art World and the Future of MoMA, (ArtNet)
--Warby Parker Cofounders Tell New Grads It's Fine to Make it Up as You Go Along, (FastCompany)
--7 Ways Millennials are Changing the Workplace for the Better, (NBC News)
"The Big Idea" lets you peek into the minds of leading people in business.
Every day, you will see multiple stories appear in your stream that are hand-picked by the guest curator of the week. Previous guests include Kate Hudson, Richard Branson, T-Mobile CEO John Legere and many other top business leaders.
Reading this article on your Apple device? Click here to download CNN MoneyStream. Or if you are on Android, download it here.
Download CNN MoneyStream for all the latest news about all your favorite companies, people, business topics and markets.