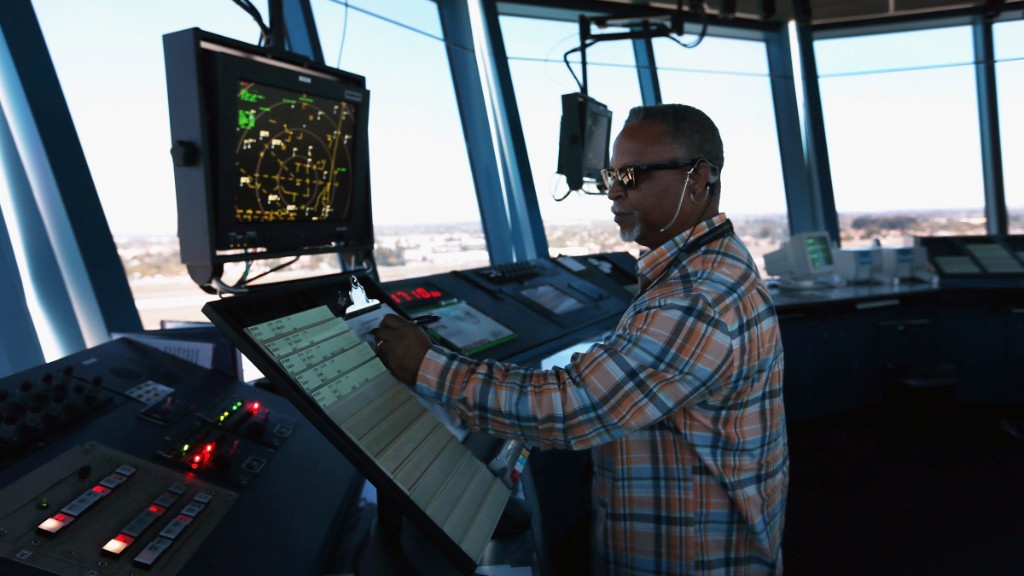 President Trump wants to privatize air traffic control in the U.S. But what does that mean?
The proposal unveiled at the White House Monday would create a not-for-profit corporation to run U.S. airspace, airport control towers and all the procedures that steer your flight safely to its destination. And it would mean that air traffic control wouldn't be funded by taxpayers at all.
Proponents say the move would accelerate the modernization of U.S. airspace. Opponents say it gives too much power to the airlines and would stifle access to the skies for private pilots.
It all comes down to money. Today, an aircraft doesn't pay to use American airspace -- whether it's a 500-seat Airbus A380 superjumbo jet or a four-seat Cessna 172. In a private system, those users would have to pay a fee, which would probably be based on an aircraft's size and the distance it is flying.
The U.S. currently directs air traffic using ground-based radar that was set up after World War II. Everyone agrees that modern GPS tracking, automated position reporting and digital communications would increase efficiency and airspace capacity. It would mean more direct flight paths, less work for pilots and controllers and would increase airspace capacity by letting planes safely fly closer to each other.
Related: Trump promises 'cheaper, faster and safer travel'
The airlines say that the latest generation of airliners is ready for an updated system, even if the FAA isn't.
Oscar Munoz, Chief Executive Officer of United (UAL), likened the current system to "having a gravel road when we need a highway. You would never drive your Ferrari on a gravel road."
Between 2004 and 2016 Congress has given the Federal Aviation Administration $7.4 billion to implement a modernization plan, called NextGen.
Big parts of the plan are already online. More than 8,000 GPS-based routes into and out of airports are already up and running, and digital communications are in place at the nation's busiest airports.
The Government Accountability Office said in 2016 that some major features, including GPS tracking, will be ready by 2020 and most will be up and running by 2025.
The FAA has defended its NextGen implementation. Michael Huerta, FAA Administrator, said NextGen has already provided airlines and travelers with more than $2.7 billion worth of cost savings. He said that number would grow to $13 billion by 2020 and to $160 billion by 2030.
Related: Aviation execs carrying wish list to Trump Meeting
Airlines may want the FAA to modernize faster, but most of their planes aren't even ready for a GPS system. Today, none of Southwest Airlines (LUV)' fleet is ready to switch to a GPS system, and only 10% of the fleet at American (AMERICAN AIRLINES) is ready. That figure is 25% for Alaska Airlines and Virgin America, and 30% at JetBlue (JBLU). The airlines all say they'll be ready by the FAA's 2020 deadline.
Canada privatized its air traffic control in 1996, and the country's aviation safety record and efficiency has been exemplary since then. But Canada's air traffic is roughly equivalent to that of Houston and Dallas combined, a far cry from U.S. volume, say critics of privatization.
The not-for-profit Canadian system also invests in improved efficiency and returns the savings to airlines and private users with lower fees.
The airlines and air traffic controllers like the idea of privatization because they contend it would create a steadier stream of funding. They're eager to move away from the messy federal budget process that's necessary to fund the FAA.
Airlines argue that the outdated air traffic system is at the root of many of the industry's troubles, but airlines themselves also are also at fault.
More than half of all flight delays from January to March were due to airline operations according to the Bureau of Transportation Statistics, while just 25% were tied to air traffic control problems.
Modernizing air traffic control won't fix delays -- whether or not it's done by the private sector. Airlines have to more carefully manage their schedules in real time to reduce delays, say experts.
"It's nothing that [air traffic control] is ever going to solve for you," said Robert Mann, principal at R.W. Mann & Company, an airline industry consultancy. "Instead of getting a deck of 52 cards thrown on the floor in front of air traffic controllers, the airline could give them a sequenced deck of cards in the box."
Buckle up, it's going to be a long flight.