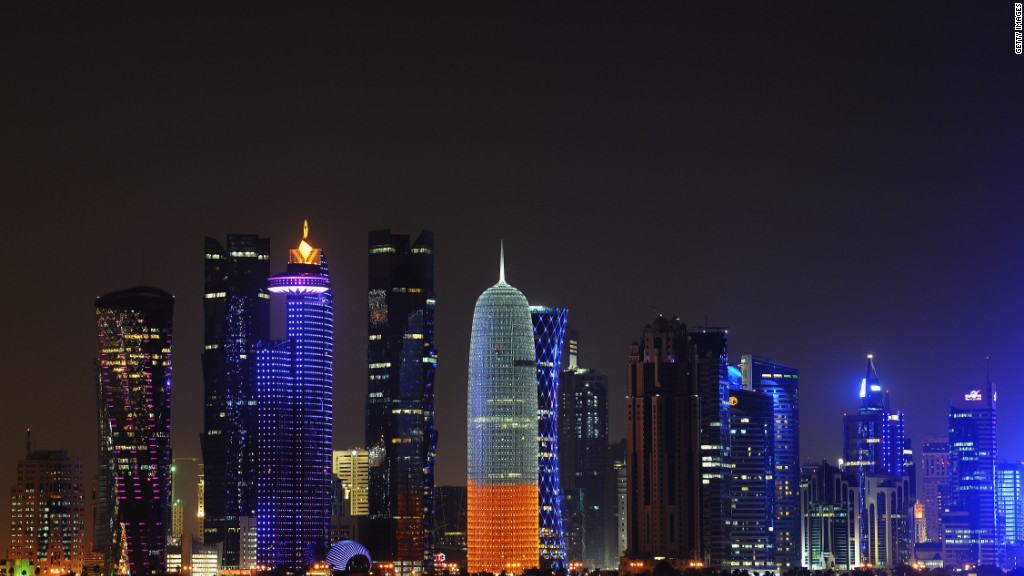 The Middle East's biggest airlines are suspending flights to Qatar as a major diplomatic crisis roils the region.
Etihad, Emirates, Fly Dubai and Gulf Air said Monday they would halt all flights in and out of Doha, the Qatari capital, starting Tuesday morning.
The news comes after the governments of Saudi Arabia, Bahrain, the United Arab Emirates, Yemen and Egypt broke off relations with Qatar, accusing it of supporting terrorism.
Kuwait and Oman are the only members of the Gulf Cooperation Council that have not joined the boycott.
Saudi Arabia banned Qatar Airways from flying to the kingdom, or using its airspace, starting Tuesday. And all Saudi carriers were banned, with immediate effect, from flying to Doha.
The UAE said it was closing its airspace and seaports for Qataris and "banning all Qatari means of transportation."
Gulf Air, the national carrier of Bahrain, said its Doha service would also be suspended until further notice.
The Qatari government expressed dismay at its neighbors' moves to isolate it, calling the decision "unjustified and based on baseless allegations."
Qatar Airways, the national carrier, said it was halting flights to Saudi Arabia but gave no information about its services to the UAE or other countries that have severed ties.
Related: Qatar 'fake news' spat divides Arab media
There are around 40 flights a day to Doha from the UAE, and the sudden halt on Qatar air travel is the latest blow to carriers in the region.
Emirates, Qatar Airways and Etihad were among 10 airlines on which the Trump administration imposed tough new restrictions in March. The carriers are now required to prevent passengers flying from their Middle East hubs to the United States from carrying almost all types of electronic devices in the cabin.
Monday's crackdown on flights is part of a broader set of restrictions on travel involving Qatar and its citizens.
The UAE government gave Qatari diplomats 48 hours and Qatari residents and visitors 14 days to leave the UAE "for precautionary security reasons." UAE citizens are also banned from traveling or transiting through Qatar.
Saudi Arabia's civil aviation authority said any carrier from a third country wishing to fly over the kingdom to Qatar would need to apply within a week for special permission.