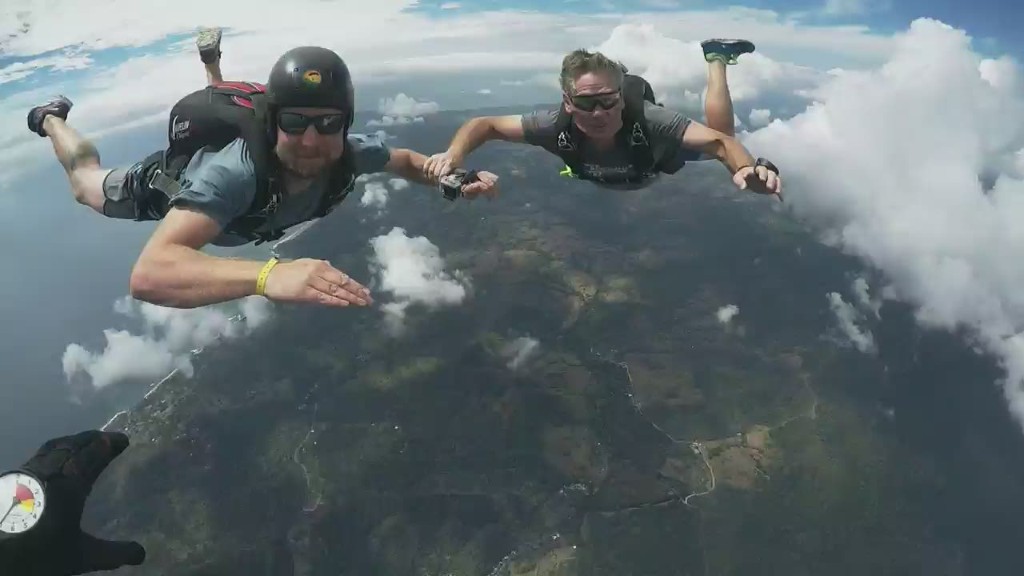 For many people in their 30's buying a house or paying off student loans is the main financial goal.
But for Claudia and Garrett Pennington, 32 and 35 years old, the goal was to ditch their jobs forever.
Why? Because they are on "FIRE" or on track to be financially independent and retire early. For them, that means that all of their expenses will be covered by "passive" income and they don't have to work for a living -- unless they want to.
"We want to make work optional and be location independent," said Claudia, a digital marketer.
Garrett, who works in mechanical sales, said they are aggressively saving for a time when he could, "open a lemonade stand and make a living if I want because we don't have any debt."
After eliminating nearly a quarter of a million dollars in debt in two years, the couple is now on track to be financially independent before they turn 40. They are counting down to their financial independence day: May 18, 2019.
Here's how they got there:
Changed their ways
The Penningtons owed $240,000 in loans that included student and credit card debt, plus two mortgages. They were self-described binge-watching foodies who paid no attention to their money.
But there were no alarms going off ... yet.
"We were kind of congratulated, instead," said Claudia. Family and friends came over to admire their new home renovation with hardwood floors and granite counter-tops. "Everyone affirmed that debt is the way you get through life."
But after some health scares, the couple began to question their lifestyle. The stress of spending all their spare time and money tending to this house had them wondering: Is this as good as it gets?
The camper was the breaking point.
Purchased as an aspirational access-pass to the outdoors they love, the camper was bought on a credit card with a 0% teaser interest rate that would reset with a much higher rate.
Feeling they were devoting their lives to debt and things, with little time to actually enjoy the things they loved (the camper had been used only twice) the Penningtons decided to change their spendy ways.
They ditched the debt, but kept the camper -- and started using it a whole lot more.
Boosted their income and slashed their expenses
Once they reimagined their lives, they realized they needed to increase their income.
While Garrett continued with his company, Claudia boosted her part-time work to full time. They threw all of that extra money at their credit-card debt through automatic payments.
She also started what she calls a "side hustle" in digital marketing. Over time, that blossomed into her full-time business.
In order to make the most of their income, they turned an unflinching eye to their consumption and expenses.
They sat down and figured out what was important to them and decided to cut out the rest. So they created a budget to help them stick to those goals.
"Every opportunity we took to downsize was because we were trying to get down to what we valued," said Claudia. "We had four cars! It's just the two of us!"
Now, they only spend on necessities and things that make them happy. Turns out, they don't need as much as they thought.
Life at a 67% savings rate
| Expense | Annual cost | Category Includes |
| --- | --- | --- |
| Auto | $2,800 | Gas, oil, insurance, tolls |
| Electricity | $1,181 | 100% electric tiny house |
| Garbage | $220 | Paid annually for discount |
| Groceries | $7,200 | Organic and fair trade |
| Insurance and taxes | $2,100 | Property insurance and taxes |
| Household supplies | $2,450 | Soap, toothpaste, etc |
| Medicial needs | $1,100 | Four doctor visits |
| Storage unit | $1,284 | Storage for camper |
| Personal care | $100 | Haircuts |
| Pet care | $2,600 | Vet visits, dental, food, litter |
| Water and sewer | $636 | Water for tiny house |
| Discretionary | $1,200 | Fun money |
| Gym membership | $240 | Yearly membership |
| Travel | $2,560 | Two+ vacations |
| Total | $25,671 | |
They don't eat out at restaurants. They shovel snow themselves and mow their own grass. Claudia's business covers expenses for phone and internet and they don't have cable. Garrett's job covers health insurance.
"Our expenses are $25,000 a year," Claudia says, "and we bank the rest of our money."
But now that they've been at it awhile, Claudia says they've encountered a pitfall they hadn't anticipated: lifestyle creep.
"It happens a little bit at a time," she says. "We'll be out and about and we'll say 'Let's just stop here and grab a pizza.'"
That's when they go back to the budget.
But in all, Claudia says this isn't a life of deprivation. "We were more deprived before because we were deprived of free time."
Slayed their debt
The house was the biggest and easiest debt to get rid of. They downsized from their 1,500-square-foot home (which they affectionately call "the big house" on their blog Two Cup House) to a 536-square-foot tiny home in Lancaster County, Pennsylvania.
They also downsized from a $156,000 mortgage to a $70,000 mortgage, which they paid off last November.
After throwing all their extra cash at the credit card balances, they were able to eliminate $16,000 in credit card debt in just seven months.
They attacked their lowest-interest debt last and in March, they put to bed the last debt they owed: $36,000 in student loans.
"I was counting down the days until the final payment," says Claudia. "I was so excited, jumping up and down at the bank high-fiving people."
Savings
The biggest factor in prepping to be financially independent before 40 is the savings rate. Claudia and Garrett save a whopping 67% of their income.
They max out their retirement contributions. Garrett makes the maximum annual contribution of $18,000 to his employer sponsored 401(k) and Claudia sets aside 25% of what her personal business pays her to go into her retirement account.
Currently they are laser-focused on building up their emergency fund with $30,000. That's a little more than a year's worth of expenses for the couple.
They're also setting aside money in a taxable brokerage account. They eventually plan to use that for investing in real estate to provide them with passive income in the future.
Although they sometimes work 80 hours a week now, they have an eye to a future with more time outdoors. "Having financial independence means our expenses are covered, so we can go on a break from our obligations and see what happens," says Claudia.
"I don't want to have to worry about money," says Garrett. This path ensures them they can pay their bills and work becomes not only optional, but potentially a lot more fun: "I've always wanted to work at a winery!"
Are you working toward FIRE? Already there? Tell us about it and share your monthly budget, and you could be featured in an upcoming story on CNNMoney.