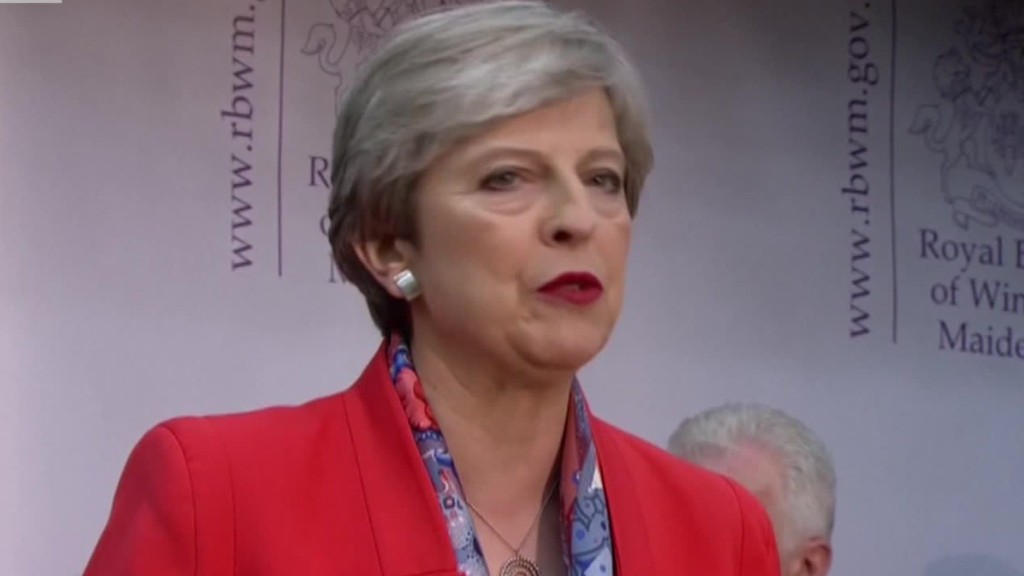 The U.K. has endured four major votes in just three years. Is it headed for a fifth?
The odds set by betting firms indicate there's a significant chance of another general election this year. Betting agency Ladbrokes says there's a 42% chance of another vote, while rivals Betfair and William Hill are more conservative at 33% and 29%.
The probability of another election increased dramatically overnight when results showed that no single party had won a majority of seats in parliament. The election has significantly weakened Prime Minister Theresa May, who will now try to form a government by joining her Conservatives with a smaller party.
The play could allow May to remain prime minister. But she will be in a much weaker position and vulnerable to challenges.
"It's a very uncertain time for the party and we wouldn't be surprised to see another election this year," said Katie Baylis, a spokeswoman at Betfair.
The voting public is unlikely to be pleased by the prospect of another national election. The U.K. has held two general elections and two referendums in just three years.
Related: Pound slides after U.K. election turmoil
When the election held Thursday was first announced, the reaction of one voter -- "Brenda from Bristol" -- went viral.
"You're joking!" she told the BBC. "Not another one! Oh for God's sake. Honestly, I can't stand this. There's too much politics going on at the moment."
The joke may be on Brenda, however.
"If this is a minority Conservative government, then it might be a government that doesn't last very long, and we might head for another election," said Tim Bale, a professor of politics at Queen Mary University of London.