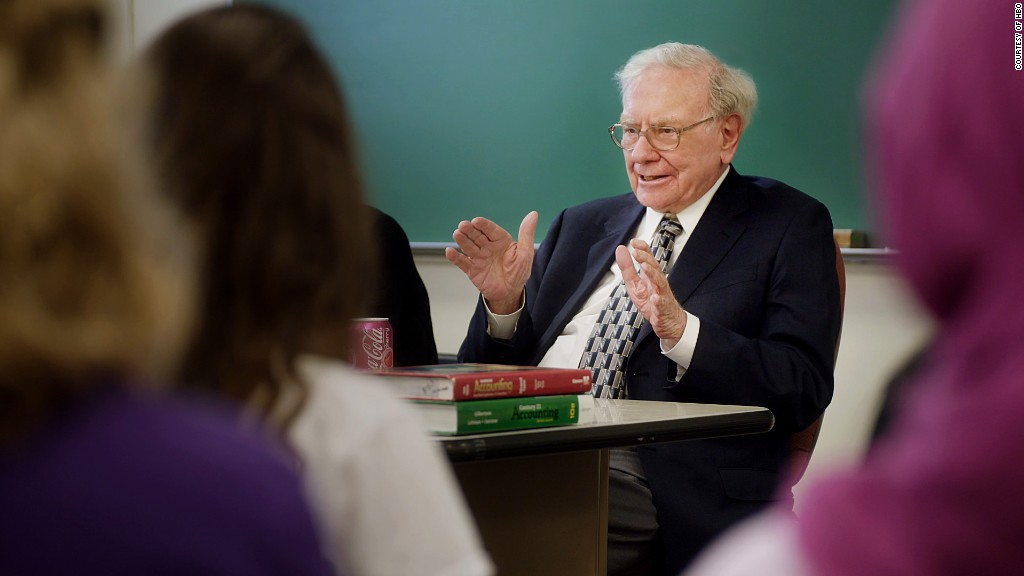 The going rate for a lunch date with Warren Buffett: $2,679,001.
At least, that's how much the top bidder -- who wished to remain anonymous -- in this year's "Power Lunch with Warren Buffett" charity auction was willing to pay. The bidding closed Friday evening.
This is the 18th year Buffett has offered himself up for the bidding war, and he does it to raise money for Glide -- a San Francisco-based charity that provides medical care, housing assistance, meals, youth summer programs and other services to the Bay Area's neediest residents.
The billionaire Berkshire Hathaway (BRKA) CEO has long been a supporter of the organization.
Related: Warren Buffett's Berkshire Hathaway dumps its Fox stake
"Everyone that has experienced Glide comes away a believer," Buffett said in a statement. "They have to see it to believe it, but when they see it, they do believe it."
$2.7 million isn't the most money this auction has ever raised for Glide. Last year's top bid climbed to $3,456,789, which tied a record set in 2012. Both of those bidders also wished to remain anonymous.
In total, throughout all 18 auctions, Buffett has brought in more than $25 million for the charity.
"Glide is forever grateful to Mr. Buffett for his generous support," Glide co-founder Minister Reverand Cecil Williams said in a statement. "His longstanding efforts to bring attention and resources to nonprofits, and the extremely vulnerable people they serve, are more meaningful than ever in these times of uncertainty."
Related: Warren Buffett talks IBM, airlines, Apple at annual meeting
Buffett is a big proponent of philanthropic giving. The investing guru -- who's amassed an estimated $76.2 billion fortune, according to Forbes -- co-founded the Giving Pledge with fellow billionaire and Microsoft founder Bill Gates. The pledge asks ultra-high net worth individuals all over the world to commit to giving at least half of their fortunes away during their lifetime.
Signers of the Giving Pledge include Facebook (FB) founder Mark Zuckerberg, Virgin Group founder Richard Branson, Salesforce (CRM) founder Marc Benioff and investor Carl Icahn.