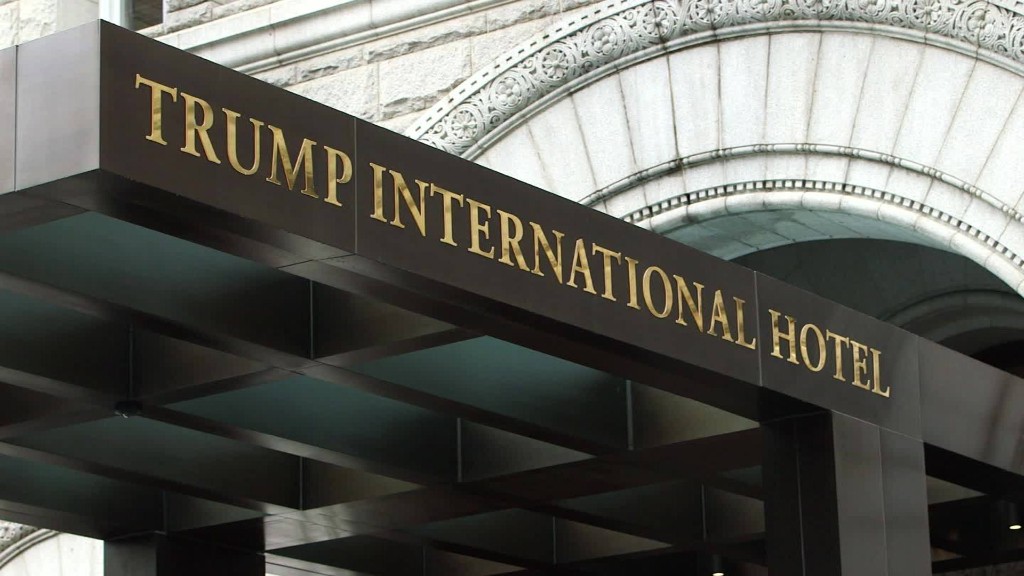 The state of Maryland and the District of Columbia are not the first to sue President Trump over his vast business entanglements.
But the case they filed in federal court Monday might be the most significant.
The attorneys general of Maryland and the district say that Trump, through his worldwide network of hotels and golf courses, violates a constitutional provision that prohibits him from accepting payments, or emoluments, from foreign governments.
They also say Trump is violating a provision that says the president can't accept payments from state governments or the federal government, other than a salary.
Similar arguments have been made in separate suits by government watchdog groups and by individual businesses that say they are losing business to the Trump brand.
There's no guarantee that any of these lawsuits will succeed in court. No judicial precedent exists for this kind of challenge.
What makes this case different -- and likelier to prevail, the attorneys general hope -- is that it is being brought in part by a sovereign state.
Related: Maryland and D.C. sue Trump over foreign payments
It's an argument that will reach back more than two centuries.
When Maryland was negotiating its entry into the union, preventing public corruption was so critical that the state bargained for protection against emoluments, said Brian Frosh, the current-day attorney general.
"By the time the colonies obtained freedom from England, it was an extremely important principle for each one of them," he told CNNMoney in an interview.
He added that "emoluments" language existed in several state and commonwealth constitutions, including those of Pennsylvania and Massachusetts.
That protection wound up in the federal Constitution, too -- blocking the president from taking both foreign and payments that might open the door to corruption.
The lawsuit asks the court for an injunction blocking Trump from accepting foreign money. The attorneys general say other remedies would be up to the court to decide. They also say they will seek copies of Trump's tax returns as part of the case.
The suit says Trump is taking foreign government payments most notably through his luxury hotel in Washington, including hundreds of thousands of dollars from Saudi Arabia alone.
The domestic argument is that states can court Trump's influence with their own forms of emoluments, including tax breaks and permits for Trump businesses -- putting pressure on Maryland and the district to match those perks.
Jed Shugerman, a professor of law at Fordham University who is preparing a court filing in support of the plaintiffs, said it's a real concern that strengthens the case.
He cited a Reuters investigation from April that showed public pension funds in several states have invested millions of dollars in an investment fund that owns the Trump SoHo Hotel in New York. The fund pays a Trump company to run it, Reuters reported.
"It creates a question about whether those states gain any influence," Shugerman said. Maryland and D.C. are trying to protect themselves against any kind of "state-versus-state rivalry," he said.
Ethics experts urged Trump to liquidate his business holdings when he took office. Instead, he is holding his financial interests in a trust in his name.
Trump has the right to take cash payments from the trust anytime he wants. Even if he doesn't touch the trust while he's in office, he stands to reap the benefits -- thanks to the success of his business -- when he's finished being president.
The White House is promising to fight to have the case dismissed. Press Secretary Sean Spicer on Monday dismissed the suit as "partisan," noting that the attorneys general of both Maryland and the district are Democrats.
The government has already mounted a defense in a separate but similar case.
The Justice Department asked a court Friday to throw out another lawsuit that alleged constitutional violations. It claimed that the plaintiffs -- a government watchdog group, a hotel event booker and some restaurateurs -- could not prove that they've been harmed by Trump's business interests.
It also argued that the emoluments clauses were meant to guard against corruption in government, not to protect businesses from commercial competition that includes the president's brand.
Related: Trump's Justice Department fires back on claim he violated the Constitution
Michael McConnell, director of the Constitutional Law Center at Stanford Law School, also doubted the strength of the latest case.
"The interest protected by the Emoluments Clause is the interest all Americans have in avoiding potential corruption," he said. McConnell added that the clause "has nothing to do with competition between various corporations for the business of foreign governments."
Frosh, the Maryland attorney general, called such arguments "wrongheaded."
"That violates the age-old maxim under the law that for every right, there is a remedy," he said. "We have a right here. We have the right to hold the president accountable."
--CNNMoney's Cristina Alesci contributed to this story.