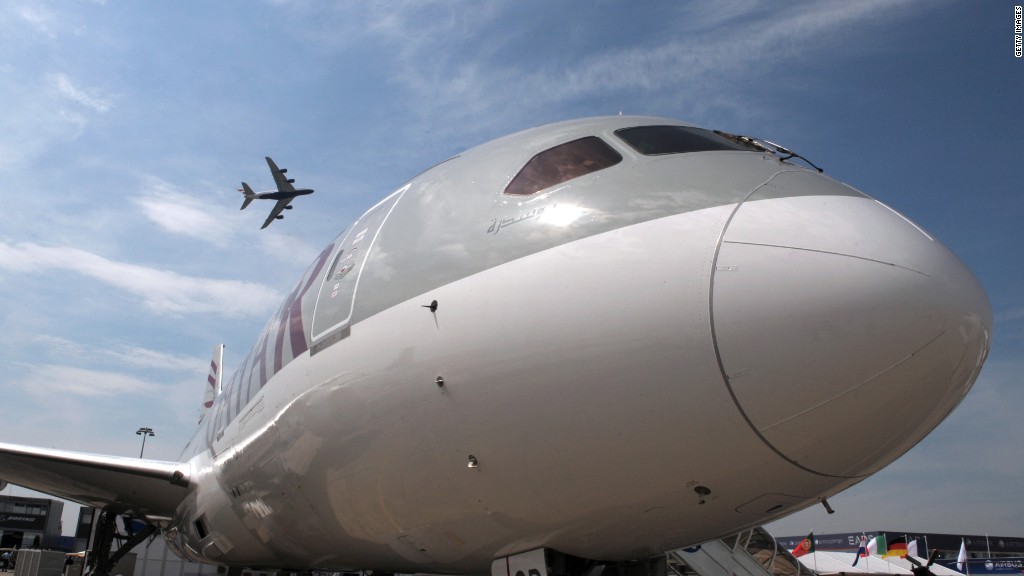 For Qatar Airways, it was the best of times and it was the worst of times.
During a glitzy awards ceremony Tuesday at the Paris Air Show, Qatar Airways was named "Airline of the Year," by the international air transport ratings group, Skytrax.
The award comes as the Doha-based airline struggles to deal with an attempt by Qatar's neighbors to isolate the country.
Related: Decades of crazy, cool planes in Paris
The United Arab Emirates, Saudi Arabia and Bahrain have severed diplomatic relations and closed their airspace to Qatari flights, forcing the cancellation of 52 routes and adding hours of flying time to others, according to Qatar Airways' chief executive Akbar Al Baker.
The airline has become a global player in aviation by aggressively opening long and ultra long routes with a new fleet of airliners. It also offers fliers extravagant lounges and state-of-the-art business seating.
Qatar Airways serves worldwide routes with a fleet of 174 planes, according to its website. The fleet includes a mix of Boeing and Airbus planes, including the superjumbo A380, the world's largest airliner.
Related: Qatar Airways fires back at Arab neighbors with 'no borders' ad
The carrier's fast growing fleet is contributing heavily to the economies in Europe and the U.S. It is the largest customer for the Airbus A350 and one of the biggest buyers of U.S.-made Boeing 787 Dreamliners.
Qatar Airways has gained attention for its first class facilities. The A380 flights include 26-inch entertainment screens, seats nearly 2-feet wide and privacy partitions. It has just rolled out a new business class seat called the Q Suite designed for privacy or in-flight business meetings.
'Best Airline in North America'
There were dozens of other Skytrax awards announced Tuesday, including one for Air Canada, which took the award for "Best Airline in North America." Ben Smith, Air Canada president of passenger airlines, said the honor "reinforces and validates what we've been working for for so long."
Smith said he believed Air Canada's large route network may have contributed to the victory. "Our network is strong enough to cover 200 destinations around the world," Smith said. He added that it also helps to have hubs relatively close to the U.S.
"The amount of customers we fly internationally is more than airlines in the U.S.," Smith said. "That, I think, gives us an edge."
Air Canada's diverse fleet includes the Airbus A320 series, Embraer regional jets and 29 new Boeing 787-9 Dreamliners.
Its transcontinental business class offers executive pod seats that recline to flat beds, and 21-inch inflight entertainment screens.
'Oscars of the aviation industry'
In 2016, Emirates won "Airline of the Year" and Qatar snagged the Skytrax award for "Best Business Class."
Skytrax's annual World Airline Awards -- based on surveys filled out by millions of airline passengers -- are described as "the Oscars of the aviation industry."
The show has become a regular event during the Paris Air Show, which is held every two years at Le Bourget Airport, and at the Farnborough International Air Show in the U.K.
Other Skytrax winners announced Tuesday include:
World's Best First Class: Etihad Airways
World's Best Economy Class: Thai Airways
World's Best Low-Cost Airline: AirAsia
Best Business Class Airline Seat: Singapore Airlines
Best Economy Class Airline Seat: Japan Airlines
Best Airline in Asia: Singapore Airlines
Best Airline in Northern Europe: Finnair
Best Airline in Western Europe: Lufthansa
Best Airline in Southern Europe: Turkish Airlines
Best Airline in Eastern Europe: Aeroflot
World's Best Regional Airline: Bangkok Airlines
World's Best Airline Cabin Cleanliness: EVA Air
World's Best Cabin Staff: Garuda Indonesia
Most Improved Airline: Saudi Arabian
World's Best Airline Alliance: Star Alliance
-- Zahraa Alkhalisi contributed to this report.