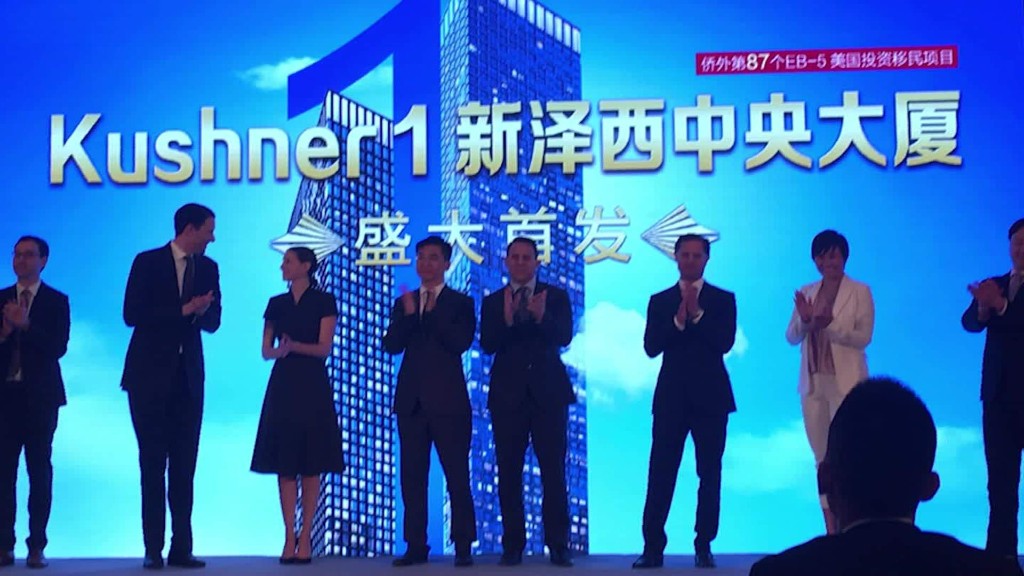 A Republican congressman says he's concerned about potential conflicts of interest raised by Jared Kushner and his family's business ties.
Walter Jones, a member of the House from North Carolina, wrote to the Office of Government Ethics on May 18 to ask whether the pitch by the Kushner family business to Chinese investors last month violated ethics rules.
Nicole Kushner Meyer, the sister of top White House aide Jared Kushner, mentioned her brother's role in the administration during a pitch in China seeking EB-5 financing for a real estate development in New Jersey.
EB-5 visas offer a path to green cards for investors who put more than $500,000 into a project that creates jobs in the United States.
Last month, an attorney told CNNMoney that Kushner divested his interest in the project touted by his sister. Kushner also stepped away from the family business when he took his White House job.
The attorney also said Kushner will recuse from "particular matters concerning the EB-5 program."
The program has come under fire by some lawmakers who say it effectively sells citizenship to wealthy immigrants. The federal government is weighing reforms to the program.
Prospective Chinese investors, meanwhile, have told CNNMoney that they considered the Kushner project safer than others because of the family's connections to Trump.
Jones wrote that "this raises serious questions about the nature of Mr. Kushner's role in the White House and his counsel on a myriad of issues with which his family may have conflicts of interest," according to a copy of the letter obtained by CNNMoney through a public records request. His office declined to comment.
The letter was sent amid broader tensions between the White House and the ethics office. The administration and the office have been tussling over several issues, including the release of ethics waivers the White House has given its staff.
The White House did not immediately respond to a request for comment.
Democratic lawmakers have raised questions about conflicts involving the Trump administration, but complaints from Republicans have been relatively rare.
In February, Republican Jason Chaffetz, the outgoing chairman of the House Oversight Committee, co-authored a bipartisan letter to the ethics office to ask it to review a plug that Trump adviser Kellyanne Conway made for Ivanka Trump's fashion brand.
And another Republican, Senator Chuck Grassley of Iowa, has also expressed concerns about the Kushner pitch for EB-5 funding to the Trump administration. He wrote last month to the White House and the Department of Homeland Security to demand assurances that no one would be given preferential treatment after Nicole Kushner Meyer name dropped her brother.
In the letter that Jones sent to the ethics office, he asked director Walter Shaub whether the situation violated a ethics code that "prohibits executive branch employees from advising on policies which have a financial interest to the employee or his family."
An attorney for Jared Kushner did not immediately respond to a request for comment.
Nicole Kushner Meyer apologized after the event in China and said her comments were not intended to be an "attempt to lure investors."
Kushner Companies declined to comment on Thursday.
Related: Kushner family apologizes for mentioning White House adviser Jared Kushner
Shaub, the ethics director, wrote back to Jones on Tuesday. He wrote that the ethics law does not prohibit family members of executive branch employees from participating in "non-governmental activities."
But he added that he agreed with Jones "that it would be disappointing for the family members of any government official to seek to profit from their relationships with that official."
Shaub also said that it "might be expected that high-level officials would take reasonable measures to discourage relatives from profiting from family ties to the government."
Shaub did not immediately respond to a request for comment.