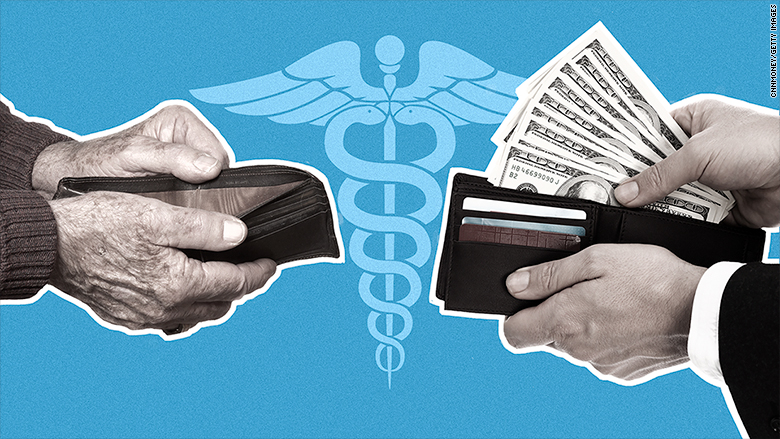 Back to the daily grind.
Health care legislation is still a work in progress, while the jury's still out on Trump's job claims. But so far it's not looking good.
Here's what you need to know:
HEALTH CARE HEADS TO THE SENATE
Congress is still busy at work trying to pass a bill to repeal and replace Obamacare. The House passed its version of the bill in May, and now it's the Senate's turn. While lawmakers were working on an updated draft behind closed doors, we finally got a look last week at what's in the bill. It's pretty similar to the House bill, but has a few updates.
Senate Majority Leader Mitch McConnell says it will make health insurance more affordable, strengthen Medicaid and stabilize the market. But critics disagree. Here's a rundown on who gets hurt and who gets helped by the Senate health care bill.
Speaking of health care, the insurance system can be a confusing world to navigate. But if you don't understand how your plan works, you'll end up paying for it. Here's a cheat sheet on how not to get ripped off at the doctor's office.
TRUMP'S JOB PROMISES
Back in February, President Trump gave a speech at a Boeing factory in South Carolina, promising to protect jobs. Now that same factory confirmed to CNNMoney that it's laying off 200 workers. Not a great look for Trump.
The president also took credit for creating thousands of jobs in the coal industry. But the numbers just don't add up. When you drill down, very few of the new jobs in the mining industry are in coal mining. Not too shocking when you consider the fact that many blue-collar workers don't even want their kids following in their footsteps.
FLYING THE NOT-SO-FRIENDLY SKIES
Sick of being seated next to that guy on the plane who keeps falling asleep on your shoulder? Or the annoying kid who won't stop talking? Now you can pay extra for a little solitude and get a whole row to yourself. Etihad Airways will let you pay for 'neighbor-free seats' in economy class.
More good news for fed-up airline passengers: You might be able to reach your destination even faster. Five airlines want to bring back supersonic flying. They've signed up for new planes that can travel faster than the speed of sound, from a startup called Boom Aerospace.
ADULTING IS CRAZY EXPENSIVE
It's wedding season, and love is in the air. But whether you're the one tying the knot or your friends are, wedding bells usually mean shelling out. Here's how much it costs just to be a guest at a wedding. If you're in the wedding party, expect to spend even more.
If you're the one getting hitched, the money problems don't end when the wedding is over and the bills are paid. You also need to build a financial life with your new partner. Here are five questions to ask before combining finances (or not).
And what if you want to start a family? While the good news is that most of you are saving more, a lot of you are still stuck with massive student loans. That can be overwhelming if you're hoping to have kids in the near future. Paying off the debt first is tough but not impossible. We've got a few tips for you here.
TAKE THIS JOB AND SHOVE IT
Feeling overworked? You're not the only one. But along with all the other things you'd rather be doing during the workday, here's a new reason to work fewer hours, as if you needed another one.
If you're feeling burned out on the job and working fewer hours isn't gonna fly with your boss, it's not the only way to get a better work-life balance. Working from home is really having a moment. Over the past decade, the number of telecommuting workers has increased 115%, according to a new report from Global Workplace Analytics and FlexJobs.