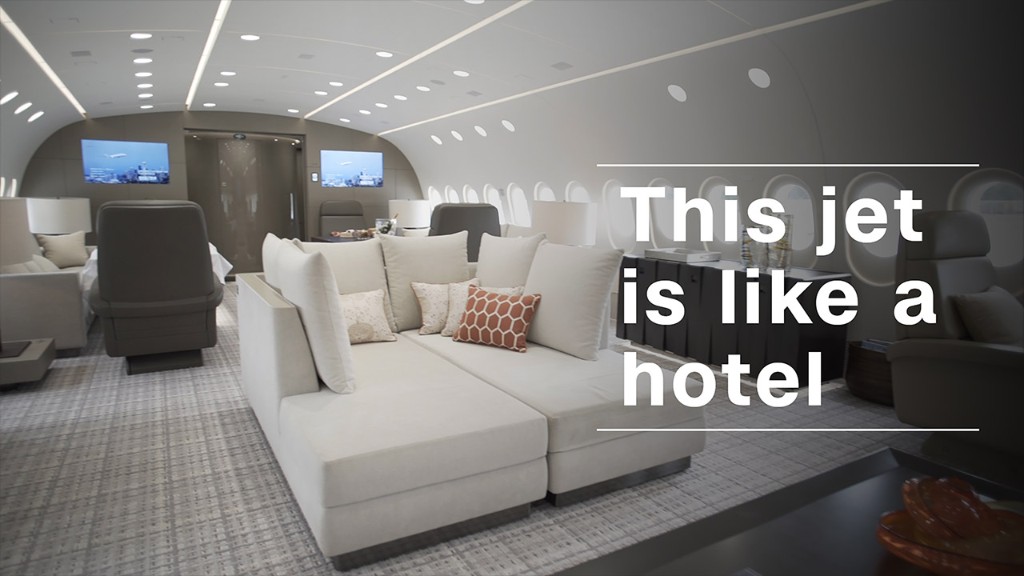 If you've ever wished you didn't have to leave the comfort of a high-end hotel to fly around the world -- you're in luck.
The Dream Jet is part airplane, part luxury apartment -- and for only 500,000 Chinese Yuan, or about $74,000 an hour, it's available for charter.
This heavily modified VVIP jetliner -- that's very, very important person -- is based on Boeing's advanced 787 Dreamliner. That's also where the Dream Jet gets its name.
Even though the rapid expansion of business aviation in China has cooled under political pressures, the jet's operator, China's Deer Jet, a unit of fast-growing conglomerate HNA Group, is expanding its portfolio outside the country.
HNA Group recently bought a 25% stake in Hilton and is using the VVIP 787 to extend its hotel brands. Its Deer Jet unit and the Waldorf-Astoria and St. Regis hotels have partnered to use its 787 to fly the well-heeled from Hong Kong on some trips to Rome, Paris and Tahiti.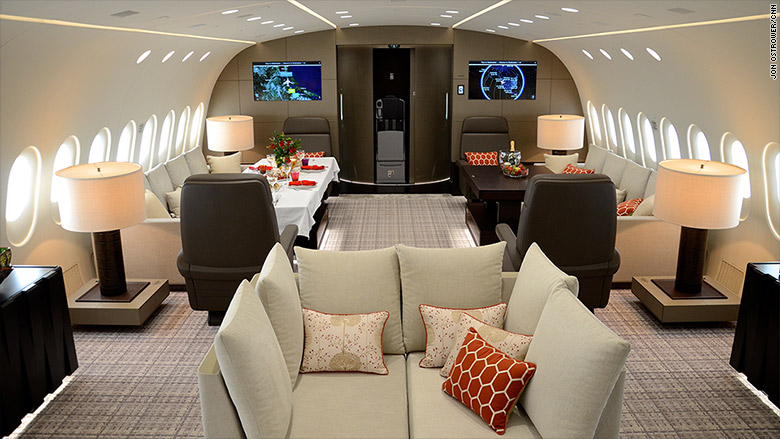 During a recent visit to Seattle, Deer Jet opened its doors for a rare look inside the converted jetliner. HNA Group CEO Adam Tan had flown in the night before from Doha aboard the jet for a meeting with Microsoft (MSFT) founder Bill Gates.
"It's really like your home," said Tan.
It's probably not like your home. Nor is it like any ordinary jetliner.
The entryway bears no resemblance to the typical flying experience, save a green exit sign. You slip off your shoes and enter a circular foyer. One route off the foyer leads down a narrow hallway to the cockpit, one to an expansive sitting lounge and yet another takes you to the master suite.
Related: I flew the newest personal jet. It costs $2 million, parachute included
Wood paneled walls run along a wide hallway to the main sitting area, outfitted with 19-inch tall windows, lounge seating and coffee tables topped with glass sculptures from famed artist Dale Chihuly. A white linen table cloth covers a pair of expandable dining room tables that each seat up to six.
There's no gold plating or flash. It's luxurious without being gaudy.
The master bedroom is, however, fit for royalty. Complete with a California king-sized bed and 42-inch TV, the en suite bathroom has a double vanity and an enormous white tiled shower with 60 minutes worth of hot water. The bedroom was designed with extensive sound proofing, enough to keep the sound level at 44 decibels during cruise -- roughly the volume of a quiet suburb with light traffic.
On a typical airliner you'd find expandable lie-flat business class seats in the front of the plane. On the Dream Jet, they're in the back, with room for 18.
With a 9,800 nautical mile range, this jet can fly between any two points on Earth. Go any farther and you start coming back around the other side of the planet.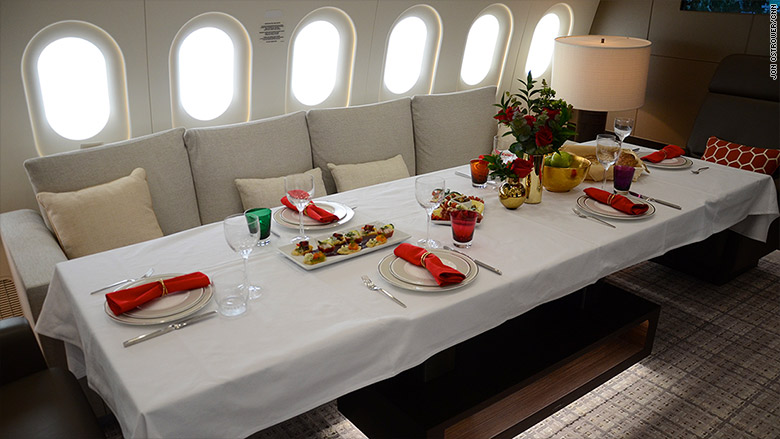 Deer Jet is very particular about who takes the controls. Pilots come from HNA's commercial carrier Hainan Airlines, and are required to have at least 10,000 hours of flying experience, including 2,000 on the 787. The jet has room for as many as 30, but far fewer are on a normal flight.
Boeing lets airlines pick their 787 cabins with from a catalog of familiar seats, galleys and even walk-up bars to customize the passenger experience.
But that's nothing compared to the complete makeover that was undertaken to built the Dream Jet. Deer Jet's airliner first flew in 2013 with a bare interior before it was stripped to the studs for its radical overhaul.
A complete remodel can run anywhere from $80 million to $150 million, according to industry estimates. That's on top of the $200 million list price of a new 787 from Boeing.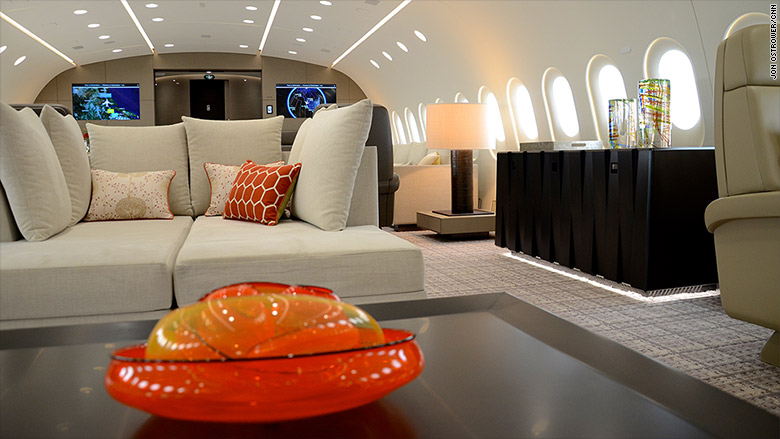 The Dream Jet is engineered to meet exacting safety requirements in addition to style and comfort. Designing a jet like this isn't as simple as picking out fabrics and furniture. You can't just bolt on a hotel suite and lounge into a jetliner and call it a day.
And because the 787 is made mostly from carbon fiber (not traditional aluminum) and has advanced electrical systems, adding the bells and whistles to its bespoke interior proved an enormous challenge for designers.
Related: Five airlines want to fly supersonic again
The first-of-its-kind project, overseen by Kestrel Aviation Management, required 42 kilometers of additional wiring and 17,000 connections into the jet's electrical system, taking care not to overload the already power-hungry jet.
The finished aircraft was sold to Deer Jet in the summer of 2016.
But this unique airliner will soon have a sibling. Deer Jet in May said it has ordered a second Dreamliner which will arrive in the first half of 2018.