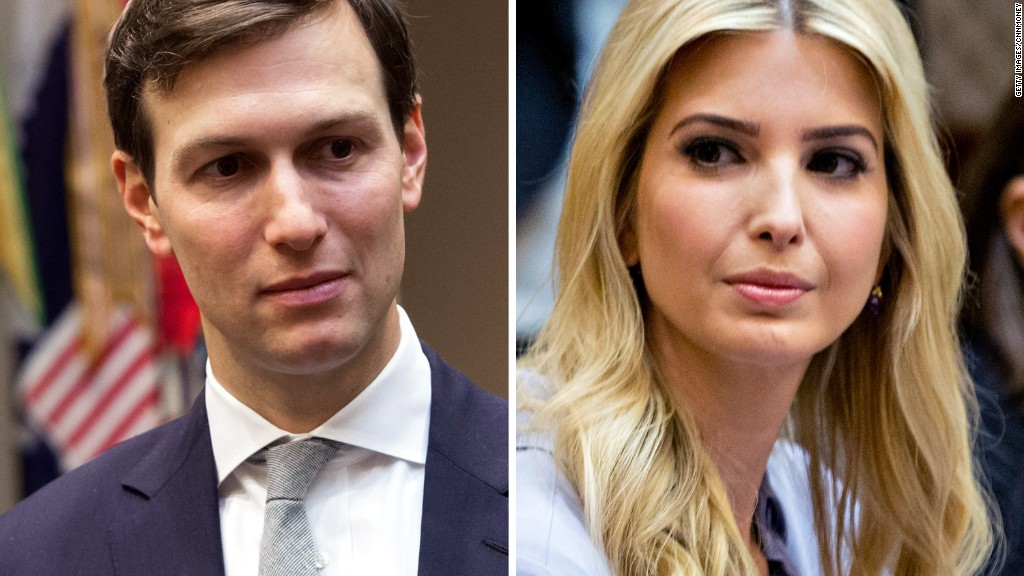 Jared Kushner and Ivanka Trump filed documents on Friday that reveal new information about their extensive business holdings and investments -- which could be worth more than $762 million.
Kushner's document updates one released four months ago and includes some previously undisclosed holdings that comprise some of the couple's most valuable investments.
His interest in Cadre, a tech company that helps investors crowdfund real estate projects, is worth as much as $25 million. Kushner's prior disclosure form listed Cadre's parent company and its value, but it did not break out Cadre separately. The Wall Street Journal reported Kushner's stake in Cadre in May.
The new forms, which include separate ones from Ivanka Trump for the first time, also disclose the couple's art collection, valued at up to $25 million. Federal rules require only the disclosure of art held for investment purposes. The couple added the art to the form out of an abundance of caution, an attorney who helped Kushner and Trump prepare the forms said.
All told, 77 items on the new form had been "inadvertently omitted" from Kushner's prior one. Some were properties or business interests that Kushner has divested. Most were bonds that Kushner had sold before he came into office, according to the couple's lawyer.
Related: Jared Kushner is still selling off his business assets
Kushner and Ivanka Trump's assets combined are worth at least $207 million but could reach more than $762 million, according to the documents.
An important caveat: The disclosure documents make it impossible to calculate precise totals of personal income and wealth. They allow officeholders to disclose figures in ranges, such as "$100,000 to $1,000,000," and some disclosures are open ended like "over $50,000,000."
The forms show that Ivanka Trump, who became an official White House employee in March, collected more than $5 million in income from her businesses between January 1 and March 8. After that, the assets were placed into a trust worth more than $50 million. She continued to draw at least $1 million in income from that trust through May 31.
Ivanka Trump also reports receiving $2.5 million in salary and severance from her father's business, the Trump Organization. She resigned from the company in January.
The form also lists a Screen Actor's Guild pension plan and residuals from "The Apprentice," but says their values were "not readily ascertainable." Ivanka Trump listed residuals for appearing on "Saturday Night Live" and "Late Night with Jimmy Fallon" -- which combined brought her no more than $1,000 in income.
Trump also got an advance of $787,500 from Penguin Random House for her book "Women Who Work."
The Trump family's vast business interests, and the potential for conflicts of interest they present, have been a point of controversy since President Trump took office. Administration officials have sparred with the Office of Government Ethics, the agency charged with helping executive branch agencies mitigate conflicts.
Walter Shaub, the director of the office, stepped down this week after criticizing Trump. Shaub claimed the White House pushed back on his efforts to review officials' financial holdings. He told CNNMoney that administration officials "dragged their feet on providing answers to questions."
Related: Former White House ethics chief balks at Trump's pick for acting director
Shaub added that the ethics process — not specific to any one person — "hasn't been anything like normal."
"We're not getting the level of responsiveness from the White House counsel's office that we're used to, or that we need to do the job really effectively," he said.
Jamie Gorelick, a lawyer for the couple, said the OGE has certified Kushner's disclosure. "Ivanka's financial disclosure form is still in the pre-certification stage, as she began the process later," she added. "But discussions with OGE are proceeding in the ordinary course."
President Trump himself filed disclosure forms last month, reporting hundreds of millions in income and assets. He brought in at least $600 million to $650 million in employment assets and income.
"These reports reflect that both Jared Kushner and Ivanka Trump still have extensive holdings and we are still in the dark about what or who is also associated with these holdings," said Larry Noble, senior director and general counsel of the Campaign Legal Center.
--CNN data journalists Aaron Kessler, Ciara Frisbie and Caitlin Ostroff contributed to this report.