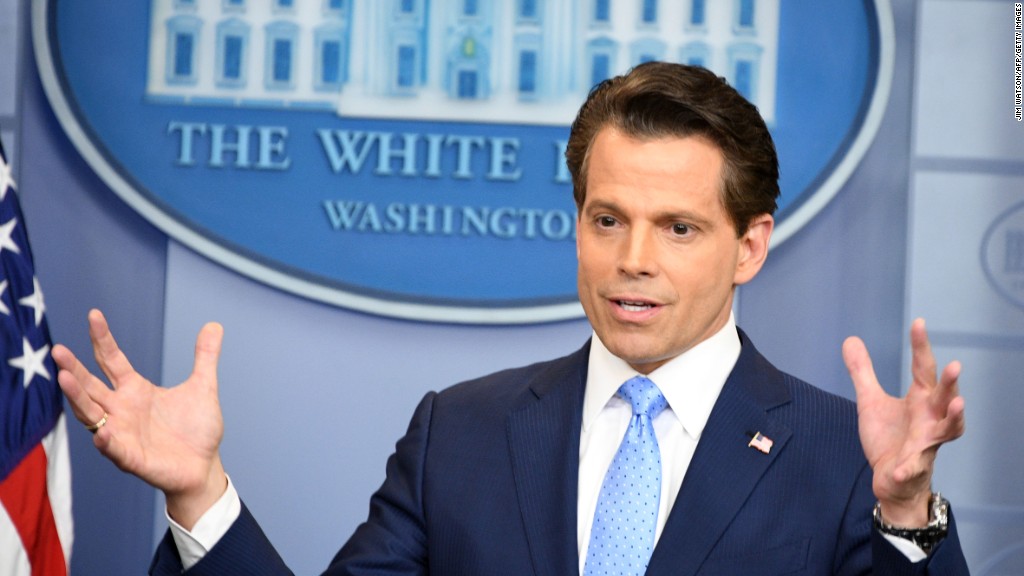 Anthony Scaramucci lost more than a job at the White House: He lost the chance to delay paying millions of dollars in taxes.
Scaramucci's lawyer said Tuesday that he will pay capital gains tax when he completes the sale of his investment company, SkyBridge Capital.
Government employees can seek permission to defer that tax when they sell investments to avoid conflicts of interest.
"Mr. Scaramucci is going to pay the capital gains taxes once the sale goes through," the lawyer, Elliot Berke, said in a statement after CNN asked about Scaramucci's plans. "There was never an attempt to game the system -- it was simply to adhere to what is allowable by law. His true and only purpose was to serve the country. And he will be back."
Scaramucci, who resigned Monday after 11 days on the job and worked briefly before that at the government's Export-Import Bank, holds a 44% stake in the investment company. He valued his stake at more than $50 million in financial disclosure documents.
The company agreed in January to sell itself to HNA Group of China.
Related: Sale of Scaramucci's firm to Chinese group is under regulatory review
Scaramucci's lawyer had told CNN, several days before he resigned the White House job, that government officials, including a White House lawyer, were recommending he apply for the tax deferral.
To get it, a government employee has to put the money from the sale into approved investments like U.S. Treasurys or highly diversified mutual funds.
Deferring capital gains tax is also valuable because a person can invest that money in the meantime and make money on it.
The SkyBridge deal is under review by a government committee known as CFIUS that evaluates the sales of American businesses to foreign companies to determine the impact on national security. The Treasury Department, which chairs CFIUS, has declined comment.
The Office of Government Ethics, which helps executive branch employees avoid conflicts of interest, determines whether someone gets the tax deferral. The office did not respond to a request for comment Tuesday.
Last week, Berke told CNN that his client should be eligible for the deferral because his decision to sell his stake in SkyBridge was prompted by the White House.
Berke said that Scaramucci was approached by then-candidate Donald Trump in November about an administration job. But he didn't get one immediately, and in June landed at the Export-Import Bank, a government agency that provides low-cost loans to foreign customers of American companies.
A SkyBridge spokesman told CNNMoney that the sale "proceeds as planned."