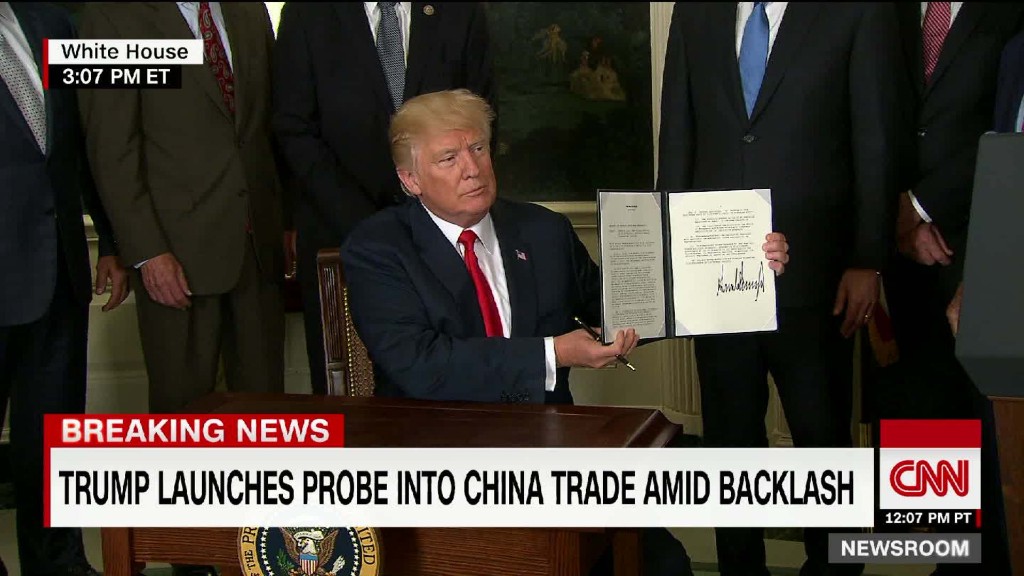 President Trump is getting tough on trade with China.
Trump signed a memorandum Monday that directs U.S. Trade Representative Robert Lighthizer to determine whether an investigation is needed into alleged unfair Chinese trade practices. Shortly after Trump signed the directive, Lighthizer said his office will launch a probe and, "if needed, take action to preserve the future of U.S. industry."
The move represents the first step in a process that could allow Trump to impose tariffs on Chinese imports or other punishing trade actions.
"This is just the beginning," Trump said at the White House Monday. "We will defend our workers."
Related: Trump administration vs. Chinese trade: Explained
It's Trump's latest warning to China on trade, and it comes the same week that administration officials begin to renegotiate NAFTA, the free trade deal between the U.S., Mexico and Canada.
The new order focuses specifically on alleged Chinese theft of U.S. intellectual property, a complaint expressed by a wide array of U.S. corporations that do business in China.
China is accused of trying to take a short cut by spying, hacking or forcing companies to hand over their intellectual property, such as a patent on a software product.
Chinese laws require foreign firms in some industries, such as energy and autos, to form joint ventures with local partners, which often results in the transfer of technology to Chinese companies.
Related: How China squeezes tech secrets from U.S. companies
In a report published this year, the Commission on the Theft of American Intellectual Property named China as the main offender, estimating it costs the U.S. economy up to $600 billion a year.
Trump's memorandum comes as his administration also seeks cooperation with Chinese President Xi Jinping on North Korea's ongoing missile threats.
Some experts say the wording of the memorandum is watered down, reflecting how high a priority North Korea is for the administration. Trump's order did not direct Lighthizer to open an investigation. It directed Lighthizer to determine if an investigation is needed.
"For an administration that portrays itself as tough on trade, it keeps taking one baby step after another, and this is another one," says Edward Alden, a senior fellow at the Council on Foreign Relations.
The softened language in Monday's order is the second time in as many weeks that Trump has agreed to changes to ease the potential backlash from China. Last week, the administration delayed the trade move in favor of securing China's support for a United Nations resolution imposing new sanctions on North Korea.
Related: Chinese media: Trump's trade probe will 'poison' relations
The final version of the memorandum reflected a desire to put some more distance between Trump and a potential investigation of Chinese trade practices, according to a senior administration official.
The Chinese Commerce Ministry on Tuesday warned that "any actions of trade protectionism from the U.S. side would be harmful to the bilateral trade and business relationship and the interests of companies on both sides."
It urged the U.S. to "respect objective facts and be cautious" or risk prompting Beijing to "respond with proper actions to firmly protect China's legitimate rights."
Trump routinely slams China's trade practices, and blames China for the loss of millions of manufacturing jobs. The U.S. had a $347 billion trade deficit with China last year, by far the largest deficit the U.S. has with any country. Trump wants to lower the deficit.
The memorandum was the administration's latest effort to get tough on longstanding Chinese trade abuses, but it also reflected a recognition inside the White House of bureaucratic processes and a complex international situation.
--Jethro Mullen and Nanlin Fang contributed to this article