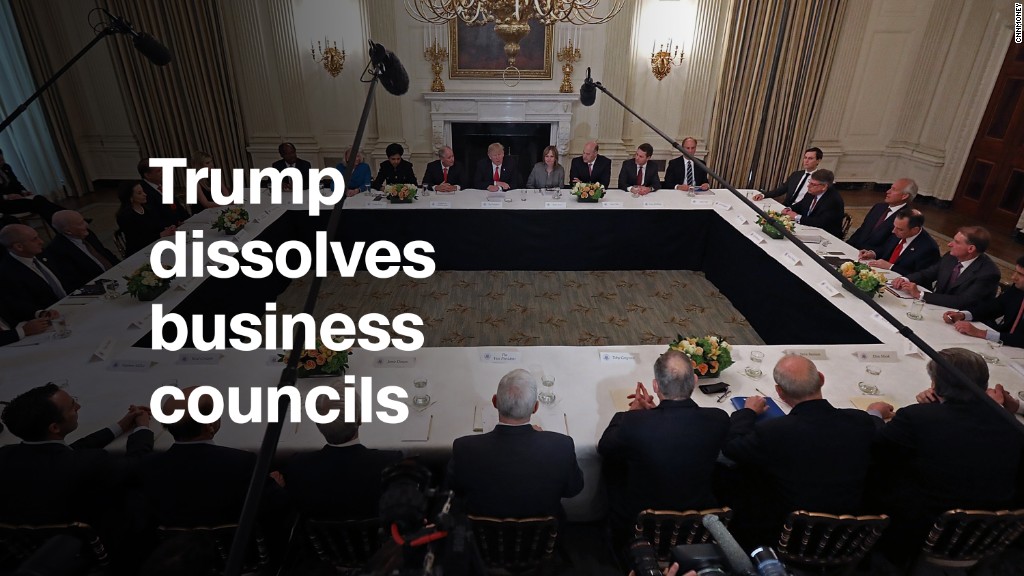 President Trump's two business advisory groups have fallen apart because of his remarks on Charlottesville.
As one CEO after another quit one of the two councils, Trump said on Wednesday that he was disbanding both of them.
He tweeted: "Rather than putting pressure on the businesspeople of the Manufacturing Council & Strategy & Policy Forum, I am ending both. Thank you all!"
Trump had hoped the two councils would help him achieve a major goal of his administration -- creating jobs, especially in manufacturing. The idea was to hear advice from top CEOs.
But those executives began walking away after Trump insisted that violence at a rally of white supremacists in Charlottesville was perpetrated by many sides.
Eight members of the manufacturing council quit this week, starting with Ken Frazier, CEO of Merck, early Monday morning.
The second group, the Strategic and Policy Forum, was led by Blackstone CEO Stephen Schwarzman. It included some of the biggest players in finance and business: JPMorgan (JPM) CEO Jamie Dimon, PepsiCo (PEP) CEO Indra Nooyi, General Motors (GM) CEO Mary Barra, and Walmart (WMT) CEO Doug McMillon. It had met several times since it was established shortly after the election.
In a statement Wednesday, members of the Strategic and Policy Forum said that "intolerance, racism and violence have absolutely no place in this country and are an affront to core American values."
"We believe the debate over Forum participation has become a distraction from our well-intentioned and sincere desire to aid vital policy discussions on how to improve the lives of everyday Americans. As such, the President and we are disbanding the Forum," the group said.
Some top executives sought to make clear that they resigned from the advisory councils before Trump stepped in to dissolve them.
"Alex Gorsky had made his decision to resign from the council earlier today before the president's tweet. As we said in our previous statement, the president's remarks yesterday equating those who are motivated by race-based hate with those who stand up against hatred were unacceptable," Johnson & Johnson (JNJ) said in a statement Wednesday afternoon.
Dimon also put out a statement to show that he "personally supported" breaking up the Strategic and Policy Forum.
"I strongly disagree with President Trump's reaction to the events that took place in Charlottesville over the past several days," Dimon said.
And General Electric (GE) chairman Jeff Immelt said he notified members of the manufacturing council this morning that he "could no longer serve."
The flurry of resignations from the manufacturing council, which Trump established in January, began Monday after Merck's Frazier abruptly quit the council. He said that "America's leaders must honor our fundamental values by clearly rejecting expressions of hatred, bigotry and group supremacy."
Trump fired back an hour after Frazier's announcement. He tweeted that the Merck CEO "will have more time to LOWER RIPOFF DRUG PRICES!"
"The council itself is totally ineffective. It's never met," Richard Trumka, the AFL-CIO head who quit the manufacturing council on Tuesday, told "CBS This Morning." "It's a subterfuge to be able to deregulate industry."
He continued: "But it's the symbolism of being associated with it that we rejected yesterday."
By Wednesday, Frazier was followed by Kevin Plank, CEO of Under Armour; Brian Krzanich, CEO of Intel; Scott Paul, president of Alliance for American Manufacturing; Thea Lee, economist at AFL-CIO; Richard Trumka, President of AFL-CIO; Inge Thulin, CEO of 3M; and Denise Morrison, CEO of Campbell Soup Co.
In June, Tesla and SpaceX CEO Elon Musk, who advocates clean energy, resigned from the manufacturing initiative and a separate economic advisory group. Musk was protesting Trump's decision to withdrawal from the Paris climate agreement.