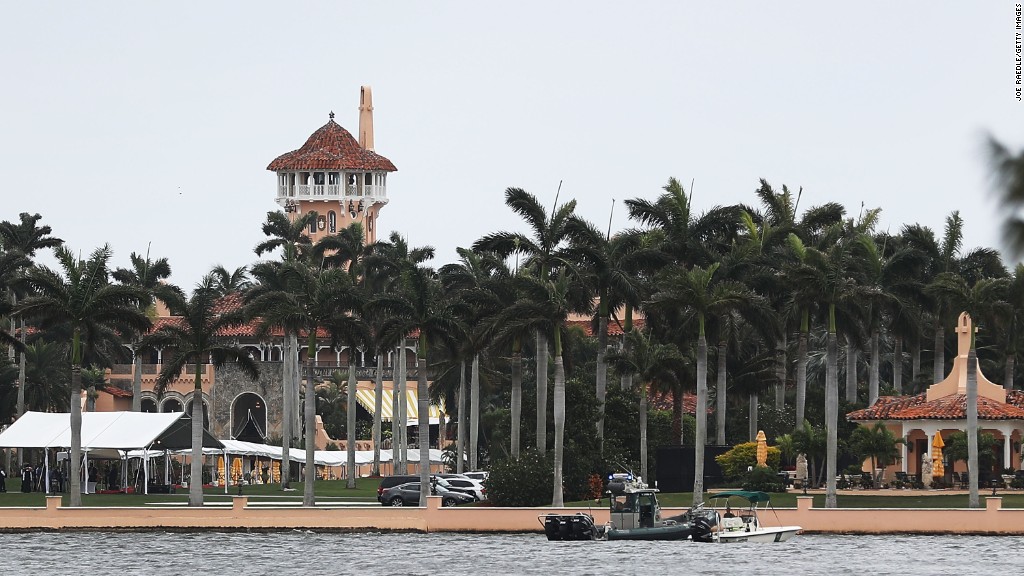 At least 13 organizations have canceled fundraisers at Mar-a-Lago, President Trump's Florida resort.
Who's next?
Two more organizations said Monday they are backing out of events at the Trump club. The Kravis Center for the Performing Arts will move its February wine auction, and Hearing the Ovarian Cancer Whisper will take its January luncheon to a nearby museum.
On Tuesday, Gateway for Cancer Research said it's axing Mar-a-Lago as a venue for its St. Patrick's Day event in March. And CNNMoney also confirmed that the Unicorn Children's Foundation has decided to scrap its fashion show luncheon, which was set to be held there.
The Palm Beach Preservation Foundation and the Palm Beach Zoo and Conservation Society made similar moves over the weekend.
The exodus began after Trump said counter-protesters shared the blame for the violence at a white nationalist gathering in Charlottesville, Virginia. He also said that "very fine people" were mixed in with neo-Nazis and white supremacists.
The Cleveland Clinic, the American Red Cross, the Salvation Army and the Susan G. Komen Foundation are among the other organizations that backed out of plans to hold events at Mar-a-Lago, in Palm Beach.
Jennifer McGrath, executive director of Hearing the Ovarian Cancer Whisper, said the decision to move the luncheon was not political. "We just want to do what's best for the organization and focus on our mission," she said.
It's been a bad stretch for Trump's businessman image. Both of his business advisory councils disbanded last week as CEOs, one after another, distanced themselves from the president.
But the cancellations at Mar-a-Lago have been more than just bad PR for Trump. Because he maintains an ownership interest in his real estate properties, including Mar-a-Lago, the defections also hit him in the wallet.
Related: Why Mar-a-Lago customers are walking away from Trump
Mar-a-Lago does not make its calendar public. The Palm Beach Daily News, which keeps a social calendar, lists 15 events for the upcoming season, November to March. At least four others have showed up in other media reports. Of those 19 events, CNNMoney has confirmed that 13 are canceled.
In addition, the charity Leaders in Furthering Education has already selected a new venue for a gala that had been scheduled for December at Mar-a-Lago. The board will vote this week to make it official.
It's unclear how much business Trump stands to lose, though charity galas at the club are usually high-end affairs. Leaders in Furthering Education listed $175,000 in rent and facilities costs for its 2014 gala at Mar-a-Lago.
"I think it's a mistake to think that the money isn't significant enough to matter to the Trump family," said Michael D'Antonio, who has written books about Trump as a businessman. "Once you're talking about what appears to be millions of dollars in lost business, that matters to anyone. And it matters to them."
Fundraisers aren't all the resort handles. The club also charges a $200,000 initiation fee and can accommodate up to 500 members, who pay pricey annual dues.
All told, Trump reported $37.2 million in income from Mar-a-Lago from January 2016 through April 15, 2017, according to financial disclosure forms filed this year.
Related: Yet another group pulls event out of Trump's Mar-a-Lago
Many of the former Mar-a-Lago customers said in their announcements that the resort had become a distraction. The American Red Cross said it had become "a source of controversy and pain for many of our volunteers."
Those responses raise questions about whether Trump -- a man who built a business empire on his own name -- has become too toxic a brand.
"There's inevitable publicity associated with these decisions. That damages the brand," said D'Antonio, a CNN contributor. "Even for locals in Palm Beach, this could affect whether they decide to maintain membership there. ... It's just one more indication that this is all a politically oriented brand name now."
One research group suggests the Trump name is already diminished in the eyes of the public.
In a survey conducted Sunday through Thursday of last week, Brand Keys, a research and consulting firm, found that consumer enthusiasm for Trump-branded products had dropped compared with a survey in May.
Brand Keys, which has studied the Trump brand for decades, surveyed 2,100 people across the country and asked how much more they would be willing to pay for an item branded "Trump."
For instance, when buyers were given the choice between two comparable suits, they reported last week that they were willing to shell out 15% more for the Trump. That was down from 21% in May.
The dip was less severe for real estate properties, like golf clubs and hotels, said Robert Passikoff, Brand Keys' founder and president.
Still, the president maintains a base of supporters who may go out of their way to support his properties and products, said Clayton Critcher, a professor at the University of California, Berkeley, who studies the intersection of psychology and business.
"Much as 'Duck Dynasty' built a television and branding empire outside of the urban elite who typically dominate the cultural and media landscape, Trump's political branding is doing the same," Critcher said. "And this means that Trump's business branding may be able to do the same as well."