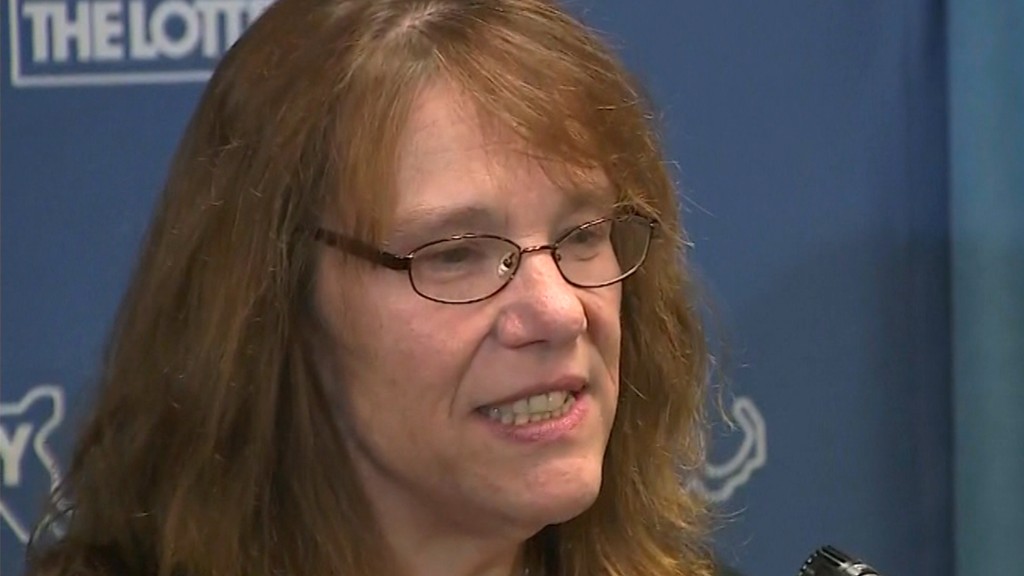 And the winner is ... Mavis Wanczyk.
Wanczyk, 53, landed the largest single lottery jackpot ever in the United States -- the $758.7 million grand prize in Wednesday's Power Ball.
The winning ticket (6, 7, 16, 23, 26, and Powerball number 4) was purchased at the Pride Station & Store in Chicopee, Massachusetts.
Wanczyk said she discovered Wednesday night while leaving work at the Mercy Medical Center that she had won. A co-worker looked at her ticket and told her she had won. He told her to immediately sign the back of the ticket. She couldn't believe it.
"I couldn't drive anywhere. I couldn't do anything," she told reporters. She said her co-worker followed her home to make sure she was OK.
Related: Biggest lottery jackpots in U.S. history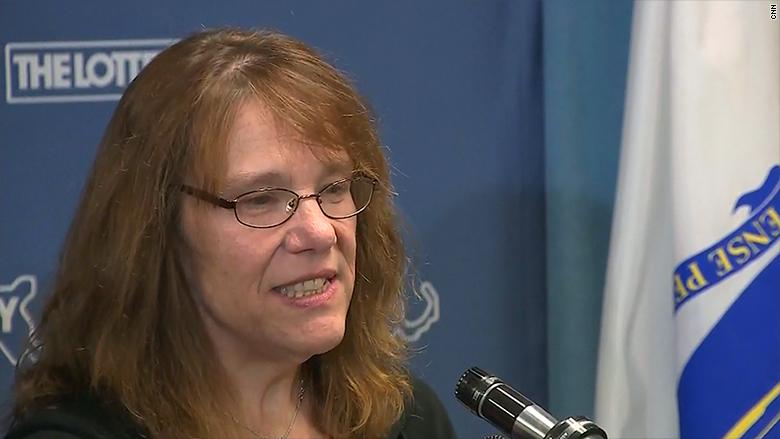 Wanczyk, who has two adult children, said her big plan is to retire early, and she's already called her boss and said, "I will not be coming back." Asked what she planned to do to celebrate Thursday night, she responded, "I'm going to just hide in my bed."
The owner of the store that sold the ticket, Bob Bolduc, told reporters that the winning ticket was bought at about 2:30 p.m. on Wednesday.
Store owner Bolduc said that he plans to donate the $50,000 commission he'll collect for selling a jackpot winner, to local charities with a primary focus on education and children.
Lottery officials initially reported that the winning ticket was sold at a different store in Watertown, Massachusetts, due to a transcription error by lottery staff early Thursday morning. The Watertown store sold another winning ticket worth $1 million, which had all five numbers except the Powerball correct.
Wanczyk won't get the full jackpot -- lottery winnings are taxed like income.
The IRS taxes the top income bracket 39.6%. The government will withhold 25% of that before the money ever gets to the winner, and the rest has to be paid at tax time.
Wanczyk's jackpot is $758.7 million, but she would only get that if she agreed to take annual payments over 30 years. Instead, she did what most winners do, which is take a lump sum up front -- so she'll collect $480.5 million all at once.
Related: Why billions of dollars go unclaimed in lottery prizes
And it's not just Wanczyk who will cash in -- there were 9.4 million other winning tickets ranging from $4 all the way up to $2 million. Six people are due the $2 million second-place prize, and another 34 have $1 million coming to them.
All told, the secondary prizes from Wednesday's drawing totaled $135 million. If people pick up their winnings: History shows that many of those winners likely will never claim their winnings.
Two other Powerball jackpots have passed the $400 million mark so far in 2017. A $448 million prize was claimed in June, and a $435 million jackpot was won in February. Mega Millions had a $393 jackpot winner on August 11.
The only prize that's ever topped the $1 billion mark was claimed in January 2016 -- a $1.6 billion Powerball jackpot that grew over several months and was split three ways. That jackpot's winning tickets were sold in Tennessee, California and Florida.
Both Powerball and Mega Millions tickets are available in all but six states -- Alabama, Alaska, Hawaii, Mississippi, Nevada and Utah.
Related: Ex-lottery worker who rigged winnings gets 25 years in prison
The odds have always been long for landing a Powerball jackpot. But it became even more difficult recently -- thanks to a rule change in October 2015 that tweaked the odds.
Chances of picking all six winning numbers currently stand at about one in 292 million.
That means you are actually more likely to be killed by an asteroid (1 in 700,000), be struck by lightning while drowning (1 in 183 million) or give birth to quadruplets (1 in 729,000).
-- Rob McLean, Jackie Wattles and Keith Allen contributed to this report.