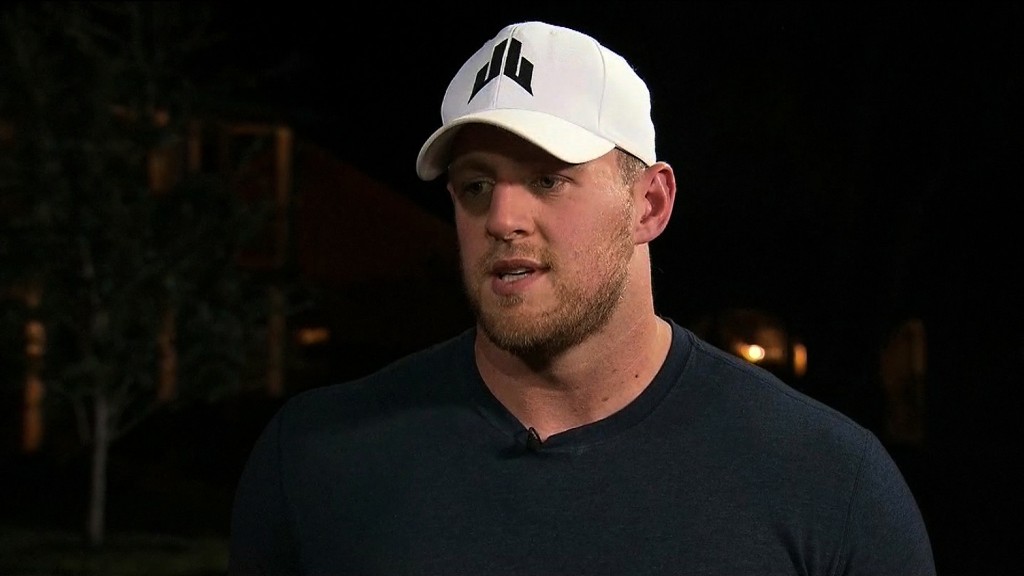 JJ Watt is a force on the field. His skills extend to fundraisers.
The Houston Texans defensive end has been raising money to help victims of Hurricane Harvey and on Thursday he surpassed his latest goal of $10 million.
He started raising funds on Sunday with a goal of $200,000 and met that mark within just two hours. Watt keeps blowing past and raising his targets. After he reached $10 million he didn't set a new goal but said he would leave it open and see how much more they could raise.
On Wednesday, Ellen DeGeneres announced that Wal-Mart was going to donate $1 million to Watt's fund. Wal-Mart has already pledged to match up to $10 million in customer donations.
"Everything's bigger in Texas, so I'm raising the goal," Watt said in a Twitter video on Wednesday, when he first announced the $10 million goal. "Please keep sharing. Please keep donating. I can't thank you enough. Every little thing helps. Just because the storm is receding doesn't mean we can stop raising money."
Watt said the money will go directly to victims in Houston and the surrounding area.
"We're using the money to purchase water, generators, clothing, cleaning supplies, things like that," Watt said. "We're going to set up shop in a few different areas around Houston. My teammates are going to help me distribute those materials so that we can get this directly to the people."
Watt and the rest of the Texans were stranded outside of Houston and were practicing at the Dallas Cowboys' training facility.
On Wednesday, city officials found a safe way back into the city and the team is returning home. Its preseason game against the Cowboys has been canceled. Fans who bought a ticket to the game, which was scheduled for Thursday, will have the option to donate the money from their ticket refund.
The JJ Watt Foundation is also holding a collection drive in his home state of Wisconsin for victims of the flooding. The foundation is asking for donations of blankets, non-perishable food items like peanut butter, fruit cups and tuna, plastic silverware and other items.
Related: Houston teams and athletes step up for hurricane relief
Several other Houston-based athletes and teams have contributed to the ongoing efforts to help victims of Hurricane Harvey.
Point guard Chris Paul of the Rockets gave $50,000 to Watt's campaign.
Houston Rockets owner Leslie Alexander is donating $10 million to Houston Mayor Sylvester Turner's Hurricane Harvey Relief Fund.
Jim Crane, owner of the Astros, is working with the team and plans to give $4 million.
The owner of the Texans, Robert McNair, has pledged $1 million, which will be matched by the NFL's charitable foundation.
Atlanta Falcons owner Arthur Blank will match up to $1 million in donations.
The NBA and its players association are giving $1 million. As are MLB and its players association.
Golfer Stacy Lewis said she'd give 100% of her winnings at this week's Portland Classic to victims.