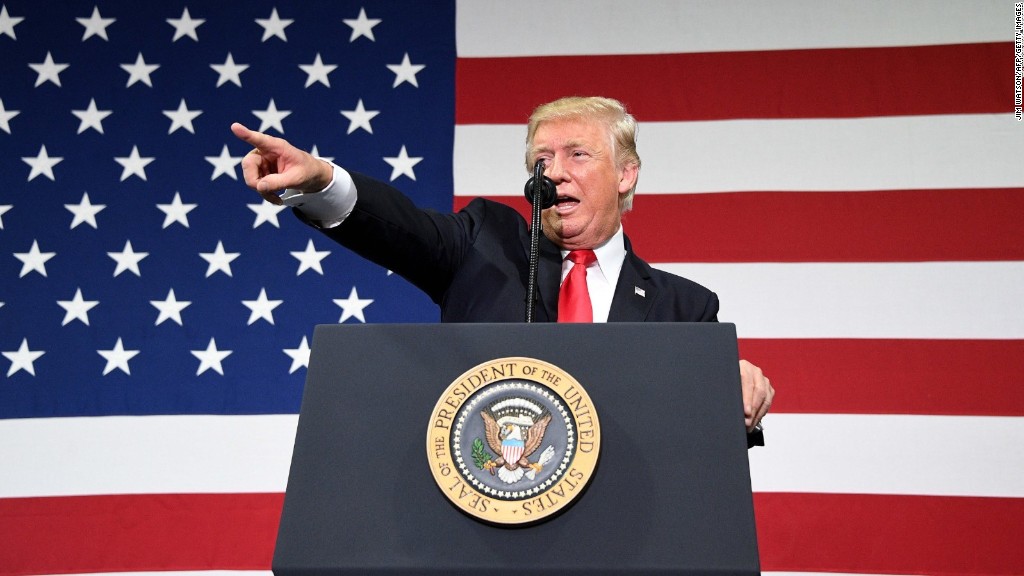 Business leaders are reiterating their support for Deferred Action for Childhood Arrivals and asking Congress to step in after the Trump Administration formally said it is ending the Obama-era program.
Attorney General Jeff Sessions said on Tuesday that DACA, which protects 800,000 undocumented immigrants who came to the United States as children, "is being rescinded." The Department of Homeland Security will stop processing new applications today.
The administration signaled its plan to end the program last week, and business leaders banded together to ask President Trump and Congress to reconsider. Amazon (AMZN) CEO Jeff Bezos, Apple (AAPL) CEO Tim Cook and Snapchat (SNAP) CEO Evan Spiegel as well as hundreds of other executives signed a letter calling on the president to preserve the program.
Related: Business leaders call on Trump to protect DACA
The DHS said that it will continue to renew permits that expire in the next six months, giving Congress some time to figure out how to continue to protect current DACA recipients.
Here's what CEOs and other leaders have to say.
Facebook CEO Mark Zuckerberg
Mark Zuckerberg was one of over 400 CEOs to sign the letter asking Trump and Congress to save DACA. "This is a sad day for our country," he said in a Facebook (FB) post Tuesday following Session's announcement. "The decision to end DACA is not just wrong. It is particularly cruel to offer young people the American Dream, encourage them to come out of the shadows and trust our government, and then punish them for it."
Zuckerberg added, "It's time for Congress to act to pass the bipartisan Dream Act or another legislative solution that gives Dreamers a pathway to citizenship."
Facebook COO Sheryl Sandberg
Sheryl Sandberg also posted a reaction on Facebook. "I'm heartbroken and deeply concerned that President Trump's administration has decided to end the Deferred Action for Childhood Arrivals (DACA) program," she wrote on Tuesday.
"Dreamers deserve to be protected and live without fear. I'm standing with them and their families today -- and asking Congress to pass the DREAM Act or other permanent legislation right away to give them a much-needed path to citizenship."
Apple CEO Tim Cook
In a letter to employees obtained by CNNMoney, Cook said "I am deeply dismayed that 800,000 Americans — including more than 250 of our Apple coworkers — may soon find themselves cast out of the only country they've ever called home."
Dreamers, he said, "help customers in our retail stores. They engineer the products people love and they're building Apple's future as part of our R&D teams. They contribute to our company, our economy and our communities just as much as you and I do. Their dreams are our dreams."
Cook assured employees that "Apple will work with members of Congress from both parties to advocate for a legislative solution that provides permanent protections for all the Dreamers in our country."
Goldman Sachs CEO Lloyd Blankfein
Goldman Sachs (GS) CEO Lloyd Blankfein commented in a tweet that "immigration is a complex issue but I wouldn't deport a kid who was brought here and only knows America."
He added, "Congress must address."
Disney CEO Bob Iger
Bob Iger, Chairman and CEO of The Walt Disney Co (DIS)., said on Tuesday that "the Dreamers impacted by this cruel and misguided decision make significant contributions to our economy and our country."
He added, "I urge Congress to take immediate bipartisan action to pass legislation that will protect these innocent people."
Bloomberg founder and CEO Michael Bloomberg
In a tweet sent prior to Session's press conference, Michael Bloomberg said "Bloomberg is lucky to have Dreamers. They're helping power our company & economy. Business leaders want a solution -- Congress must lead."
Google CEO Sundar Pichai
Google (GOOG) CEO Sundar Pichai said in a tweet on Tuesday that "Dreamers are our neighbors, our friends and our co-workers. This is their home." He added, "Congress needs to act now to defend DACA."
JPMorgan Chase CEO Jamie Dimon
JPMorgan CEO Jamie Dimon spoke out on behalf of business lobbying group Business Roundtable, where he serves as chairman.
"America is and always has been a country of immigrants," Dimon said in a statement released by Business Roundtable. "We should do everything in our power to continue to attract the best and brightest because they make us stronger as a people and as an economy. And, when people come here to learn, work hard and give back to their communities, we should allow them to stay in the United States."
Business Roundtable's president and CEO Joshua Bolten urged Congress and President Trump to find an alternative to DACA before the six-month deadline ends. "Failure to act would have a significant negative impact on businesses that rely on employees who are here and working lawfully," he said.
Microsoft co-founder Bill Gates
In a Facebook post, Microsoft co-founder and philanthropist Bill Gates wrote, "I'm very disappointed with today's decision to end DACA."
"Hundreds of thousands of young people who have been educated in the United States and have played by the rules their whole lives will be forced to live under the threat that they will be separated from their families, friends, and communities," he added. "Melinda and I have been incredibly impressed by the Dreamers we have come across in our work with Microsoft, the foundation, and other programs we have supported over the years."
Gates said he hopes "Congress will quickly pass a permanent fix to allow these young people to stay in the country without the destructive fear of deportation."
Microsoft CEO Satya Nadella
"Dreamers make our country & communities stronger," said Microsoft (MSFT) CEO Satya Nadella in a tweet. "We stand for diversity and economic opportunity for everyone."
Nadella linked to a tweet and blog post by Microsoft President and Chief Legal Officer Brad Smith, where he vowed to defend Microsoft's DREAMers in court if need be.
"We are deeply disappointed by the administration's decision today to rescind protection under the program for Deferred Action for Childhood Arrivals," Smith said. "As we said last week, we believe this is a big step back for our entire country."
Airbnb co-founders Brian Chesky, Joe Gebbia and Nathan Blecharczyk
The Airbnb co-founders offered a broad comment in response to the DACA decision, saying "we founded Airbnb based on the idea that our lives and our world are better when we accept each other. Those aren't just economic or business values. Those are the values America has been and should be all about."
Lyft co-founders Logan Green and John Zimmer
Lyft co-founder John Zimmer tweeted a link to the open letter signed by CEOs last week with the comment "Dreamers add to our communities and economy. Ending DACA is wrong - we now must work together to ask congress to act."
His co-founder and the company's CEO Logan Green retweeted the post, adding "we stand with Dreamers & support inclusivity for all. Ending DACA is wrong."
Cisco CEO Chuck Robbins
Cisco (CSCO) CEO Chuck Robbins also weighed in, writing "so proud of Cisco Dreamers," on Twitter. He added, "we stand with you all - we need the US Congress to act quickly to resolve this situation."
Box CEO Aaron Levie
"Congress must act immediately to allow Dreamers to stay," Box (BOX) CEO Aaron Levie wrote on Twitter. "This should be priority # 1 given the confusion and stress ending DACA will cause."
Univision President and CEO Randy Falco
Univision (UVN) President and CEO Randy Falco said on Tuesday, "DREAMers are our students, soldiers, first responders, coworkers, neighbors, and friends." He added that at Univision, "we will continue to stand by them, including those talented DREAMers working at our company to advance our mission."
U.S. Chamber of Commerce Senior Vice President and Chief Policy Officer Neil Bradley
A top official in the U.S. Chamber of Commerce said on Tuesday that "the original DACA program announced in 2012 was premised on sound public policy, and unlike DAPA, it was not challenged in court. Individuals enrolled in good faith and became ingrained in our communities and the nation's economy. To reverse course now and deport these individuals is contrary to fundamental American principles and the best interests of our country."
He added that the decision "runs contrary to the president's goal of growing the U.S. economy," and said that the Chamber asks "the administration and the Congress work together to quickly find a legislative solution before the program expires."
TechNet President and CEO Linda Moore
Linda Moore, CEO of the national bipartisan network of CEOs TechNet, said on Tuesday that "Ending DACA will be highly disruptive to the U.S. economy." She added, "Whether you agree with DACA or not, ending it without anything to replace it creates unnecessary uncertainty for our economy and for almost 800,000 young people in this country who have passed background checks, paid fees, and are contributing to our economy, pursuing their studies, or even serving in our military."
She concluded, "the President's action now makes it an urgent priority for Congress to turn its sympathy for these young people into a law that ends the uncertainty they face."