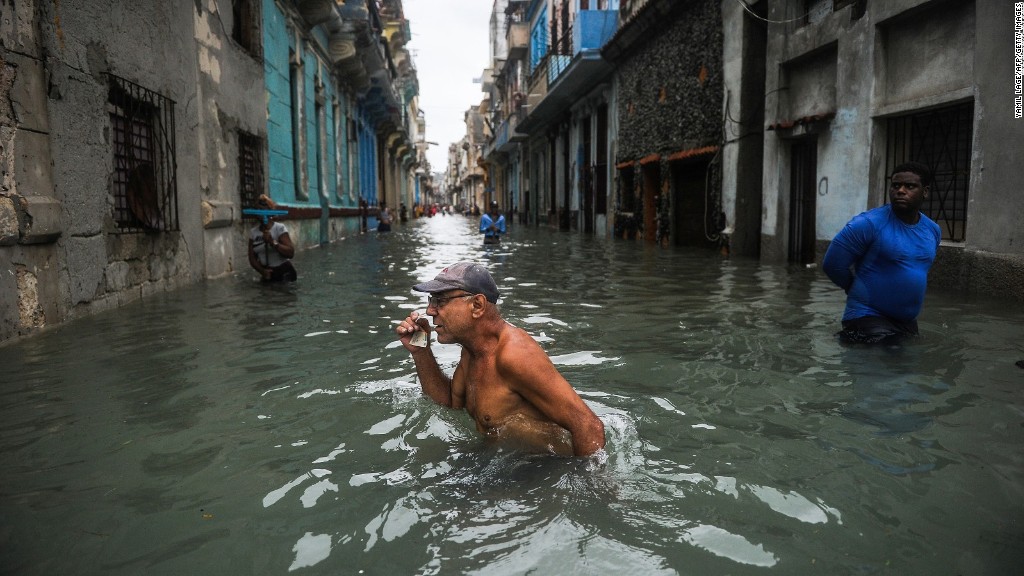 Hurricane Irma's path through the Caribbean reduced some of the most popular vacation spots in the world to rubble.
Now leaders and residents alike must grapple with a daunting economic challenge: How do you rebuild an island paradise?
It's a tough question to answer.
The extent of the damage from the storm remains unclear, authorities say. Estimates on at least one island have reached into the hundreds of millions.
Power outages and property damage in some areas have brought local commerce to a standstill, making the logistics of recovery even more complicated.
The Category 5 storm wreaked havoc on a patchwork of territories and independent nations, including Barbuda, Britain's Anguilla, the U.S. Virgin Islands and St. Martin, an island that's home to territories overseen by the Netherlands and France.
Each of these islands is used to the seasonal dangers posed by hurricanes and tropical storms. But Irma's power was particularly devastating.
"There are some hotels where just the signage is left -- where the wall with the name outside is standing. And that's it," said Hugh Riley, the secretary general of the Caribbean Tourism Organization.
Riley spent Tuesday surveying the damage on Anguilla, a British territory east of Puerto Rico and the Virgin Islands.
Related: Caribbean residents describe dire situation as food, water run out
Tourism is huge business across the Caribbean, and Anguilla is no different. Last year, travel and tourism contributed to 57% of the island's GDP, according to the World Travel and Tourism Council. Riley said local officials estimate that number could be significantly higher.
"It has some landmark properties. It's known for its very pretty beaches and for a relaxed atmosphere," he said.
Not every hotel on Anguilla was hit hard, Riley said. Some could very well stay open during the tourism season, though he said some might have to close off damaged areas to guests.
But he added that property damage is not the only issue Anguilla and the rest of the Caribbean has to worry about.
There's also a perception issue. While several islands suffered badly, others are still open for business. In a region driven largely by tourism dollars, locals must convince travelers not to discount a vacation to the islands entirely.
Logistical challenges present a challenge to recovery, too.
For example: Tankers are bringing fuel to the island, but authorities need to inspect the integrity of their fuel lines before it can be delivered. Irma churned the sea waters as it rolled through, which might have caused damage.
Power outages have also crippled banking and commerce. Cash transactions aren't always an option because ATMs need electricity to function.
"There's 1,000 things that people don't really think about until an event like this occurs," Riley said.
The country's citizens are also trying to find ways to not only rebuild their lives, but also get back to work. Riley said teams of emergency responders on the island were answering questions from residents about their next steps.
Related: For Caribbean residents, Irma could last months
Officials are also planning for recovery elsewhere in the Caribbean. Antigua and Barbuda, which counts on travel and tourism for 60% of its GDP, hopes to keep its economy afloat by encouraging tourists to stay in areas that avoided the brunt of Irma's winds and rains.
That means directing tourists to Antigua, which suffered minimal damage. Barbuda, the country's other island, was completely annihilated.
"A week lost in tourism arrivals to Antigua is worth about $5 million (USD) in expenditure in our economy," said Asot Michael, the country's minister for tourism, economic development, investment and energy. "Every dollar spent in Antigua by visitors will go a long way to help the government to fully rebuild Barbuda."
He estimated that it will cost about $200 million to recover.
Irma's path through the southeastern United States could also cause indirect problems for the local tourism industry.
According to the Caribbean Tourism Organization, nearly 2 million tourists last year came from Florida, which itself is recovering from Irma. No other state apart from New York visited the region as much.
"Their first priority has to be to get their lives back in order," Riley said. "If their economy is affected in some way, and they themselves are concerned about their own level of disposable income, naturally that's going to have an effect on their ability to take a vacation. And so that has a downstream effect on us."
U.S. ports mark another important hub for the Caribbean islands. Michael said that about 90% of Antigua and Barbuda's cruise passengers come from the states, and many originate in Miami.
"To the best of my knowledge, the cruise ports of Miami and Fort Lauderdale suffered little impact and so our cruise arrivals will continue to be robust," he said. Cruise ships began docking in Miami on Wednesday.
--CNN's Madison Park and Emanuella Grinberg contributed to this story.