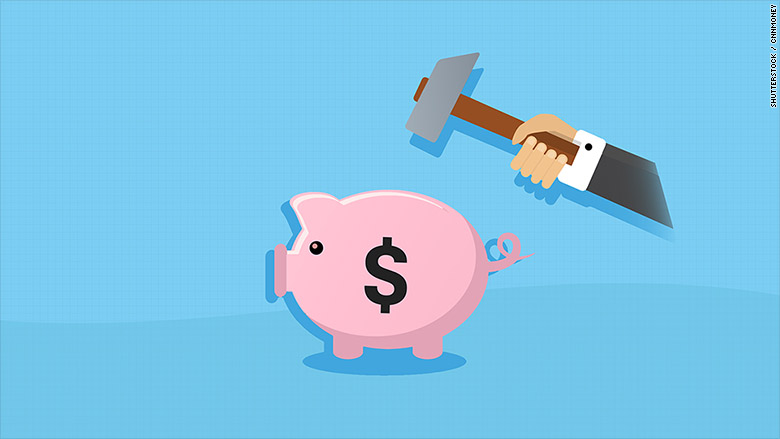 Welcome to our weekly money guide. Here are some tips for saving, spending and making the big bucks.
LIVING BEYOND YOUR MEANS?
Here's a scary stat: 47% of Americans would struggle to come up with $400 to cover an unplanned expense.
Many workers are living paycheck-to-paycheck, in large part because they're living beyond their means.
Not sure if that's you? Here are 3 clues:
1. Your credit score is low.
2. Your housing costs eat up more than 30% of your paycheck.
3. You're not saving any money.
If this does apply to you, it's time to start changing your ways. Try creating a budget and comparing that to your monthly paychecks. And read on for another savings tip.
THE SECRET TO BEING A GREAT SAVER
Paying yourself first is a great way to save money. In fact, it's the best way to save money.
Treat the savings goal like an important bill -- just like your rent or mortgage -- that must be paid every month. The only difference is it's a bill you pay to yourself.
Worried you won't be able to? Try setting up automatic payments into accounts set aside for emergency savings, debt repayment or retirement.
JANET YELLEN'S CREDIT ADVICE
Federal Reserve Chairwoman Janet Yellen has some advice for Americans: monitor your credit report!
Her comments came last week, during a press conference following the Federal Open Market Committee Meeting.
Yellen said the recent data breach points to the importance for strong cybersecurity controls -- and that the Fed and other regulators are focused on ensuring banks have them in place.
EQUIFAX CAN'T CATCH A BREAK
And in other Equifax news, the site tweeted out a link to a fake site pretending to be Equifax. Yes, really.