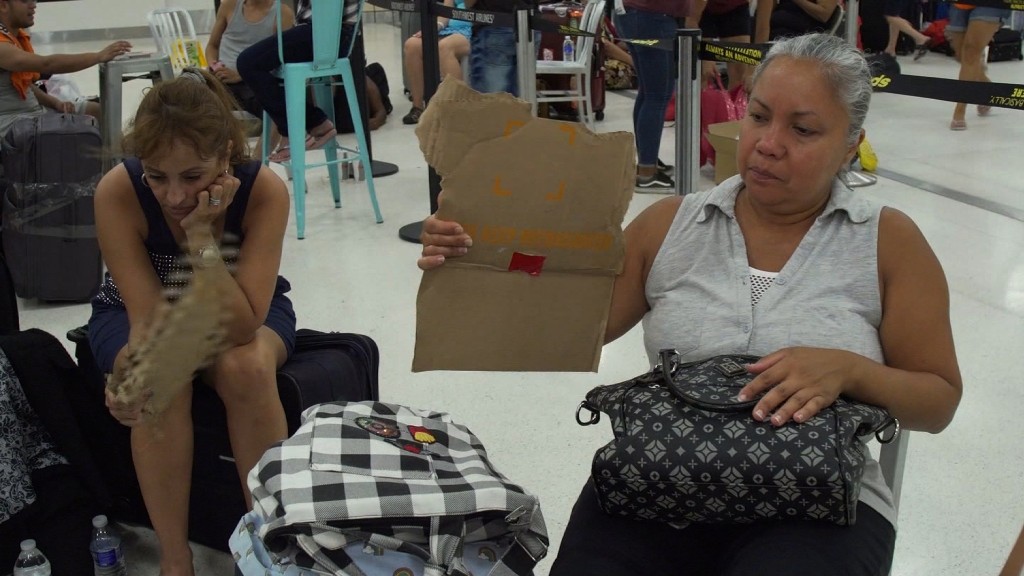 Doris Montalvo already escaped Puerto Rico once. She left the island and its economic problems seven years ago and found work as a nurse in Connecticut.
She recently returned for the first time for vacation, and now she can't get out -- trapped this time in an airport terminal in San Juan, one sweltering corner of the humanitarian crisis caused by Hurricane Maria.
In 100-degree heat, with no air conditioning and a scarce security presence, Montalvo spent the night waiting with her daughter, three grandchildren and the daughter's boyfriend. Scores of others waited with them. They had little water, little food, no working ATMs and no idea when they would get out.
Montalvo, 54, had driven from the other side of the island because their flight there was canceled. She and her family were told that the first flight they could get out of San Juan would depart October 9. Hotels weren't taking reservations. She couldn't withdraw cash. Stress set in.
"We just want to get home and get back to our routines, our lives," Montalvo said. "I don't feel safe here. ... I don't want (my grandchildren) to sleep on the sidewalk."
One week after Maria battered the island, the more than 3 million Americans who live there are struggling to survive. People are scavenging for food, collecting water from mountain streams and drinking the rain. Power is out across the island. Generators and batteries are keeping hospitals open.
The San Juan airport, by far the largest on the island, is barely functioning. Airlines are having trouble printing boarding passes. TSA equipment was damaged by the hurricane, so security checks are done by hand.
Only 10 commercial flights made it in and out on Tuesday, and only 18 were expected on Wednesday, according to the airport authority.
More relief flights are getting in. Airlines are delivering food, water, medicine, blankets, cots, generators and blood for the Red Cross. Those relief flights are returning with as many people as can get on the plane, United says.
Related: Puerto Ricans still waiting for aid a week after Maria's devastation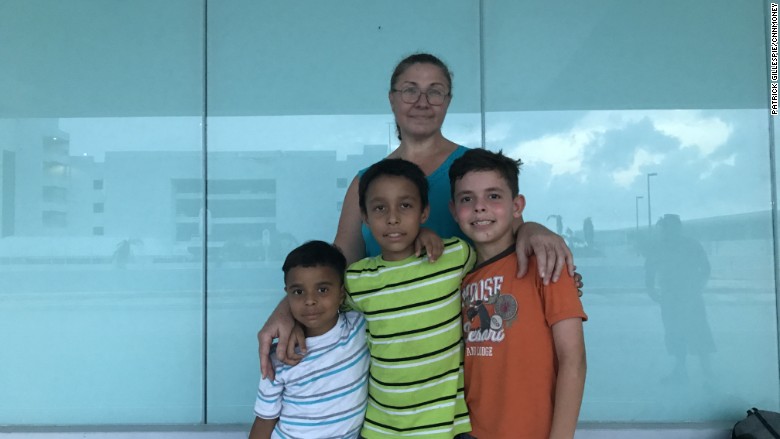 When she lived in Puerto Rico, Montalvo made $15 an hour as a nurse. She got out in the early years of an economic crisis. The unemployment rate on the island is double the national average. The government is bankrupt. People leave every year by the tens of thousands.
Now she makes $36 an hour at a dialysis clinic in Connecticut. She needed to get back to her job, and she needed to get the grandchildren home to be registered at their new school, Walsh Elementary in Waterbury. Montalvo worries they will lose their seats if they are stuck in Puerto Rico for weeks.
Fifty yards down the terminal, Stephanie Navarro also wants to give her two young daughters a better life. They were supposed to move Tuesday to a relative's place in upstate New York, where Navarro believes she can find a better job and good schools.
Instead, they slept on the terminal floor, along with Navarro's boyfriend, Javier, waiting for the next Delta plane after their original flight was canceled.
"We're stuck here. There's no phone to call people, there's no water, there's no ice, there's no nothing," said Navarro, 26.
Related: Who will help Puerto Rico?
Other travelers described their own nightmares.
Alicia Beniquez was traveling with her husband and her 3-year-old granddaughter. Before trying to fly home to New Haven, Connecticut, she tried to return her rental car to the company, U Save, with a full tank of gas.
"You go to the gas station and all you get is $10," Beniquez said. "I brought it back with a quarter tank and they want to charge you."
U Save did not respond to CNNMoney's request for comment. Beniquez slept at the airport Tuesday.
Standing in line, Eric Mott tried to bring order to chaos. He made a list of the names of the strangers waiting with him. He planned to give it to Southwest Airlines employees in the morning. He had three pages' worth already.
Mott, a real estate agent in Denver, wanted to make sure no one stole a place in line. People were sweating through the night, sleeping on steel chairs.
"I'm a firm believer that people want to do the right thing, but then when emotions get involved ... " Mott said, trailing off. "We're going to spend the night here tonight. I want it to be nice and orderly."
Surrounded by strangers at an airport that was barely operating, he had no plans to sleep.
"I haven't pulled an all-nighter since college," he said, "so I'm due for one."
--Chris Isidore, Ivan Watson and Jo Shelley contributed reporting to this article