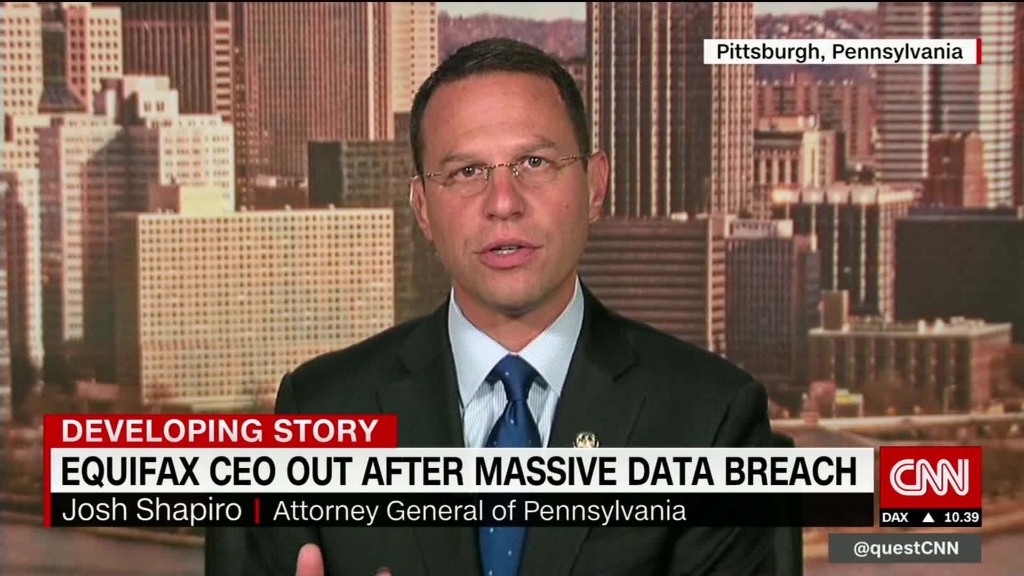 Equifax has announced another free service to help consumers protect themselves in the wake of its massive data breach.
This one is called credit locking, and it will prevent criminals from opening a fraudulent account -- like a credit card or a mortgage -- in your name, even if they've gotten a hold of your personal information.
The credit locking service will be ready to launch by January 31 -- and it will be free, for life, Interim CEO Paulino do Rego Barros said Wednesday. That makes it far more significant than Equifax's previous offer for one free year of credit monitoring, or its promise to waive the fee to freeze your credit through the end of January.
But consumer advocates are questioning the company's decision to offer a lifelong credit lock instead of a state-regulated credit freeze, and are concerned over the unknowns -- including if enrolling could limit your rights to sue.
"I am not 100% (sure) about how a lock works, especially Equifax's lock," said Chi Chi Wu, an attorney at the National Consumer Law Center, on Thursday.
Locks usually work in a similar way to credit freezes, which also prevent anyone from opening an account in your name. In both cases, you'll have to "unfreeze" or "unlock" your report temporarily if you want to open a new line of credit yourself.
"We are still trying to figure out why they are pushing a new thing they call a lock," said Mike Litt, Consumer Advocate at U.S. PIRG.
"Why not make the freeze free when that already exists," he said.
He maintains that putting a freeze on your credit at all three agencies -- Equifax, Experian and TransUnion -- is the best way to protect yourself from identity theft.
States started to give consumers the right to request credit freezes in 2003 and now most have a law on the books. In 2007, all three agencies started to voluntarily offer freezes to consumers everywhere.
But they "fought for years against our right to freeze our credit reports," Litt said.
State laws set a limit on how much a credit agency can charge for placing and lifting the freeze. In some states it's free, but fees typically range from $2 to $10. (This is the fee Equifax waived until the end of January.)
A freeze doesn't affect your credit score, and it doesn't keep your existing credit card company or mortgage lender from updating your report. It also doesn't stop companies from sending you pre-approved offers, unless you opt out.
Related: What's a credit freeze and should you do it?
When you do want to apply for a loan, open a new credit card, or enter a new cell phone plan, you'll have to contact the credit agency to lift a freeze. You can do this over the phone or online. Usually, you'll be asked to provide some personal information including a security freeze PIN that you were given when you set up the freeze.
The agency must comply within three business days, but some states have stricter time frames. In New York, for example, they must lift the freeze within 15 minutes.
A credit lock service already offered by Equifax as part of a credit monitoring package works a similar way. Though, it also lets potential employers review your credit report without you lifting the freeze.
On Thursday, Equifax told CNNMoney that "locks and freezes are similar, but not identical." While consumers will need to use a PIN to lift a freeze, a lock will use "modern authentication techniques, such as username and passwords and one time passcodes for better user experience."
One potential difference between locking and freezing could be your legal liability, said Wu. It's possible that signing up for an Equifax credit lock could mean you have to sign away your rights to sue.
Equifax did not respond to CNNMoney's question about whether a consumer would have to sign an arbitration clause to use the credit locking service, or why they aren't making freezes free for life, too.
"As Mr. Rego Barros said, the new service is currently in development and is a high priority for the company. We look forward to sharing updates in the future," a spokesperson said in an email.
Related: Why the Equifax hack has small business owners worried
"Ultimately, Equifax should be paying for the freeze at all three agencies. In the meantime, Congress should really step up and pass legislation," Litt said.
The Freedom from Equifax Exploitation Act would make placing freezes and lifting them free on credit reports from all credit reporting agencies. It was introduced two weeks ago by Senators Elizabeth Warren and Brian Schatz and has 13 other cosponsors, all Democrats.
For now, consumers can sign up for one year of Equifax's credit monitoring service called TrustedID Premier, which also allows you to lock your Equifax credit report. But it took this reporter more than one week to complete the enrollment process. On Thursday, the website was "experiencing difficulties" and was periodically unavailable.
Consumers can also freeze their credit by contacting Equifax, Experian, and TransUnion separately.