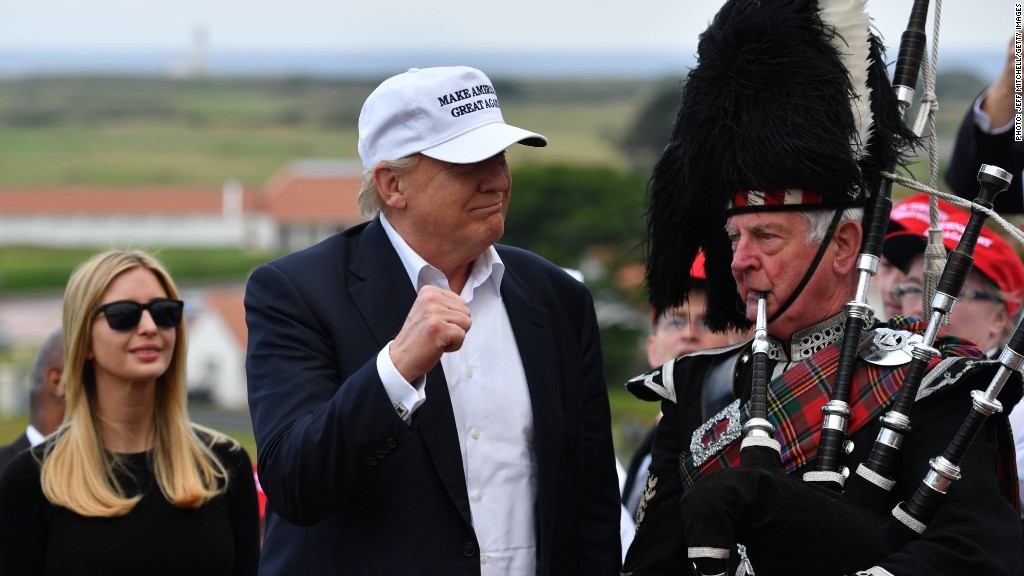 President Trump's businesses in Scotland are losing huge amounts of money.
Trump has two golf resorts in the country -- one near Aberdeen and the other at Turnberry. Their combined losses nearly doubled to £19 million ($25 million) in 2016, according to accounts filed in the U.K.
Trump resigned as director of the Scottish companies before his inauguration in January 2017, but remains the owner via a trust set up when he became president. His son Eric is a director of both resorts.
Trump valued each of the resorts at "over $50 million" in a disclosure form published in June by the U.S. Office of Government Ethics.
However, last year's deficit means the projects have lost a combined £40.5 million ($53 million) since Trump acquired them, and the president continues to provide financial support.
He has supplied both businesses with huge loans: at the end of 2016 they owed him £152.5 million ($200 million).
Officials at the Trump Organization did not immediately respond to a request for comment on Monday.
Related: Trump reports hundreds of millions in income
The Trump Turnberry resort in southwest Scotland lost £17.6 million ($23.1 million) in 2016, a sharp increase from losses of £8.4 million ($11.3 million) in 2015.
The resort was closed for six months of renovations in 2016. In June, Eric Trump unveiled a new layout for the resort's "King Robert the Bruce" course.
His father purchased the resort in 2014 -- that year it lost £3.6 million ($4.8 million).
Asked about the losses, Turnberry general manager Ralph Porciani told CNNMoney Monday that business has been "fantastic" over the past two years.
"I've been here for 13 years and I've never been this busy," he said, adding that business had not slowed since Trump became president.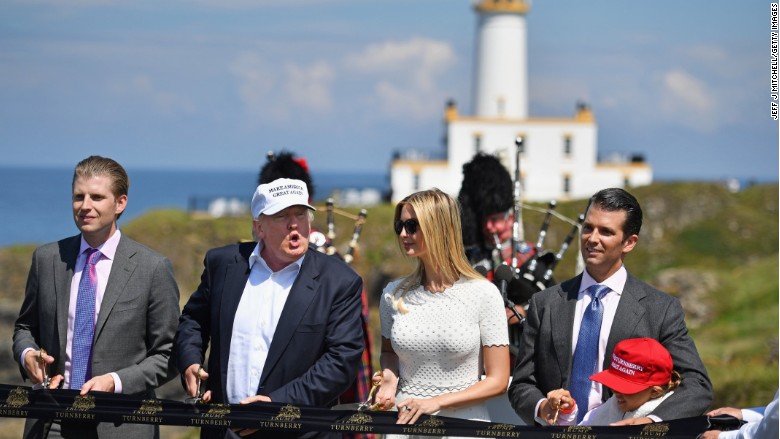 Related: Trump's Scottish golf plans face new obstacles after Charlottesville
Trump's second resort in Scotland -- Trump International Golf Links -- reported a loss of £1.4 million ($1.8 million) in 2016.
Trump built the resort near Aberdeen from scratch after purchasing the land in 2006. Financial statements show that it lost nearly £11 million ($14.4 million) between 2006 and 2016.
The resort has also been the subject of environmental and political controversies.
Almost 95,000 people have signed a petition opposing plans to expand the course, which would include the addition of a second 18-hole course.
A decision from local authorities is due later this year on the proposed expansion.
Trump refused to sell his business holdings as president, as experts in government ethics urged him to do. Instead, he transferred them into a trust in his name. Any business profits will ultimately accrue to him when he leaves office.
Trump businesses have become lightning rods for protest since he became president.
A flurry of charities canceled events at his Mar-a-Lago club after he equated white supremacists with counterprotesters following violent clashes in Charlottesville.