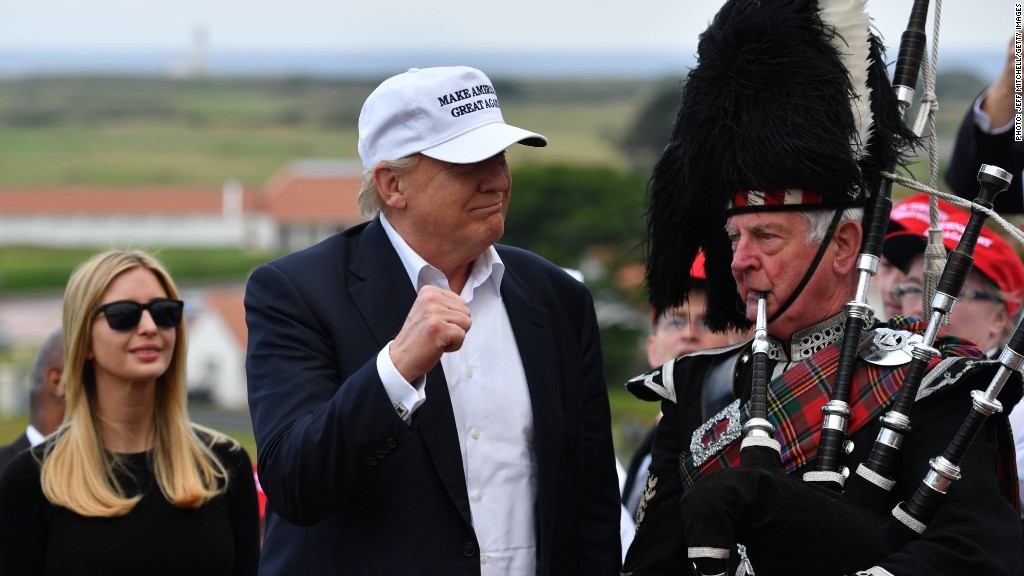 The rich are getting richer. But not Donald Trump.
The Forbes list of 400 richest Americans shows that the billionaire-in-chief's fortune fell by $600 million to $3.1 billion. As a result he dropped to #248 on the list, after coming in at #156 last year.
The magazine attributed his decline in wealth to "a tough New York real estate market, particularly for retail locations; a costly lawsuit and an expensive presidential campaign." Trump reached a $25 million settlement in a suit that claims that his Trump University real estate seminars defrauded students.
But overall the richest Americans are richer than they were a year ago. In fact it now takes a record $2 billion to make the cut of the richest 400 Americans. The magazine estimates there are 169 billionaires who were too "poor" to make the cut, including Facebook (FB) Chief Operating Officer Sheryl Sandberg.
Bill Gates tops the list for the 24th straight year with a net worth estimated at $89 billion. Amazon (AMZN) founder and CEO Jeff Bezos, worth $81.5 billion, held on to the No. 2 spot he first claimed in 2016. Warren Buffett, remains No. 3 with a fortune worth $78 billion.
Related: Floyd Mayweather will join billionaire athletes club
Facebook founder Mark Zuckerberg saw the biggest dollar gain of anyone on the list with his net worth rising $15.5 billion to $71 billion, according to Forbes. But that left him in fourth place on the list once again.
Overall the richest 400 Americans now have a combined net worth of $2.7 trillion, another record according to the magazine's ranking, up from $2.4 trillion in 2016. That comes out to an average net worth of $6.75 billion for those on the list.
Related: World's richest woman dies
The youngest billionaire on the list is once again 27-year-old Snapchat creator Evan Spiegel, worth an estimated $3.1 billion, enough to put him 248th on the list. The oldest is 94-year-old Alexander Spanos, one of the nation's largest apartment developers and owner of the San Diego Chargers football team, who was worth an estimated $2.4 billion.
Related: China has a new richest man
Trump fared better in Forbes' ranking than he did on Bloomberg's worldwide billionaires list, which puts his net worth at $2.86 billion. That's not enough to make him on of the 500 richest people in the world.
The White House did not immediately respond to a request for comment on the Forbes ranking.