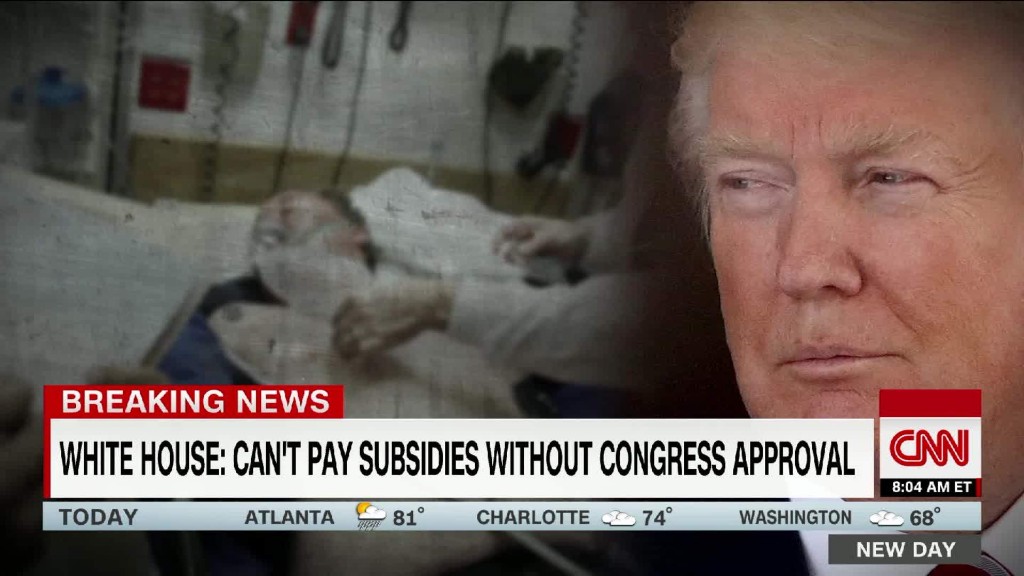 The number of uninsured Americans has risen to a three-year high after falling for years thanks in large part to Obamacare.
Overall, 12.3% of American adults lacked insurance in the third quarter of 2017, according to the Gallup-Sharecare Well-Being Index. That's the highest figure since the end of 2014, when the rate was at 12.9%.
The latest figure marks an increase of 0.6 percentage points -- or 1.5 million Americans, by Gallup's count -- from the second quarter of this year.
Under the Affordable Care Act, the share of uninsured Americans fell to a record low 10.9% in the second half of 2016, according to Gallup.
But starting this year, rates began rising -- and have been climbing since.
Since the end of 2016, the number of uninsured Americans has gone up by nearly 3.5 million. Still, the uninsured rate remains well below its peak of 18% reached in 2013.
Related: What's in Trump's health care executive order?
Gallup, which has been tracking the share of uninsured Americans since 2008, outlined a few possible reasons for the recent spike.
One could be the departure of some insurers from the Affordable Care Act's exchanges. Aetna, UnitedHealthcare, Anthem and Humana have all scaled back their presence on the exchanges this year. Gallup suspects that the decreased competition could mean higher prices for consumers -- which may have encouraged people to opt out of insurance altogether.
The poll found that the percentage of adults who bought their own plans, like those offered by Obamacare, fell from 21.3% to 20% between the end of 2016 and the third quarter of 2017.
Related: Actually, Trump is raising health insurance premiums
Another factor could be the uncertainty surrounding the GOP's healthcare plans. Currently, Obamacare's individual mandate penalizes people who don't have insurance. If people think the Trump administration will do away with the penalty, they might not bother buying insurance at all.
Americans ages 35 to 64 were the most likely to drop insurance between the end of 2016 and the third quarter of this year. That demographic saw an increase of 1.8 percentage points in uninsured adults, Gallup found. The uninsured rate of young Americans, ages 18 to 25, went up by 1.5 percentage points.