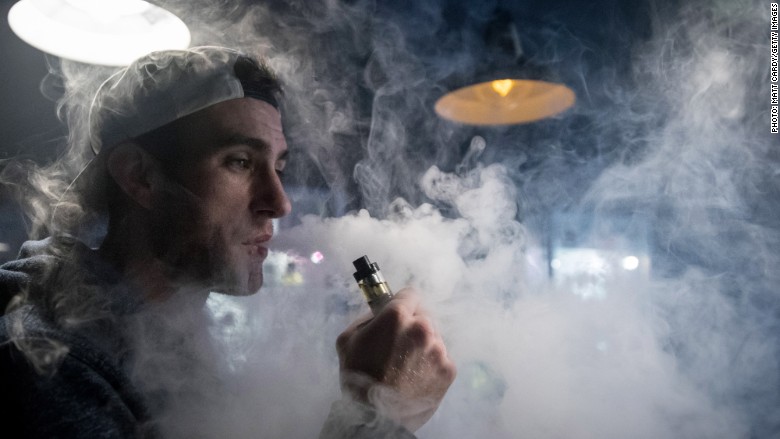 British American Tobacco hopes to turn its vaping business into $1.3 billion enterprise. And quickly.
The owner of Lucky Strike, Pall Mall and Camel said Wednesday that it expects to double sales of "new generation products" to more than £1 billion ($1.3 billion) in 2018.
It wants revenue from the products, which include e-cigarettes and tobacco that heats without burning, to rise further to £5 billion ($6.6 billion) by 2022.
British American Tobacco (BTAFF) acknowledged its traditional cigarette business is under pressure in countries that are trying to improve public health.
In a presentation to investors, the company said its challenges include the introduction of plain packaging in Australia, France and the U.K., and higher taxes in Russia and Brazil.
Related: Tobacco stocks crushed as FDA targets nicotine in cigarettes
However, its vaping business might also run into regulatory trouble.
E-cigarettes are increasingly being used as a nicotine alternative as smokers seek ways to kick their habit.
But their use has been surrounded by debate, focusing on the lack of evidence regarding the harms associated with their long-term use, as well as their potential to act as a gateway into smoking among teens.
The U.K. parliament launched a inquiry on Wednesday into the health effects of e-cigarettes.
"They are seen by some as valuable tools that will reduce the number of people smoking conventional cigarettes, and seen by others as 're-normalising' smoking for the younger generation," said Norman Lamb, chair of the parliamentary science committee.
On Monday, New York state banned vaping in places where smoking is not allowed.
That approach is in line with guidance from the World Health Organization, which says that all indoor smoke-free areas should also be vape-free.