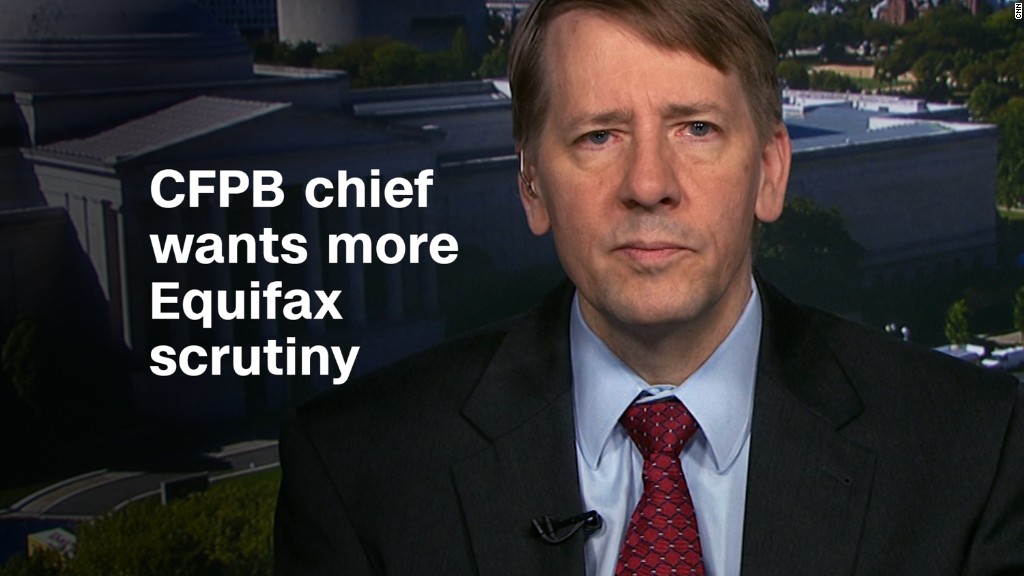 A rule that allowed consumers to more easily sue banks and credit card companies is officially dead.
President Trump signed legislation on Wednesday afternoon repealing a provision issued by the Consumer Financial Protection Bureau in July.
The measure, which tackled mandatory arbitration clauses that are often tucked into contracts or agreements, would have allowed more people to jointly file lawsuits against financial firms.
The president's decision comes despite pleas from Richard Cordray, the director of the CFPB and an Obama-era appointee. Cordray made a personal appeal to Trump on Monday, asking him in a letter not to sign the resolution.
Related: Read the fine print: 4 ways you sign away your rights
"Many have told me I am wasting my time writing this letter -- that your mind is made up and that your advisors have already made their intentions clear," he said. "But this rule is all about protecting people who simply want to be able to take action together to right the wrongs done to them," Cordray said.
The CFPB chief, along with the agency he leads, is unpopular among Republicans, and some in Congress have called for Trump to replace him.
Related: Richard Cordray: Trump must veto bill that will hurt consumers
In a statement, Cordray said Wednesday that the president had "signed away consumers' right to their day in court."
"This action tips the scales of justice in favor of Wall Street banks less than ten years after they caused the financial crisis," he said. "By blocking our arbitration rule, this action makes it nearly impossible for ordinary people to stand up for themselves."
The repeal effort passed the House on a 231-190 vote over the summer. It passed the Senate last week by a much narrower margin. Vice President Mike Pence had to step in to cast the tie-breaking 51st vote.
It's a win for a White House that has pledged to ease regulations and taxes, but has yet to deliver on comprehensive tax reform or a promised rollback of the reforms instituted after the 2008 financial crisis known as Dodd-Frank.
The National Association of Federally-Insured Credit Unions, which watched Trump sign the bill from the White House on Wednesday, thanked Trump and Congress "for their leadership."
"NAFCU is honored to have been invited to the White House to watch the undoing of a rule that likely would have had negative effects on the credit union industry," the group said in a statement.
Consumer advocacy groups, for their part, aren't pleased.
"It's outrageous that President Trump sided with Wall Street to strip military servicemembers and ordinary Americans of the choice of banding together to have their day in court when financial giants like Wells Fargo and Equifax break the law," said Lauren Saunders, the associate director of the National Consumer Law Center.
And Sen. Tammy Duckworth, a Democrat from Illinois, said abolishing the rule is "truly shameful."
"Servicemembers who have been victimized by fraud and abuse by big financial institutions can't pursue justice through the legal system they fought to defend," she said in a statement.