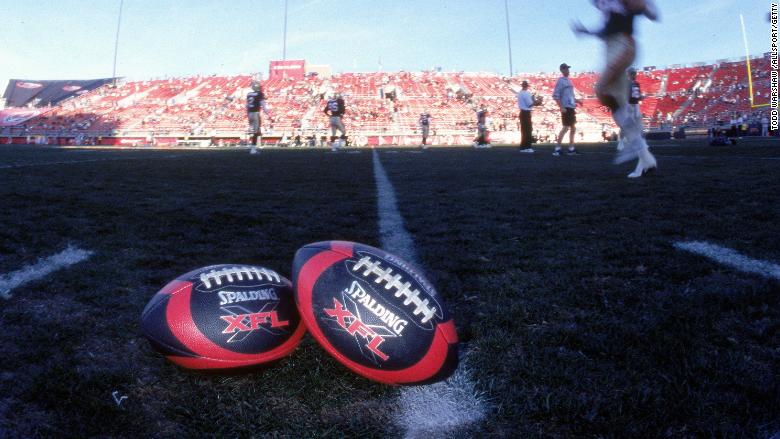 It's official: WWE chairman and CEO Vince McMahon is bringing back "extreme" pro football.
The revamped XFL will kick off in January or February of 2020 with eight teams, McMahon said in a press call Thursday. The team names and home cities have not yet been selected.
He billed the new XFL as a "fan-centric" league geared toward "all the things you like to see and less of the things you don't." It will offer a "shorter, faster paced" and "easier to understand game," McMahon told reporters.
Related: NFL Championship ratings dip, but games still bring in huge audience
The original XFL only lasted one season after it debuted in 2001. It was launched as a joint venture between the WWE (then known as the World Wrestling Federation) and NBC. It promised to be a rougher version of the NFL with looser rules and over-the-top sideline entertainment.
Players were allowed to wear nicknames on their jerseys, giving rise to memorable monikers like Rod Smart's "He Hate Me." (McMahon said Thursday he's not sure yet if nicknames will be permitted this time around.)
The first ever match up in 2001 drew big ratings -- but the excitement petered out big time. Fans complained the game play just wasn't that good.
A Sports Illustrated cover released soon after the inaugural game asked, "Will sleazy gimmicks and low-rent football work for the XFL?" The answer, according to football fans, was no.
At one point during the first season, the XFL became the lowest-rated program on a major network in prime-time history.
The first hints that McMahon was gearing up for a relaunch came in December when he sold about $106 million worth of his WWE (WWE) shares to fund Alpha Entertainment LLC. Its stated goal: "explore investment opportunities across the sports and entertainment landscapes, including professional football."
"I've always wanted to relaunch and had this planned for some time," McMahon said Thursday in announcing XFL's revival.
McMahon promised not to repeat the same mistakes he made in the early 2000s, vowing to ensure the league brings a high level of play to the field.
This time around, the WWE and NBC aren't involved. And right now, it's not clear how fans will be able to watch the games.
There are no distribution contracts lined up, McMahon said, though he pledged XFL games will be available to stream on "big screens, mobile devices and everything in between."
Related: The NFL rejected a Super Bowl program ad from a veterans group
Some in the sports world see the XFL as ripe to challenge the NFL at a time when it's suffering from a waning viewership and a political controversy.
Others say the issue with football isn't the league; it's the game. Concussions and the risk of brain disease caused by head trauma, known as CTE, has raised safety concerns among fans, coaches and players.
It's unclear if or how McMahon's XFL will address those safety concerns, though McMahon said Thursday it is a priority and the league will "bring in experts."
One person who's likely to be an XFL fan: President Trump.
He's has been highly critical of the NFL, particularly with his public admonishments of players who kneel during the National Anthem to protest social justice issues.
During the press call Thursday, McMahon did not directly address whether XFL players would be required to stand for the anthem. But he did say it would "be appropriate to" stand.
Trump, a WWE Hall of Famer, is also a longtime friend of McMahon. The organization's "WrestleMania" event has twice been hosted at Trump properties in Atlantic City.
In 2007, Trump and McMahon even devised their own performance in which the billionaires "fought" each other, and Trump shaved McMahon's head for losing a bet.
Then in 2009, Trump "sparred" again with McMahon by claiming he purchased WWE's "Monday Night Raw" TV show and promised he would stop airing ads. McMahon later said he bought the show back at a hefty markup.
It's also worth noting that McMahon's wife Linda -- a former WWE CEO -- currently serves in Trump's cabinet as the head of the Small Business Administration.
-- Chris Isidore, Paul La Monica and Daniella Emanuel contributed to this report.