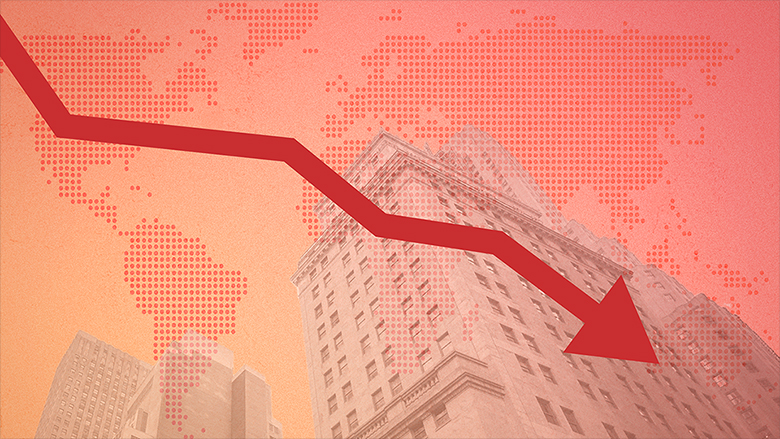 Stocks are on a wild ride.
The stock market freakout of 2018 hit a crescendo on Monday when the Dow dropped a record 1,175 points. A day later, the index briefly entered what's known as a correction -- a 10% decline from its recent peak.
Here's what's going on and what it means for your wallet:
WHY THE DOW IS PLUNGING
The Dow fell 800 points in 10 minutes on Monday.
CNNMoney's David Goldman explains why the index is going crazy:
1. Concerns the Fed will raise rates: If the economy gets much stronger, inflation could take off. That could force the Federal Reserve to raise interest rates faster than planned.
2. Rising interest rates: When interest rates rise sharply, stocks often fall.
3. Worries about the bond market: Investors have been nervously watching the bond market, where yields have been creeping higher. As yields rise, bonds offer better returns, which makes them more attractive to investors compared with risky stocks.
4. Too far, too fast: Stocks have been rising pretty much in a straight line since November 2016, and that's not exactly healthy.
The tremors on Wall Street spread around the globe. Stocks in Europe and Asia posted heavy losses. Bitcoin briefly fell below $6,000 for the first time in three months before recovering most of its earlier losses.
DON'T PANIC (YET)
Many experts say this week's slump isn't cause for bigger concerns, reports CNNMoney's Daniel Shane.
The global economy is in good shape and there is no talk of recession among economists.
In the U.S., unemployment is at a 17-year low. Last month, average hourly wages went up the most in eight years. Consumer and business confidence are near record levels.
And given Wall Street's performance last year, the drop was expected.
WHAT IT MEANS FOR YOU
What should the average investor do now? Probably nothing.
A 1,000-plus point drop sounds scary, but it's actually a smaller percentage of the market than previous one-day drops, thanks to Wall Street's recent run up.
A few tips to stay calm and carry on, according to CNNMoney's Kathryn Vasel:
1. Remain calm: Yes, that's easier said than done. But it's important to keep your eye on the big picture.
2. Play the long game: What are your investing objectives? If they're long term, you're probably fine. But worried investors could take the time to review their portfolios to make sure their exposure to stocks aligns with their goals, time frame and risk tolerance.
3. Don't try to time the market: While experts said it's not a good idea to panic and sell now, Monday's drop could present a buying opportunity for those with more money to invest.
READY FOR PAY DAY?
Now some good news: your paycheck might get a little fatter this month thanks to the new tax law.
But the pay bump might not be very much.
Any increase that you see in your take-home pay will depend on a lot of factors beyond your salary and how many allowances you take. And those other factors could undercut any increase in pay that you would otherwise see from the federal tax cuts, reports CNNMoney's Jeanne Sahadi.