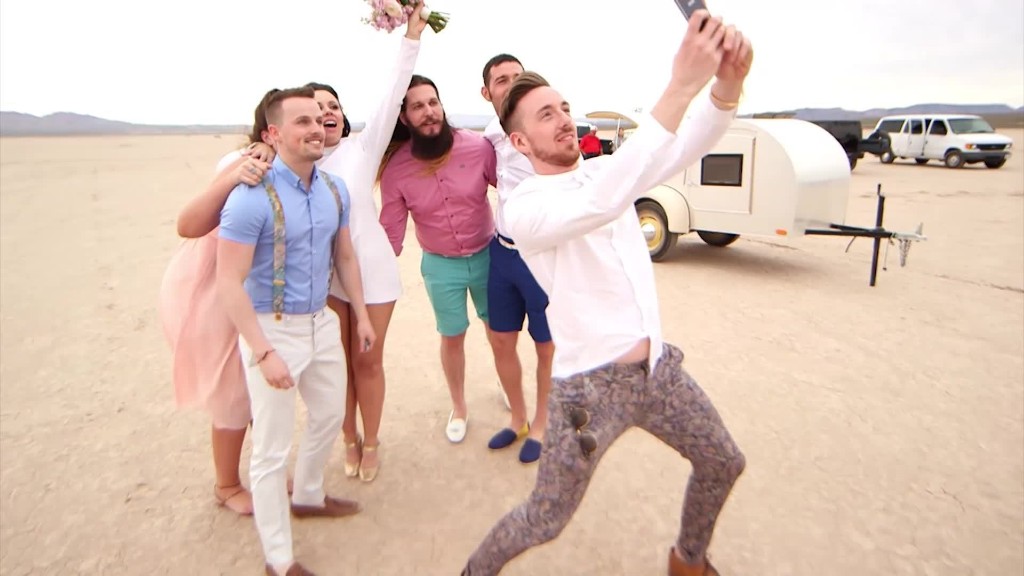 Couples are spending less on their weddings, but they're still shelling out big money to walk down the aisle.
The average cost of a wedding was $33,391 last year, down 5% from $35,329 in 2016, according to The Knot's 2017 Real Wedding Study released Wednesday.
The price tag more than doubles for couples looking to tie the knot in New York City. It's the most expensive city to get married, with the average Manhattan wedding costing a whopping $76,944.
Hosting the event just outside the city, will save you a little cash — but not a lot. Couples getting married in North/Central New Jersey spent an average of $62,074, while Long Island couples forked over $61,113.
Related: To save money, couples are saying 'I do' on Thursdays
Couples spent the least amount of money on their big day out west. New Mexico was the most affordable place to get married with the average wedding costing $17,584, followed by Utah, Oregon and Montana.
A big driver behind the drop in wedding costs is a change in where people are getting married. The venue is the biggest wedding expense with a national average of $15,163.
Couples are increasingly skipping more traditional venues like a hotel ballroom or country club, and hosting their receptions in more unique places like museums, parks or breweries that tend to be cheaper.
"Couples are looking for personalization, they don't want the cookie-cutter wedding," said Kristen Maxwell Cooper, editor in chief of The Knot. "They want something representative of them and feels more fun."
Weddings are also getting a lot less formal. Black-tie weddings have dropped from 20% in 2009 to 16%.
Related: Would you do a group honeymoon?
One tradition has remained fairly consistent: who pays for the wedding. The bride's parents are still writing the most checks, paying 45% of the overall wedding budget, on average. Couples pick up 41% of the tab.
A higher focus on guest experience means couples are trimming their invite list, but spending more per guest. The average number of wedding guests dropped to 136 last year, down from 149 in 2009. However, couples are spending $268 per guest — a 38% increase from 2009.
They're going beyond a live band for entrainment, and also hiring dance performers, magicians and even a professional doing portraits of guests, according to The Knot.
"Couples want the guests they have invited to the wedding to walk away thinking, 'that was an amazing wedding,'" said Maxwell Cooper.