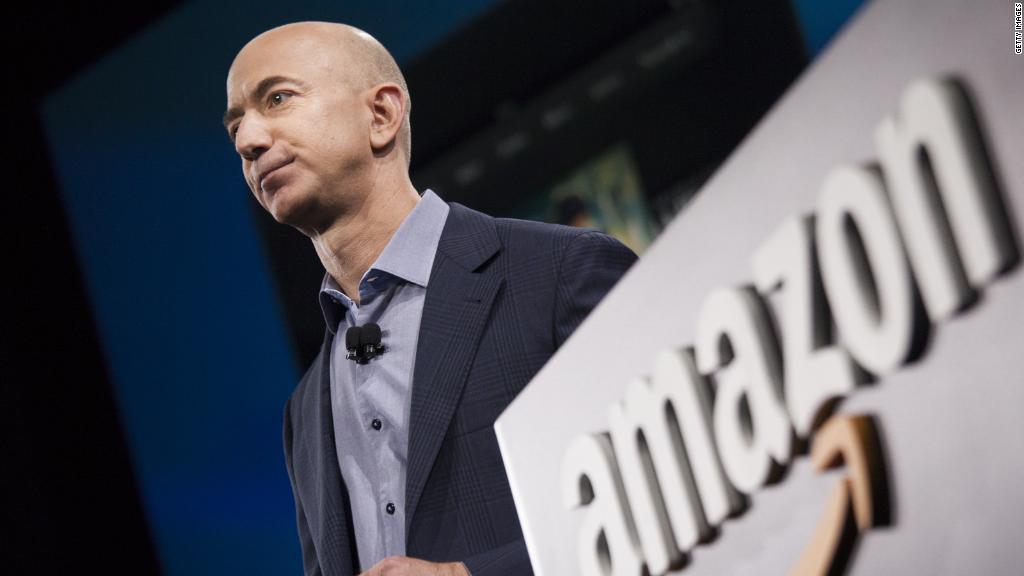 The president has dropped more than 200 spots since last year to No. 766 on the list, where he's tied with more than 20 others. The magazine estimates his net worth at $3.1 billion, down from $3.5 billion last year.
Forbes said that Trump's fortune fell in part due to declining Manhattan real estate values, as well as lower revenues at several Trump golf properties.
Amazon (AMZN) founder and CEO Jeff Bezos topped the list for the first time this year, according to Forbes.
He's currently worth an estimated $112 billion, up $39.2 billion from 2017. Forbes said that jump amounts to the biggest one-year gain ever — and that he's the first person to top the list with a net worth of more than $100 billion.
Bezos, who currently has a 16% stake in Amazon, has benefited from the company's ballooning stock. Amazon shares are up 31% so far this year, according to FactSet data.
Also in his portfolio is space venture Blue Origin and The Washington Post, which Bezos bought in 2013 for $250 million.
Bezos' rise knocked Microsoft founder Bill Gates to the No. 2 spot, after Gates spent four straight years on top.
Related: Jeff Bezos is now the richest person in history
Gates is worth an estimated $90 billion, up from $86 billion last year, according to Forbes.
The Bezos bump also pushed Warren Buffett down to No. 3. Buffett is worth an estimated $84 billion.
All together, the billionaires on the list are worth $9.1 trillion.
Forbes identified a record 2,208 billionaires around the world in 2018, up from 2,043 last year.